The Bottom 10 inspirational thought of the week: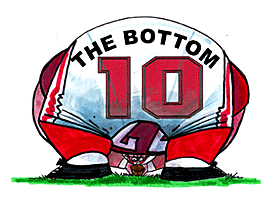 It's the same ol', same ol' situation
It's the same ol', same ol' ball and chain
Just like a punch in the teeth
Or a swan dive to the street
-- Motley Crüe, "Same Ol' Situation"
Getting into a tussle at the MTV Video Music Awards on Sunday earned Kid Rock a citation for misdemeanor battery and cocombatant Tommy Lee an ejection from the festivities at the Palms Hotel and Casino in Las Vegas. Since the two former Mr. Pamela Andersons aren't exactly busting out hits anymore, at least their altercation keeps their names in the news.
The misdemeanor probably won't land Michigan native Kid Rock in the the big house. But if it does, that destination might be a more appealing than a trip to Ann Arbor's Big House, where the Bottom 10 pillow fight of the decade is scheduled for Saturday.
Much like Kid Rock and Tommy Lee, Michigan and Notre Dame are taking more hits than they are delivering these days. But unlike the scene at the Palms, the Bottom 10 has no intention of pressing charges or escorting out the Wolverines and Fighting Irish.
It's a rare honor for a team to earn the highly coveted No. 5 spot in consecutive weeks, but Michigan did just that with its 39-7 home loss to Oregon. While a loss to the Ducks doesn't conform to the usual No. 5 spot standard of falling to an inferior opponent, the 0-2 Wolverines did nothing to make us drop them. Same thing goes for the 0-2 Irish, who stay at No. 10 after their 31-10 loss at Penn State. The Bottom 10 will definitely tune in Saturday (ABC, 3:30 p.m. ET) when Notre Dame and Michigan get the down feathers flying in the Big House.
It's hard to believe that Duke's 22nd straight loss didn't catapult the Blue Devils to No. 1, but another team really is more deserving. Did you catch Temple's performance in last week's pillow fight of the week? The Owls dropped a 42-7 decision at home to Buffalo, which definitely earned its exit from our rankings.
There were some other changes, so we'll turn to Kid Rock and Tommy Lee songs to rock us through the latest edition of the Bottom 10.
Have a comment about the Bottom 10 ranking? Send us your thoughts.
So, with apologies to Steve Harvey, here's the Bottom 10:
Waiting list: Louisville's defense, North Texas (0-2), San Diego State (0-1), Toledo (0-2), Tulane (0-1), UAB (0-2), UL-U-Pick 'em (0-4), Utah State (0-2) and for sentimental reasons Wyoming's band uniforms.
David Duffey is the college football editor at ESPN.com.