Weeks: Preseason | 1 | 2 | 3 | 4 | 5 | 6 | 7 | 8 | 9 | 10 | 11 | 12 | 13
The Bottom 10's inspirational thought of the week: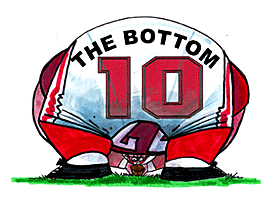 Broken lines, broken strings,
Broken threads, broken springs,
Broken idols, broken heads,
People sleeping in broken beds.
Ain't no use jiving
Ain't no use joking
Everything is broken.

-- Bob Dylan, "Everything is Broken"
With the release of Dylan's memoirs, it was time to stroll back through memory lane on the Bottom 10 as well. We remember when this fine, little poll used to be reserved for the struggling and wayward of the non-BCS conferences, but nowadays, The Times They Are A-Changin'. We now welcome with open arms teams that used to play in Rose Bowls and SEC Championships.
After last weekend's action, there are five winless Division I-A programs. That's a good thing, considering there were 13 winless last week. So while we send our humble kudos to those who found their way into the win column, we have another problem -- there are 28 teams with only one win each.
But as Mr. Dylan said -- and we believe these songs were written with the Bottom 10 in mind -- If You Gotta Go, Go Now. Farewell.
We head to the Sun Belt for this week's Pillow Fight. Chris, Kirk and Coach don't know what they're missing this week. How often do you get to see Louisiana-Monroe (0-4) visit Idaho (1-4)? Can you imagine Corso picking a mascot head with his pick for the pillow fight winner? Alas, GameDay is heading to Southern California for the Cal-USC game and as Bob Dylan once wrote, It Hurts Me Too.
ESPN.com users had plenty to say about the Oct. 4 Bottom 10 ranking.
With apologies to Steve Harvey, here's this week's Bottom 10:
Waiting list: Arkansas State (1-4), Akron (1-4), Ball State (1-4), LSU kickoff return (next time kneel at the 2 so your QB has a little room to move.), Kentucky (1-3), Kent State (1-4), Ohio State (losing to Northwestern?!? You play a tougher team in practice.), and Tulsa (1-4).
&nbsp