The Bottom 10 inspirational thoughts of the week: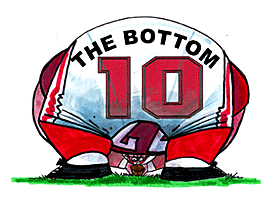 Danke Schoen, Darling, Danke Schoen.
Thank you for all the joy and pain.
-- Wayne Newton, "Danke Schoen"
When you're feeling sad and low
We will take you where you gotta go
Smiling, dancing, everything is free
All you need is positivity.
-- Spice Girls, "Spice Up Your Life"
Why a double dose of inspirational thoughts? Well, two traditional powers danced their way into the Bottom 10 this week. Why Wayne Newton and the Spice Girls? Well, Mr. Las Vegas and Scary Spice are two of the celebrity contestants on "Dancing With the Stars." The Bottom 10's always looking for a good dance partner, and decided to pair up with the ABC show.
Nebraska and Notre Dame are fumbling around the Bottom 10 dance floor again this week. The Cornhuskers stumbled back into the highly coveted No. 5 spot after Kansas choreographed a record-setting 76-39 tap dance in Lawrence. The Irish proved to have two left feet for the eighth time this season, but this one really hurt. Notre Dame stepped on its toes against Navy for the first time in 44 years.
Winless Florida International and Utah State still are two-stepping at No. 1 and No. 2, but the rest of the Bottom 10 looks much different. Don't worry. The celebrity contestants and dances used in "Dancing With the Stars" waltz you through the latest edition of the Bottom 10.
Have a comment about the Bottom 10 ranking? Send us your thoughts.
So, with apologies to Steve Harvey, here's the Bottom 10:
Waiting list: Colorado State (1-8), Duke (1-8), Minnesota (1-9), Syracuse (2-7), Tulane (2-7), UAB (2-7) and UNLV (2-7).
David Duffey is the college football editor at ESPN.com.