The Bottom 10 inspirational thoughts of the week: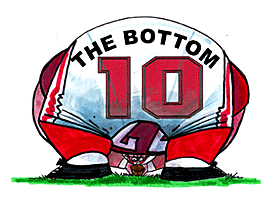 Pickin' up the pieces
Sweepin' off the dust
I thought it would be better
But it's never been so rough
Flippin' through old numbers
Dependin' on the past
It helps to have some company
But it seems to never last
Then it comes
The loneliness within
Like a stone
Crushin' me again
You're a hard act to follow
I can't find nobody, baby quite like you
You're a hard act to follow
Yeah yeah
-- Brother Cane, "Hard Act To Follow"
"The O.C." depicted an idyllic paradise where the teen cast appeared to be perfect. Across the coast in The O.B., the teen cast rarely has been described as perfect and the once-idyllic setting has deteriorated. However, Miami's play at the Orange Bowl was as close to perfect as it gets on the gridiron. In fact, the Hurricanes won 58 straight in the "Old Horseshoe in Little Havana" from 1985 to 1994.
Beneath the surface, things were far from perfect in the O.C. On the surface, things were far from perfect in the Canes' last home game at the Orange Bowl. In front of dozens of former star players who returned to participate in ceremonies celebrating Miami's storied history in the stadium, the Canes were embarrassed by Virginia. The 48-0 loss was Miami's first shutout loss in the O.B. since 1974.
It is really any surprise that the Canes earned the Bottom 10's highly coveted No. 5 spot this week?
No change at No. 1, but a 52-0 loss to Boise State has No. 2 Utah State inching closer to Florida International. As for the rest of the Bottom 10, it's as volatile as the BCS standings. Northern Illinois, Nebraska, Louisiana-Lafayette and Marshall all won to earn an exit.
Don't worry about the number of changes; we found a bunch of qualified replacements. The songs of Brother Cane will rock us through the latest edition of the Bottom 10. Enjoy the holidays. The Bottom 10 will take advantage of its bye week and return on Nov. 27.
Have a comment about the Bottom 10 ranking? Send us your thoughts.
So, with apologies to Steve Harvey, here's the Bottom 10:
Waiting list: Joe Glenn's finger, Mike Leach's protests, Syracuse (2-8), UAB (2-8) and UNLV (2-8).
David Duffey is the college football editor at ESPN.com.