The Bottom 10 inspirational thought of the week: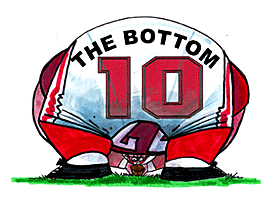 I say, we can dance, we can dance
Everything out of control
We can dance, we can dance
We're doing it from wall to wall
We can dance, we can dance
Everybody look at your hands
We can dance, we can dance
Everybody takin' the cha-a-a-ance
Safety dance
Is it safe to dance
Is it safe to dance
-- Men Without Hats, "Safety Dance"
Safety is very important to the Bottom 10, so we'll make sure to create a secure environment for our teams, which certainly can bust some moves.
But before our Bruin boogies, our Panther gets poppin', our Owls oscillate and Syracuse shakes it, clear the floor for a Bottom 10 spotlight dance featuring our new No. 1 team. Since Notre Dame is the lord of the Bottom 10 dance, expect an Irish jig or something choreographed by Michael Flatley. Parents don't need to worry about any inappropriate material. The Irish haven't done anything remotely offensive this season.
Does Notre Dame deserve the No. 1 spot? Well, the Irish rank 119th in points per game, total yards per game, rushing yards per game and sacks allowed. Notre Dame is the only I-A team with no offensive touchdowns. Among the BCS teams, ND and Syracuse are the only squads without a win this season.
The Irish's 38-0 loss to Michigan ended the Wolverines' two-week dance in the highly coveted No. 5 spot. A replacement partner was easy to find. UCLA can step right in. Previously winless Utah waltzed to a 44-6 win over the previously highly regarded Bruins.
However, UCLA won't get a chance to cut the rug with longtime Bottom 10 dance partner Duke. The Blue Devils beat Northwestern to earn an exit from the ballroom.
There were some other changes, so we'll turn to some "dance" songs to lead us through the latest edition of the Bottom 10.
Have a comment about the Bottom 10 ranking? Send us your thoughts.
So, with apologies to Steve Harvey, here's the Bottom 10:
Waiting list: Colorado State (0-2), Louisiana-Monroe (0-3), Middle Tennessee (0-3), North Texas (0-2), San Jose State (0-3), Toledo (0-3), Tulane (0-2), Utah State (0-3) and Western Michigan (0-3).
David Duffey is the college football editor at ESPN.com.