The Bottom 10 inspirational thought of the week: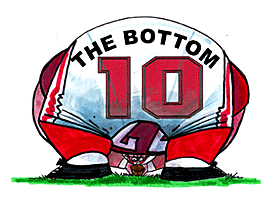 I took a mobile light, lookin' for a moonbeam. Ow!
Yeah, ya stand in line ya got lost in a jet stream
Ooh, everybody wants some!
I want some too (Oh yeah)
Everybody wants some!
How about you?

-- Van Halen, "Everybody Wants Some"
The Bottom 10 definitely wants some -- and the Bottom 10 usually gets what it wants. The run of very deserving teams in the highly coveted No. 5 spot continues. Louisville was expected to compete for a BCS bowl, but the Cardinals find themselves in a very different place.
That's bad news for the Ville, but it makes us want to jump. Lucky for the Bottom 10 that Van Halen's first tour with David Lee Roth in 22 years kicks off Thursday in Charlotte, N.C. So the good news is that tunes from David, Eddie, Alex and Wolfgang will serve as our guide.
Louisville's liabilities -- especially on defense -- provided some good news for Mike Gundy. If not for Louisville's collapse against previously winless Syracuse, the Bottom 10 iPod would be playing "And The Cradle Will Rock" in honor of the Oklahoma State coach's postgame rant after the Cowboys beat Texas Tech.
After a week at No. 1, Notre Dame slipped down two places. The Irish deserved that much after scoring their first two offensive touchdowns of the season in a 31-14 home loss to Michigan State. Florida International earned the jump to No. 1 with a 55-3 loss to Kansas.
Syracuse, UCLA, Northern Illinois and San Diego State can dance the night away after winning to gain an automatic exit from the rankings.
There were some other changes, so we'll turn to some Van Halen songs to lead us through the latest edition of the Bottom 10. But don't forget to catch the pillow fight of the week: Florida International at Middle Tennessee.
Have a comment about the Bottom 10 ranking? Send us your thoughts.
So, with apologies to Steve Harvey, here's the Bottom 10:
Waiting list: Bottle throwing at Alabama, Colorado State (0-3), Louisiana-Monroe (0-3), Middle Tennessee (0-4) and Texas A&M's play calling.
David Duffey is the college football editor at ESPN.com.