The Bottom 10 inspirational thought of the week: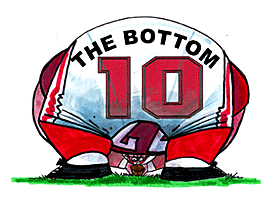 Instant Karma's gonna get you
Gonna knock you off your feet
Better recognize your brothers
Ev'ryone you meet
Why in the world are we here
Surely not to live in pain and fear
Why on earth are you there
When you're ev'rywhere
Come and get your share

-- John Lennon, "Instant Karma"
The Imagine Peace Tower on Videy island in Iceland was unveiled on Tuesday on what would have been John Lennon's 67th birthday. A beam of light radiates from a wishing well bearing the words "imagine peace" in 24 languages. During the unveiling ceremony, Yoko Ono urged the world to give peace a chance.
The Bottom 10 is all about giving peace a chance. The Bottom 10 also would like to display a message from its wishing well. Our beacon would welcome all teams to visit.
The light certainly has shined on USC over the past five seasons. The Trojans have won Pac-10 and national titles. They've been to the Rose Bowl and Orange Bowl. USC has been a Power 16 regular. The Trojans are stars on signing day.
But something was missing from the Trojans' résumé. Thanks to Stanford, that's about to change. The Bottom 10 welcomes USC to the highly coveted No. 5 spot. Come and get your share.
The 41-point favorite Trojans suffered a 24-23 loss to the Cardinal in the Coliseum on Saturday. Talk about your double fantasy -- both USC and UCLA (Week 3 ) have visited the Bottom 10's No. 5 spot this season.
When it comes to surprises, results among the bottom of the football barrel have mirrored the shockers in the top 25 rankings. Bottom 10 regulars Temple, Rice, Louisiana-Lafayette and Louisiana-Monroe all won over the weekend to earn an escape. Even new Bottom 10 favorite Notre Dame is no longer around. The Irish beat UCLA on Saturday. Maybe teams looking for a way off the Bottom 10 should start scheduling trips to L.A.?
Florida International, which has lost a Div. I-A-worst 18 straight games, remains No. 1. The Panthers are joined by the other four I-A teams still searching for their first win of the season.
We'll let the songs of John Lennon guide us through the latest edition of the Bottom 10. But don't forget to catch the pillow fight of the week: Louisiana-Monroe at North Texas.
Have a comment about the Bottom 10 ranking? Send us your thoughts.
So, with apologies to Steve Harvey, here's the Bottom 10:
Waiting list: Clemson's special teams, Duke (1-5), Iowa State (1-5), Louisville's defense, Middle Tennessee (1-5), Minnesota (1-5), SMU (1-4), Syracuse (1-5) and UAB (1-4).
David Duffey is the college football editor at ESPN.com.