The Bottom 10 inspirational thoughts of the week: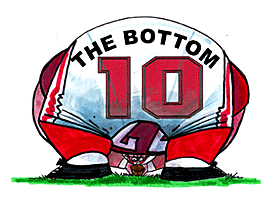 Oh, oh, oh, oh, oh. Oh, oh, oh, oh, oh.
Everybody's always talkin' 'bout who's on top.
Don't cross our path 'cause you're gonna get stomped.
We ain't gonna give anybody any slack.
And if you try to keep us down we're gonna come right back,
and you know we're
Hangin' tough, hangin' tough, hangin' tough.
Are you tough enough?
Hangin' tough, hangin' tough, hangin' tough.
We're rough.
-- "Hangin' Tough," NKOTB
Jordan and Jonathan Knight, Joey McIntyre, Donnie Wahlberg and Danny Wood are back together. "The Block," NKOTB's long-awaited release, hit iTunes and record stores Sept. 2.
Coincidentally, the long-awaited release of 2008's first in-season Bottom 10 also occurs on Sept. 2. SDSU, FIU, SMU, UNT and UTEP are reunited on the Bottom 10 block. But our band proudly introduces a new member: It's time for TAMU to dance its way up to center stage for a solo performance in the highly coveted No. 5 spot.
Not only did Texas A&M lose its first home opener in 21 years, but the Aggies lost it 18-14 to Arkansas State. We're talking about the Red Wolves, not the Razorbacks. Although considering Arkansas' escape against Western Illinois, the Hogs might have been a more welcome sight in Aggieland. Welcome back to College Station, Mike Sherman.
And welcome back to the Bottom 10, San Diego State. The Aztecs must not have liked being left off the Bottom 10's preseason concert. The best way to get our attention is to fall to an FCS school. Mission accomplished. SDSU's 29-27 loss to Cal Poly was enough to vault the Aztecs from off the charts to the top of the charts, passing preseason No. 1 Idaho -- and all the Vandals did was lose 70-0 at Arizona.
Pillow fight of the week: Arkansas vs. Louisiana-Monroe.
Time to sit back and let the musical stylings of NKOTB guide us through the Week 1 Bottom 10 for 2008.
Have a comment about the Bottom 10 ranking? Send us your thoughts.
So, with apologies to Steve Harvey, here's the Bottom 10:
Waiting list: Arkansas (1-0), Army (0-1), Baylor (0-1), Clemson's running game, Hawaii (0-1), Michigan home openers, Mississippi State (0-1), North Carolina's parachutists, Northern Illinois (0-1), Pittsburgh (0-1), San Jose State (1-0), Virginia (0-1), Washington State (0-1) and Wyoming's uniforms (team and band).
David Duffey is the college football editor at ESPN.com.