The Bottom 10 inspirational thoughts of the week: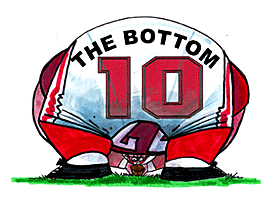 To any outlaw tryin to draw, thinkin you're bad,
Any draw on West best with a pen and a pad,
Don't even think about it, six gun, weighin a ton,
10 paces and turn, just for fun, son,
Up till sundown, rolling around,
See where the bad guys are to be found and make 'em lay down,
The defenders of the west
Crushin on pretenders in the west,
Don't mess with us cuz we're in the (Wild Wild West)
-- "Wild Wild West," Will Smith
The Bottom 10's a big defender of the West this season. No East Coast bias here. We have no need for "crushin on pretenders in the west" in 2008. The West is providing more contenders than the Bottom 10 can handle.
The Bottom 10 is hitching its wagon to teams from the Pacific Northwest, the Arizona desert and the beaches of Southern California. Horace Greeley knew what he was talking about. Go West, young man, indeed!
And go as far west as you can. Former No. 1 North Texas knocked off Western Kentucky last week for its first win, which opened the door for a one-two Pacific Northwest punch.
No. 1 Washington is the only winless FBS team. The Huskies are looking for a new coach. U-Dub got drubbed 56-0 at USC. You just can't get more Bottom 10 than that. But No. 2 Washington State is thisclose to its Apple Cup rival. The Cougars don't have an FBS win, either. Wazzu dipped to the FCS ranks to gain its only victory. The Cougars also didn't fare any better than U-Dub on the scoreboard last week. Stanford crushed Washington State, 58-0.
We'll stay in the Pac-10 for the highly coveted No. 5 spot this week. Arizona State fell to 2-6 after losing at Oregon State. ASU began the season with great expectations, but the Sun Devils have crashed and burned.
After dropping the Pillow Fight of the Week to Wyoming, San Diego State jumps to No. 3 in the Bottom 10. It shouldn't be a surprise that this week's pillow fight features the Pac-10: Arizona State at Washington.
If you enjoy a little real Western flavor in your films, the Week 10 Bottom 10 should be a tasty treat.
Have a comment about the Bottom 10 ranking? Send us your thoughts.
So, with apologies to Steve Harvey, here's the Bottom 10:
Waiting list: Iowa State (2-6), Kent State (2-7), Miami (Ohio) (2-6), Middle Tennessee (2-6), NC State (2-6), Ohio (2-7), Toledo (2-6), Tulane (2-6) and UCF (2-6).
David Duffey is the college football editor at ESPN.com.