The Bottom 10 inspirational thoughts of the week: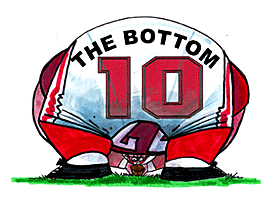 Nobody does it better
Makes me feel sad for the rest
Nobody does it half as good as you
Baby, you're the best
-- "Nobody Does It Better," Carly Simon
James Bond is back in "Quantum of Solace." The Bottom 10 is back off its bye week. Washington and Washington State are back for more. The quantity of comfort in that three-pack of statements is enough to make the Bottom 10 break into song. So, it's only fitting that this week's Bottom 10 sound track will feature songs from the Bond series.
Although our Bottom 10 band has more in common with famed double-naught spy Jethro Bodine than 007, "nobody does it better" than Bond or our band. It's just that the Bottom 10 prefers "a view to a kill." And no two teams have found "another way to die" quite like the Huskies and Cougars this season.
"The world is not enough" of a stage for the epic Crapple Cup encounter on Saturday. No. 1 Washington at No. 2 Washington State might be enough to scare "the living daylights" out of any Bond villain, but it's a "thunderball" of comfort in the Bottom 10. Their pillow fight of the week (year, decade, millennium …) will be a definite Bottom 10 box-office smash.
"You only live twice" in the highly coveted No. 5 spot -- at least that has to be Michigan's hope. The 3-8 Wolverines are back at No. 5 for the second time this season after their loss to Northwestern. Their eight losses set a single-season record at Michigan. With a trip to Ohio State next, the Wolverines just might "die another day" in the No. 5 spot.
Get shaken, not stirred with signature songs from the Bond series in the Week 12 edition of the Bottom 10.
Have a comment about the Bottom 10 ranking? Send us your thoughts.
So, with apologies to Steve Harvey, here's the Bottom 10:
Waiting list: Eastern Michigan (2-8), Iowa State (2-9), Miami (Ohio) (2-8), Ohio (2-8), Toledo (2-8), Utah State (2-9).
David Duffey is the college football editor at ESPN.com.