The Bottom 10 inspirational thoughts of the week: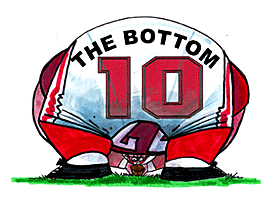 Welcome to the jungle
It gets worse here everyday
Ya learn ta live like an animal
In the jungle where we play
If you got a hunger for what you see
You'll take it eventually
You can have anything you want
But you better not take it from me
-- "Welcome To The Jungle," Guns N' Roses
After 17 years, Guns N' Roses finally released their new album. It was a long wait between 1991's Use Your Illusion I and II" and "Chinese Democracy" for GNR fans. It's been a long wait for fans of Washington and Notre Dame, too.
The Huskies, who solidified their No. 1 status with a 16-13 pillow-fight loss in double overtime to former No. 2 Washington State, are at 13 games and counting since their most recent win. Washington heads into Saturday's meeting with Cal only one loss from Bottom 10 perfection.
The appetite for destruction reached a new high in South Bend, which was no paradise city for the Irish on Saturday. Not only did Notre Dame lose to Bottom 10 regular Syracuse, but the Irish players also were pelted with a November rain of snowballs -- from their own student section.
The Irish have nothing to fear in the Bottom 10. The only thing the Bottom 10 will hurl in their direction is a hearty congratulations on returning to the highly coveted No. 5 spot.
However, Notre Dame might have something to fear when it heads to Los Angeles to meet USC on Saturday (ESPN, 8 p.m. ET). On a positive note, if ND loses to the Trojans and falls to 6-6, maybe the Irish won't make a bowl game. That way ND's bowl losing streak won't be extended to 10 games.
Your wait is over for the Bottom 10. Guns N' Roses will rock you through the Week 13 edition.
Have a comment about the Bottom 10 ranking? Send us your thoughts.
So, with apologies to Steve Harvey, here's the Bottom 10:
Waiting list: Idaho (2-10), Indiana (3-9), Kent State (3-8), New Mexico State (3-8), UAB (3-8), Utah State (2-9).
David Duffey is the college football editor at ESPN.com.