The Bottom 10 inspirational thoughts of the week: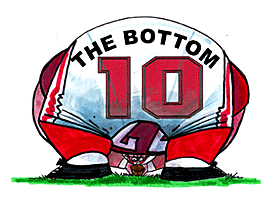 I am a man of constant sorrow
I've seen trouble all my day.
I bid farewell to old Kentucky
The place where I was born and raised.
(The place where he was born and raised)
For six long years I've been in trouble
No pleasures here on earth I found
For in this world I'm bound to ramble
I have no friends to help me now.

-- "I Am a Man of Constant Sorrow," The Soggy Bottom Boys
While Joel and Ethan Coen's Soggy Bottom Boys sang farewell to old Kentucky, the Bottom 10 sings hello to Arizona, New York and Washington.
Instead of "Raising Arizona" with wins to set up key Week 4 matchups, an 0-2 weekend from the Wildcats and Sun Devils has the Bottom 10 razing Arizona football programs to the highly coveted No. 5 spot. The boys from Arizona aren't the only Pac-10 combo in the latest rankings. The Wildcats and Sun Devils will enjoy the company of a duo from the Northwest. Apple State companions Washington and Washington State found the road to the Bottom 10.
In addition to "Raising Arizona," the Coens gave us "No Country for Old Men." In Bottom 10 country, there is definitely room for Orange men. In the Bottom 10's interpretation of the Soggy Bottom Boys' lyrics, "six long years" has to refer to the Bottom 10's new No. 1 team, Syracuse. The Orange haven't had a winning season since 2001 -- and that doesn't look to change this season. The Cuse ranks No. 114 in total offense and No. 115 in total defense.
The Bottom 10 is in constant sorrow about having to say so long to UL-U-Pick 'em, Kent State and Arkansas. Louisiana-Monroe won to break up our favorite combo. Kent State also won and the Hogs looked good this week -- they didn't play. Army also slid out of the Bottom 10 during its bye week.
We'll let the big-screen stylings of the Coen brothers and the taglines from their films guide us through the Week 3 Bottom 10 for 2008.
This week's Bottom 10 trailer is a pillow fight of the week between Idaho and Utah State.
Have a comment about the Bottom 10 ranking? Send us your thoughts.
So, with apologies to Steve Harvey, here's the Bottom 10:
Waiting list: Auburn's offense, Army (0-2), Memphis (0-3), Michigan's offense, Mississippi State's offense, Northern Illinois (0-2), Ohio (0-3), Ohio State's games against big-time nonconference foes, Rutgers (0-2) and UTEP (0-2) .
David Duffey is the college football editor at ESPN.com.