The Bottom 10 inspirational thoughts of the week: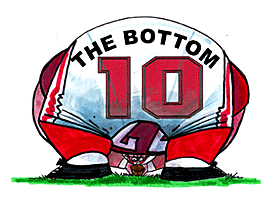 Oh, where are the things I saw in my dreams?
Where's the happy that freedom should bring?
I see me today and know yesterday
That I threw away my most precious things.
I see me a man who's lonely, wants only to lose
Beaucoups of blues.
-- "Beaucoups Of Blues," Ringo Starr
Ringo Starr is tired of receiving fan mail. If he receives it, he'll trash it. The former Beatles drummer posted a short video clip on his Web site telling fans that any mail sent after Oct. 20 will not be read or answered.
"It's going to be tossed," he says on the video. "I'm warning you with peace and love, I have too much to do. So no more fan mail. Thank you, thank you. And no objects to be signed. Nothing. Anyway, peace and love, peace and love."
There are a bunch of BCS conference teams which would like to toss their mail, too. Although, we doubt what they are currently receiving could be considered "fan" mail.
With the first BCS standings scheduled to be released on Sunday, it's a good time to concentrate the Bottom 10's message of peace and love on just BCS conference teams.
If Ringo can have his All-Starr band, the Bottom 10 should have an all-star band, too.
So, North Texas, Idaho, Utah State, San Diego State and the rest of the regular Bottom 10 band members can sit this session out.
This week, we'll see if Arizona State, Michigan, Rutgers, Texas A&M and the rest of our all-star band can carry a tune.
Since it's a special edition of the Bottom 10, the highly coveted No. 5 spot features a special pairing of troubled Tigers.
We'll let songs of Ringo Starr carry us through the Week 7 Bottom 10 for 2008.
Have a comment about the Bottom 10 ranking? Send us your thoughts.
So, with apologies to Steve Harvey, here's the Bottom 10:
Waiting list: Illinois (3-3), Miami (3-3), Nebraska (3-3), Wisconsin (3-3).
David Duffey is the college football editor at ESPN.com.