The Bottom 10 inspirational thoughts of the week: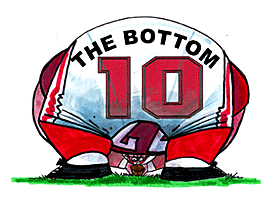 Livin' easy, lovin' free
Season ticket on a one-way ride
Askin' nothin', leave me be
Takin' everythin' in my stride
Don't need reason, don't need rhyme
Ain't nothing that I'd rather do
Goin' down, party time
My friends are gonna be there too

-- "Highway To Hell," AC/DC
It's party time again for AC/DC. "Black Ice," the Australian band's 15th album in 33 years, is topping the charts around the world. Their sold-out world tour kicked off Tuesday in Wilkes Barre, Pa.
Michigan's season ticket on a one-way ride is headed in the opposite direction. After 33 straight bowl seasons, the Wolverines are 2-6 and one loss from staying home for the holidays. And Michigan definitely hasn't been livin' easy in Ann Arbor. The Wolverines, who fell at home to Michigan State on Saturday, have lost four games at home for the first time in four decades and four in a row overall for the first time in 41 years.
No wonder the Wolverines edged out Arizona State, Colorado and Kansas for the highly coveted No. 5 spot this week. But don't worry, Michigan, your Bottom 10 friends are gonna be there too.
Winless Washington isn't takin' everthin' in stride. The Huskies, who are the only FBS team without a win, announced that they will part ways with coach Tyrone Willingham after the season. U-Dub's loss to Notre Dame on Saturday moves the Huskies past rival Washington State into the No. 2 spot.
The Bottom 10 don't need reason, don't need rhyme in our search for No. 1. North Texas is holding steady after its 45-17 loss to Troy.
Pillow Fight of the Week: San Diego State at Wyoming.
Break out the prep-school attire and fire the cannon. For those about to rock, we salute you with AC/DC songs in 2008's Week 9 Bottom 10.
Have a comment about the Bottom 10 ranking? Send us your thoughts.
So, with apologies to Steve Harvey, here's the Bottom 10:
Waiting list: Eastern Michigan (2-7), Iowa State (2-6), Louisiana-Monroe (2-6), Middle Tennessee (2-6), NC State (2-6), Ohio (2-7), Purdue (2-6), Southern Miss (2-6), Toledo (2-6), Tulane (2-5), UAB (2-6) and UCF (2-5).
David Duffey is the college football editor at ESPN.com.