The Bottom 10 inspirational thought of the week: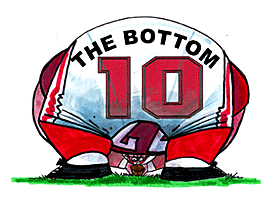 I've got a feeling, a feeling deep inside
Oh yeah, Oh yeah.
I've got a feeling, a feeling I can't hide
Oh no, Oh no, Oh no,
Yeah, I've got a feeling.
-- "I've Got A Feeling," The Beatles
The Bottom 10's got a feeling, too. In fact, we've got a couple of 'em after Week 1. With the release of "The Beatles: Rock Band" scheduled for Wednesday, we'll let the Fab Four's songs available in that game help us through those feelings about our rocked band of teams.
Losing to Football Championship Subdivision teams definitely gives the Bottom 10 a feeling. The precedent has been set, and Bottom 10 law is clear on the matter. So Duke, Temple and Virginia can come together right now in this week's edition.
Bottom 10 law also states that a win guarantees a team at least one week off. Those departures always leave the Bottom 10 feeling a bit sad. But here comes the sun for North Texas, Idaho, Tennessee, Iowa State and SMU. The Mean Green, Vandals, Volunteers, Cyclones and Mustangs won to earn their freedom.
The Bottom 10 has a special feeling about the highly coveted No. 5 spot. The big-time program that suffers the most embarrassing loss earns our most honored position. While losing on Boise State's fabled blue turf is no embarrassment, Oregon's disappointing performance coupled with the postgame altercation landed the Ducks at No. 5. Hopefully, they can get by with a little help from their new Bottom 10 friends.
So, with apologies to Steve Harvey and help from The Beatles, here's the latest Bottom 10:
ESPN.com's Bottom 10
Waiting list: ACC (4-6 nonconference record), Florida Atlantic (0-1), Florida State's clock management, Georgia's offense, Hawks love (0-1), Illinois (0-1), Indiana (1-0), Louisiana-Monroe (0-1), Marshall (1-0), Miami (Ohio) (0-1), New Mexico (0-1), Rice (0-1), Washington State (0-1).
David Duffey is the college football editor at ESPN.com.