The Bottom 10 inspirational thought of the week: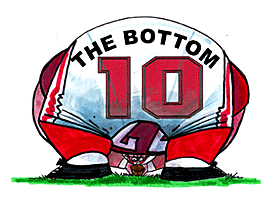 It's getting late in the evening, it's time now for dreaming
A candle is burning and tables are burning, yeah
The shadows of darkness will fade in the pale moonlight
And when we get together as one it will be all right
-- "Raising Heaven (in Hell Tonight)," Patrick Swayze
The Bottom 10 mourns the passing of Patrick Swayze. We also mourn the departures of New Mexico State, Oregon, Duke and Washington from the Bottom 10. From Sam Wheat in "Ghost" to Johnny Castle in "Dirty Dancing," Swayze's characters evoked a certain spirit that the Bottom 10 teams could use. Nobody puts Bottom 10 teams in a corner. They deserve to be dancing on the big stage.
Miami (Ohio) made the biggest move in the Bottom 10 this week. The RedHawks, who are the only Football Bowl Subdivision team that hasn't scored through two games, flew from the waiting list all the way to No. 1. Western Kentucky, Ball State and Rice are poised to take Miami's place should the RedHawks win -- or at least score.
The Flatirons provide the scenic background for Colorado's Boulder campus. The sight of the Buffaloes is a pleasant scene on any campus -- except CU's. Toledo flatironed the Buffs this past Friday, sending Colorado to 0-2 and into the Bottom 10's highly coveted No. 5 spot.
New Mexico joined Colorado and Miami (Ohio) as this week's newcomers to the Bottom 10 cast. And the production wouldn't be complete without holdovers Tulane, Temple, Eastern Michigan and Virginia.
Pillow Fight of the Week: UTEP at New Mexico State.
So, with apologies to Steve Harvey and remembering Patrick Swayze, here's the latest Bottom 10:
ESPN.com's Bottom 10
Waiting list: Big 12's power ranking, Marshall (1-1), Memphis (0-2), Notre Dame's attempt to run out the clock, Ohio State's offense, UTEP (0-2), Washington State (0-2).
David Duffey is the college football editor at ESPN.com.