Weeks: Preseason | 1 | 2 | 3 | 4 | 5 | 6 | 7 | 8 | 9 | 10 | 11 | 12 | 13
The Bottom 10's inspirational thought of the week: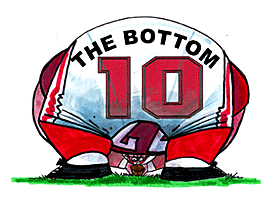 Why should I keep loving you,
when I know that you're not true?
And why should I call your name,
when you're to blame
for making me blue?

-- Freddy Fender, "Wasted Days and Wasted Nights"
Sure, Buffalo lost the year's first Pillow Fight, but the Bulls put up one heck of a fight and the Bulls deserve a break. They get one with a move to the No. 4 spot. But that means a new No. 1. Not to worry, though. Plenty of teams to choose from.
San Jose State immediately came to mind. Idaho and Central Michigan deserved consideration. Temple and New Mexico State were also options. But we head to Freddy Fender's home state to find the team delivering the most heartache in week one. In fact, the No. 1 team hails from Deep in the Heart of Texas. Baylor put on one of those rare exhibitions that will lift a team from the waiting list to the top spot. The Bears hit the road to Birmingham with lofty ambitions, but left with an embarassing 56-14 loss.
Then there's the No. 5 spot. Washington made a solid bid. Texas A&M put forth the effort. Notre Dame and UCLA also caught our eyes. Syracuse was another option, but we had other plans for the Orange. In the end, though, the Bottom 10 just couldn't ignore Hawaii for the season's first highly-coveted No. 5 spot. The Warriors' 35-28 OT loss at home to Florida Atlantic is the kind of defeat that can ruin a promising season.
The second Pillow Fight of the Week is an Empire State classic as Bottom 10 regular Buffalo takes on newcomer Syracuse. The winner gets a bucket of wings and at least a week off the list. For the loser? Well, their barrel will flow directly over Niagara Falls and likely crash into the No. 1 spot next week.
ESPN.com users had plenty to say about the Week 1 Bottom 10 ranking.
With apologies to Steve Harvey, here's this week's Bottom 10:
Waiting list: Duke (0-1), East Carolina (0-1), Mike Leach's coaching etiquette, New Mexico State (0-1), North Carolina (1-0), Notre Dame (0-1), the unit formerly known as the Wrecking Crew, UTEP (0-1), Washington (0-1) and, of course, Wyoming's uniforms.
&nbsp