The Bottom 10 inspirational thought of the week: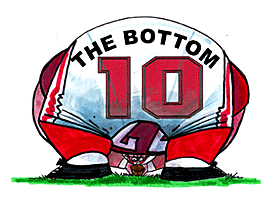 Call me the American nightmare
Call me the American dream
Call me your soul corrupted
Call me everything you need
-- "The Great American Nightmare," Rob Zombie
"Zombieland" hits theaters Friday, but you don't have to wait until Woody Harrelson's flick opens to catch a glimpse at zombies this season. The Bottom 10 teams' performances have resembled the so-called walking dead. Thankfully, our zombie zoo is a harmless bunch. They are content in their lifeless stumble through the season and are dangerous only to fans of their own teams.
But danger lurked everywhere for teams in the top 10. Four of them lost -- and looked bad in the process. Cal and Miami were trounced on the road. Ole Miss failed to live up to the hype. Penn State was beaten up at home by Iowa. So welcome Ole Cal State U to the highly coveted No. 5 spot. While we don't expect this pairing to have the staying power of F_U, UL-U-Pick 'em or Directional Michigan, the Bottom 10 is glad OCSU could join us this week.
While No. 1 Western Kentucky held onto its spot, New Mexico lost its "Land of Disenchantment" Pillow Fight of the Week to move to No. 2. Miami (Ohio) and Rice round out the Bottom 5. As for the rest of the ranking, all 10 winless teams are represented.
"Revenge of the Zombies": Temple took down Buffalo to earn its way off the Bottom 10.
"Living A Zombie Dream" (aka Pillow Fight of the Week): Memphis at UCF.
So, with apologies to Steve Harvey and with the help of zombie films, here's the latest Bottom 10:
ESPN.com's Bottom 10
Waiting list: Akron (1-3), Danny Hope's timeout, Bowling Green (1-3), Maryland (1-3), Mike Leach's goal-line decision, North Texas (1-3), UAB (1-3), UTEP (1-3).
David Duffey is the college football editor at ESPN.com.