The Bottom 10 inspirational thought of the week: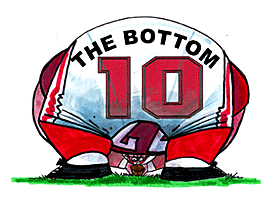 You know I like my chicken fried
Cold beer on a Friday night
A pair of jeans that fit just right
And the radio up
-- "Chicken Fried," Zac Brown Band
The Zac Brown Band might like the radio up, but fans of teams in the Bottom 10 were turning the volume down during the opening weekend of the 2010 college football season.
From Albuquerque to Oxford, Miss., the season seemed to end before it even started.
A more menacing version of poultry spoiled Ole Miss' season on Saturday, as the Jacksonville (Ala.) State Gamecocks stunned the Rebels 49-48 in double overtime. The Ole Miss defense was fried after halftime, blowing a 31-10 lead and allowing a tying 30-yard touchdown on fourth-and-15 in the second overtime.
The Gamecocks won the game on Coty Blanchard's two-point pass to Calvin Middleton.
Jacksonville State wasn't the only FCS program to leave its mark on Saturday. North Dakota State upset Kansas 6-3, spoiling Turner Gill's debut as the Jayhawks' coach. While Kansas fans were searching for plenty of cold beer, the Jayhawks took solace in securing a tie for the not-so-coveted No. 5 spot in the Bottom 10.
Of course, Bottom 10 rules stipulate inclusion with any loss to a lower FCS foe.
At least one Bottom 10 team showed a lot of heart in its opener. Eastern Michigan nearly upset Army before losing 31-27 in the final minute. The Eagles will try to end their 13-game losing streak at Miami (Ohio) on Saturday in the Pillow Fight of the Week.
With apologies to Zac Brown and Steve Harvey, here's this week's Bottom 10:
Waiting list: Illinois (0-1), LSU's clock management, Rice (0-1), USC's defense, Navy's ball security, Memphis (0-1), Marshall (0-1), North Texas (0-1), Marvin Austin's tweeting, Florida's shotgun snaps.
Mark Schlabach covers college football for ESPN.com.