The Bottom 10 inspirational thought of the week: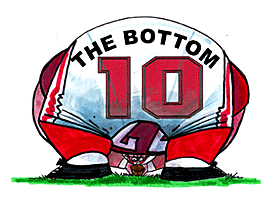 "Ooooh that smell
Can't you smell that smell
Ooooh that smell
The smell of death surrounds you."
-- "That Smell," Lynyrd Skynyrd
Leonard Skinner was the kind of coach who would probably turn around the fortunes of some Bottom 10 teams.
The flat-topped and no-nonsense basketball coach and P.E. teacher from Jacksonville, Fla., was a strict disciplinarian and Army veteran.
At Robert E. Lee High School in the late 1960s, Skinner often sent male students to the principal's office because their hair was too long. One of those students was Gary Rossington, a guitarist in a rock band. Rossington's band was eventually named Lynyrd Skynyrd as a tribute to his former P.E. teacher.
Skinner passed away at the age of 77 in Jacksonville on Monday. He and his former students eventually patched things up, and Skinner even introduced Lynyrd Skynyrd at a concert in their hometown.
Skinner would recognize the smell of the Bottom 10 teams because, well, they stink. One member has a 23-game losing streak. One has a 14-game drought, and yet another has lost 12 games in a row.
It's a crying shame Skinner won't be in Las Vegas for Saturday night's Pillow Fight of the Week, in which woeful New Mexico plays at UNLV. Skinner might have been able to transform the Lobos and Rebels into something other than their current sorry states.
With apologies to Lynyrd Skynyrd and Steve Harvey, here's this week's Bottom 10:
Waiting list: Ole Miss (1-2), North Carolina (0-2), mascot fights, Minnesota (1-2), Tulsa (1-2), missed PATs, Rice (1-2), Memphis (1-2), Ohio (1-2), Kent State (1-2), blown pass coverage, Ball State (1-2), Washington State (1-2), Twitter threats, Louisiana-Monroe (0-2), Florida International (0-2), Utah State (1-2), San Jose State (1-2) and Mark Schlabach's upset picks.
Mark Schlabach covers college football for ESPN.com.