The Bottom 10 inspirational thought of the week: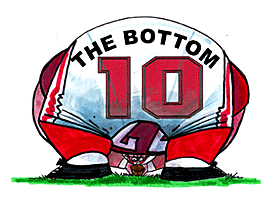 "License to kill gophers by the government of the United Nations.
Man, free to kill gophers at will.
To kill, you must know your enemy, and in this case my enemy is a varmint.
And a varmint will never quit -- ever.
They're like the Viet Cong -- Varmint Cong.
So you have to fall back on superior firepower and superior intelligence.
And that's all she wrote"
-- Carl Spackler in "Caddyshack"
Three decades ago, Bill Murray introduced Spackler to the world in "Caddyshack."
Spackler, the assistant greenskeeper at Bushwood Country Club, was charged with ridding the plush golf course of unwanted gophers.
But the gophers evaded Spackler throughout the film, even surviving plastic explosives in the finale.
If only the Minnesota Gophers were so resilient.
For the second time in three games, Minnesota was embarrassed at home Saturday, falling 34-23 to Northern Illinois at TCF Bank Stadium in Minneapolis. On Sept. 11, the Gophers lost to FCS foe South Dakota 41-38.
In "Caddyshack," Spackler dreamed of winning the Masters while whacking flowers.
"Cinderella story. Outta no where. A former greenskeeper about to become the Masters champion."
The Bottom 10 celebrated a few Cinderella stories last week, too. Four teams -- Colorado State, Marshall, North Texas and UNLV -- leave our dubious list after winning for the first time.
Another Bottom 10 team can duplicate that feat Saturday, when Eastern Michigan hosts Ohio in the Pillow Fight of the Week.
With apologies to "Caddyshack" and Steve Harvey, here's this week's Bottom 10:
Waiting list: Arkansas State (1-3), Bowling Green (1-3), Pittsburgh's offense, Colorado State (1-3), Duke (1-3), Arizona State's turnovers, Marshall (1-3), UAB's field goals, Memphis (1-3), North Texas (1-3), Rice (1-3), Georgia's arrests, Tulane (1-2), UNLV (1-3), Utah State (1-3), Washington State (1-3), Mark Schlabach's upset special (again).
Mark Schlabach covers college football for ESPN.com.