The Bottom 10 inspirational thought of the week: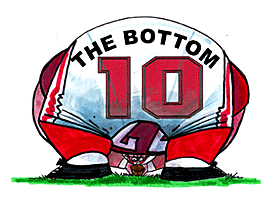 "Worried sick my eyes are hurting
To rest my head I'd take a life
Outside the girls are dancing
'Cause when you're down it just don't seem right.
Feeling second fiddle to a dead man
Up to my neck with your disregard
Like a beat dog that's walking on the broadway
No one wants to hear you when you're down
Sister luck is screaming out
Somebody else's name
Sister luck is screaming out
Somebody else's name"
"Sister Luck," Black Crowes
Are those Black Crowes flying over Georgia's Sanford Stadium?
Or hungry buzzards?
The once-proud Bulldogs have fallen on really hard times, losing four games in a row for the first time in two decades. Georgia will have to beat Tennessee at home on Saturday to avoid its first five-game drought since 1953.
Black Crowes front man Chris Robinson surely isn't happy about the Bulldogs' current plight. Robinson and his brother Rich formed the band in Atlanta in 1984, when the Bulldogs were fresh off their streak of winning three consecutive SEC titles and the 1980 national championship.
Now, the Bulldogs can't even beat Mississippi State or Colorado on the road. At least the Black Crowes are still flying strong; the band was inducted into the Georgia Music Hall of Fame last month.
There's nothing legendary about this week's Pillow Fight of the Week. New Mexico and New Mexico State, who are a combined 0-9 this season, play at Aggie Memorial Stadium in Las Cruces, N.M., on Saturday night. There will be more than bragging rights at stake; the winner also gets a one-week reprieve from the Bottom 10.
With apologies to the Black Crowes and Steve Harvey, here's this week's Bottom 10:
Waiting list: Duke (1-4), Minnesota (1-4), LSU's late-game management, Marshall (1-4), Rice (1-4), Tennessee's 7-3-3 defense, Bowling Green (1-4), USC's dynasty, Colorado State (1-4), Rutgers' homecoming, BYU (1-4), Louisiana-Monroe (1-3), Florida's jump pass, Louisiana Tech (1-4), Colorado fans storming the field after beating a 1-4 team, UNLV (1-4), Washington State (1-4), Mark Schlabach's upset pick (again).
Mark Schlabach covers college football for ESPN.com.