The Bottom 10 inspirational thought of the week: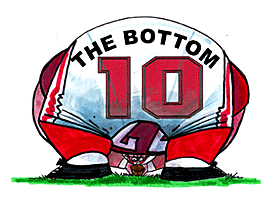 "I took a ride in a world
I'll be spinnin' for the rest of my life
I feel your heart beatin' baby
Oooh sometimes it cuts like a knife
So are you tough enough for my love?
Just close your eyes to the heaven above
I'm coming home.
I'm coming home."
"Coming Home," Cinderella
Penn State fans went home last week, and the Nittany Lions' 33-13 homecoming loss to Illinois made it not-so-Happy Valley.
It was Penn State's sixth homecoming loss in 45 seasons under coach Joe Paterno, who might be headed home for good if the Nittany Lions can't get things turned around. Penn State is 0-2 in Big Ten play and 3-3 overall after losing consecutive games to Iowa and Illinois. It's the first time the Nittany Lions have lost consecutive games by 20 points or more since 1984.
At least Pittsburgh fans can't celebrate the Nittany Lions' misery. The Panthers lost at Notre Dame 23-17 last week, dropping their record to 2-3 overall. Pitt was the preseason favorite to win the Big East championship but its only victories have come against FCS foe New Hampshire and woebegone Florida International.
Cinderella front man Tom Keifer can't be happy about coming home to such football futility. Keifer, who helped found the glam-metal band in Philadelphia in the 1980s, just wrapped up Cinderella's first tour in four years. According to reviews, Cinderella's music and hair are better than ever.
Believe it or not, the Bottom 10 celebrated a Cinderella story of sorts last week, too. New Mexico and New Mexico State played for bragging rights -- the Aggies were playing for much more than that, if you believed the threats of an on-campus strike -- in one of the more epic Pillow Fights of the Week in recent Bottom 10 history. Fortunately for the Aggies' manhood, they won the game by a 16-14 score after Tyler Stampler kicked a 22-yard field goal with 1:56 to play.
There won't be nearly as much at stake when Eastern Michigan plays at Ball State on Saturday in this week's Pillow Fight of the Week. The Eagles have lost 18 games in a row; the Cardinals have fallen back into obscurity after being relevant for about three months in the last decade.
With apologies to Steve Harvey and Cinderella (the guys with the poofy hair, not the doll with the blonde hair), here's this week's Bottom 10:
Waiting list: Duke (1-4), UAB (1-4), another Georgia arrest, Marshall (1-4), North Carolina's dismissals, Ball State (2-4), Northwestern's kicking game, Bowling Green (1-5), Southern Cal's defense, Colorado State (1-5), Texas Tech's onside kicks, UNLV (1-5), Washington State (1-5), paying Ryan Leaf, Tennessee (2-4), Florida Atlantic (1-4), Miami's return to glory, New Mexico State (1-4), Utah State (2-4).
Mark Schlabach covers college football for ESPN.com.