The Bottom 10 inspirational thought of the week: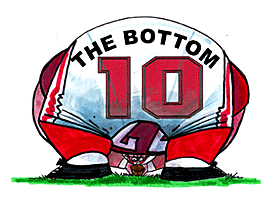 ""My sister got lucky, married a yuppie,
Took him for all he was worth,
Now she's a swinger, dating a singer,
I can't decide which is worse.
But not me, baby,
I got you to save me.
Aw, yer so bad,
Best thing I've ever had,
In a world gone mad, yer so bad."
-- "Yer So Bad," Tom Petty
Tom Petty learned about heartache long before he became famous.
Petty grew up in Gainesville, Fla., during the 1950s and 1960s when the Gators were just another mediocre football team. He attended Gainesville High School and later worked on the grounds crew at the University of Florida. In fact, a lime tree he planted on campus is still affectionately known as the "Tom Petty Tree."
The Gators didn't win their first SEC championship until 1991, long after Petty left town as the front man of Tom Petty and the Heartbreakers.
After dominating college football for much of the past decade, the Gators are breaking their fans' hearts once again. Florida lost to Mississippi State
10-7 on homecoming last week, its third consecutive defeat and second straight in the Swamp.
Of course, the Bottom 10 knows heartbreak all too well. Western Kentucky blew a 24-7 lead in the fourth quarter of a 35-30 loss to Louisiana-Monroe last week, the Hilltoppers' 26th consecutive defeat.
At least Eastern Michigan ended its 18-game losing streak, beating Ball State 41-38 in overtime on Alex Gillett's 12-yard touchdown pass to Ben Thayer on the final play of the game. That victory earned the Eagles a one-week reprieve from the Bottom 10.
Akron, one of only three winless teams left in the country, hopes to leave the Bottom 10 by beating Western Michigan at home in this week's Pillow Fight of the Week.
With apologies to Steve Harvey and Tom Petty, here's this week's Bottom 10:
Waiting list: Duke (1-5), replay officials at Auburn, Kansas (2-4), obituaries for South Carolina's "chicken curse" (it's alive and well), Virginia (2-4), North Texas (1-6), Kentucky receiver Randall Cobb's tweeting, Marshall (1-5), Nebraska's dropped touchdowns, Tulane (2-4), Rice (2-5), Ohio State's special teams, Kent State (2-4), Eastern Michigan (1-6), the SEC Least, Wyoming (2-5), Colorado State (2-5), BYU (2-5), Tennessee (2-4), incestuous replay booths in the Mountain West, Florida Atlantic (1-4).
Mark Schlabach covers college football for ESPN.com.