The Bottom 10 inspirational thought of the week: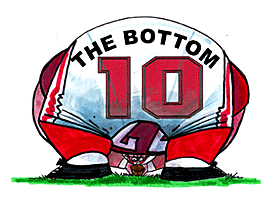 One, two, Freddy's coming for you.
Three, four, better lock your door.
Five, six, grab your crucifix.
Seven, eight, better stay awake.
Nine, ten, never sleep again.
-- "A Nightmare on Elm Street"
As we celebrate Halloween and move into the final month of college football's regular season, life has certainly become a nightmare on Sixth Street in Austin, Texas.
Defending Big 12 champion Texas, which upset then-No. 5 Nebraska 20-13 on the road two weeks ago, lost at home to Iowa State 28-21 on Saturday. It was the Longhorns' first-ever loss to the Cyclones, who were coming off a 52-0 drubbing at the hands of Oklahoma.
With his team limping into Saturday's home game against No. 25 Baylor with a 4-3 record, Texas coach Mack Brown is doing his best Freddy Krueger impersonation. He's calling out his players and coaches, and blaming his team's sense of entitlement for its uncharacteristic struggles.
Like Krueger, the Bottom 10 doesn't hide its imperfections. But while Krueger terrified us with his burned, disfigured face, Bottom 10 teams aren't going to scare anyone when they step on the field.
Texas' ongoing nightmare is not nearly as terrifying as the massacre Louisiana-Lafayette suffered last week. The not-so-Ragin' Cajuns were routed 54-21 by Western Kentucky, which ended its 26-game losing streak, the longest in the country. The Hilltoppers had 409 yards of offense and won a game for the first time since Sept. 20, 2008.
With apologies to Freddy Krueger and Steve Harvey, here are the movies that will scare the hell out of you on Halloween, along with this week's Bottom 10:
Waiting list: Duke (1-6), Minnesota (1-7), UCLA suspensions, Florida Atlantic (1-5), Marshall (1-6), Oklahoma's fourth quarter, Washington State (1-7), Western Kentucky (1-6), being ranked No. 1, Rice (2-6), Central Michigan (2-6), LSU's passing game, Louisiana-Lafayette (2-5), Notre Dame's bowl hopes, Utah State (2-5), Colorado State (2-6), threat of cow bell bans, Kansas (2-5), Tennessee (2-5), Big Least, Ball State (2-6) and Buffalo (2-5).
Mark Schlabach covers college football for ESPN.com.