The Bottom 10 inspirational thought of the week: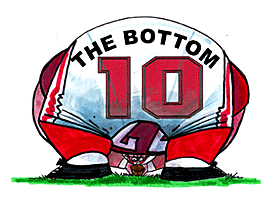 "Load up on guns and bring your friends
It's fun to lose and to pretend
She's over-bored and self-assured
Oh no, I know a dirty word
Hello, hello, hello, how low?
Hello, hello, hello, how low?
Hello, hello, hello, how low?
Hello, hello, hello
With the lights out, it's less dangerous
Here we are now, entertain us
I feel stupid and contagious
Here we are now, entertain us."
-- "Smells Like Teen Spirit," Nirvana
Remember when Washington gave us its so-called "Seattle Sound," which spawned grunge acts like Nirvana, Pearl Jam, Soundgarden, Alice in Chains and later the Foo Fighters?
Two decades later, the Apple State is giving us really bad football.
Entering the final month of the 2010 season, Washington and Washington State are holding up the bottom of the Pac-10 standings. Last week, the Cougars and Huskies lost games against Arizona State and Stanford, respectively, by a combined score of 83-0.
Now the Cougars and Huskies share the not-so-coveted No. 5 spot in the Bottom 10. For Bottom 10 novices, the No. 5 spot goes to a team (or teams) that isn't necessarily one of the worst in the country, but embarrassed itself by performing well below its potential the previous week.
Washington State, which has become a mainstay in the Bottom 10, has embarrassed itself all season. The Cougars' only victory came against FCS foe Montana State 23-22 on Sept. 11 and they've lost 23 of their last 24 Pac-10 games.
Washington came into the season with high hopes after quarterback Jake Locker passed on the NFL draft and returned to school. But Locker has been hobbled by injuries, and the Huskies have lost three of their last four games. Locker will miss Saturday's game at No. 1 Oregon, and Washington will have to win three of its last four games to play in a bowl game.
With apologies to Eddie Vedder and Steve Harvey, here's this week's Bottom 10:
Waiting list: Duke (2-6), Wake Forest (2-6), Clemson's offense, Kansas (2-6), West Virginia's fumbles, Rice (2-6), Bowling Green (2-7), Missouri's first quarter, Michigan State's first half, Buffalo (2-6), late Illini TD passes, Central Michigan (2-7), "zero tolerance" at Michigan State, Wyoming (2-7), Tennessee (2-6), choking on the Georgia sideline, Vanderbilt (2-6), North Texas (2-6), Miami's interceptions, New Mexico State (2-6), Utah State (2-6), Louisiana-Lafayette (2-6), Marshall (2-6)
Mark Schlabach covers college football for ESPN.com.