The Bottom 10 inspirational thought of the week: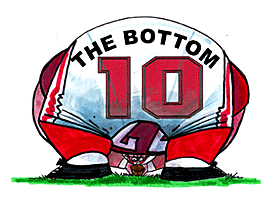 "I can't die.
I've experienced death countless times.
Sometimes, I see a bright light.
Sometimes, I see heaven or hell.
But eventually, no matter what, I wake up in my bed wearing my same old clothes.
The worst part? No one even remembers me dying."
-- Kenny, in "South Park"
Former Colorado coach Dan Hawkins probably felt like South Park's oft-whacked character on many Sunday mornings.
Hawkins' five-year tenure in Boulder opened with a 19-10 loss to FCS foe Montana State in the 2006 opener. It ended when he was fired on Tuesday, three days after the Buffaloes blew a 28-point lead in the fourth quarter of a 52-45 loss to Kansas, the biggest collapse in the 121-year history of the program. Hawkins had a 19-39 record at Colorado.
Sadly, "Hawk Love" never made its way onto "South Park," which was created by Colorado alumni Trey Parker and Matt Stone.
At least Hawkins ends his Colorado career in the Bottom 10, along with nine other comical teams. There will be plenty of humor in this week's Pillow Fight of the Week, which pits Wyoming against UNLV in Las Vegas.
With apologies to "South Park" and Steve Harvey, here's this week's Bottom 10:
Waiting list: New Mexico State (2-7), Buffalo (2-7), Western Michigan (3-6), Illinois' defense, Michigan's defense, East Carolina's defense, Vanderbilt (2-7), Wake Forest (2-7), Tulane (3-6), Louisiana-Lafayette (2-7), Oklahoma on the road, Texas on the road and at home, Rice (2-7), Bowling Green (2-7), Florida International (3-5), Colorado State (3-7).
Mark Schlabach covers college football for ESPN.com.