The Bottom 10 inspirational thought of the week: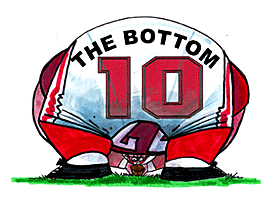 Ughh!
Hey yo, it's just another bombtrack … ughh!
Hey yo, it's just another bombtrack … yeah!
It goes a-1, 2, 3 …
Yeah, it's just another bombtrack
And suckas be thinkin' that they can fake this
But I'm gonna drop it at a higher level
'Cause I'm inclined to stoop down
Hand out some beat-downs
Cold runna train on punk ho's that
Think they run the game
But I learned to burn that bridge and delete
Those who compete … at a level that's obsolete
Instead I warm my hands upon the flames of the flag
To recall the downfall
And the businesses that burned us all
See through the news and the views that twist reality.
"Bombtrack," Rage Against the Machine
Rage Against the Machine, the Los Angeles-based rap metal band, often ranted against corporate America and government oppression.
Rage Against the (Big 12) Machine takes out its anger on zebra-striped officials, freshman quarterbacks and camera-toting Internet reporters.
Once again, Nebraska coach Bo Pelini is apologizing for his boorish behavior, this time for his foul-mouthed berating of officials and public dress-down of freshman quarterback Taylor Martinez during last week's 9-6 loss at Texas A&M.
Pelini was admonished by Nebraska chancellor Harvey Perlman, who called Pelini's behavior "unfortunate."
Carl Pelini, the coach's brother and defensive coordinator, is accused of grabbing a reporter's camera and breaking it during a confrontation after the Texas A&M game.
On Monday, Pelini promised to watch his temper.
"I always believe it's OK to disagree with a call," Bo Pelini told reporters. "It's not OK to make it personal. At times during that game, probably in my quest to fight for the kids on our football team, I let it get personal. For that, once again, I'm sorry. I regret that."
The Bottom 10 teams' opponents don't have to worry about walking into a fight. The Bottom 10 teams are only good at beating themselves.
With apologies to Zack de la Rocha and Steve Harvey, here's this week's Bottom 10:
Waiting list: Indiana (4-7), Southern Cal's effort, Minnesota (2-9), Miami's turnovers, Ball State (4-8), Wyoming (3-9), Greg Robinson's teddy bear, Tulane (4-7), loser's walk at Wrigley Field, Rice (3-8), Washington State (2-9), Duke (3-8), diving into the end zone in Baton Rouge, Vanderbilt (2-9), East Carolina's defense, Eastern Michigan (2-9), UCLA's offense, Wake Forest (2-9).
Mark Schlabach covers college football for ESPN.com.