The Bottom 10 inspirational thought of the week: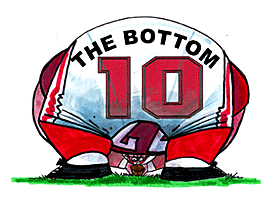 Fez: I just wish that there was someplace in the world where prejudice didn't exist.
Kelso: Well, that's Canada. … Yup, good ol' Canada. They don't make generalizations about people because they're too busy playin' hockey or gettin' drunk or puttin' maple syrup on their ham."
"That '70s Show"
What's the only thing better than maple syrup on Canadian bacon?
A bronze pig.
That's what Minnesota won by upsetting No. 24 Iowa 27-24 on Saturday. The Gophers claimed the Floyd of Rosedale Trophy, a bronze pig, which they proudly carried through the stands of TCF Bank Stadium in Minneapolis.
In the span of six weeks, the Hawkeyes went from BCS national championship contender to a five-loss team. Iowa lost its last three games to claim the not-so-coveted No. 5 spot in the final Bottom 10 of the 2010 season.
Ashton Kutcher, who briefly attended Iowa before leaving school for a modeling and acting career, can't be happy about the Hawkeyes' nosedive. Earlier this season, Kutcher tweeted that he believed Iowa was a legitimate national championship contender. Instead, the Hawkeyes will spend the holidays playing in one of the Big Ten's lesser bowls.
Of course, the rest of the Bottom 10 won't be bowling in the postseason. But at least none of the Bottom 10 teams will carry a winless record into the offseason. Akron, which was No. 1 in the Bottom 10 rankings after entering its final game with a 0-11 record, defeated Buffalo 22-14 last week to earn a 10-month reprieve from the Bottom 10.
With apologies to Ashton Kutcher, Demi Moore and Steve Harvey, here's this week's Bottom 10:
Waiting list: Akron (1-11), Texas in the red zone, Washington State (2-9), UNLV (2-10), Michigan's defense, Florida's offense, Duke (3-9), Southern Cal's dynasty, Louisiana-Lafayette (3-9), Miami's home-field advantage, Central Michigan (3-9), Kansas (3-9), Cal's "injuries," Wyoming (3-9), Boise State's field goals, Georgia Tech's extra point, Colorado State (3-9), Wake Forest (3-9), Ball State (4-8), Tulane (4-8)
Mark Schlabach covers college football for ESPN.com.