The Bottom 10 inspirational thought of the week: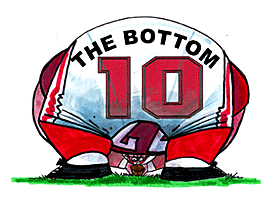 Who knows who is both your best friend and brother
When everyone's deserted you
Who'd shoot first and ask questions later
If anybody's messed with you
Pretty soon we'll all be tumblin' like a barrel
Thrown from the top of the waterfall, well
I'm drowning in piranhas in the river
Man, what a drag, man
-- "All Time Low," Widespread Panic
Every Bottom 10 member might be hearing those Widespread Panic lyrics in their heads this week. From the band's hometown of Athens (can Georgia stop anyone other than Vanderbilt?) to Columbus (is Ohio State's offense really that bad?) to even the music hotbed of Austin (is the Texas offense really that mediocre?), there is indeed widespread panic as we hit the midpoint of the 2009 season.
Ohio State reached an all-time low Saturday, losing at woeful Purdue 26-18, which cost the Buckeyes a chance of getting beaten soundly in yet another BCS National Championship Game.
Oklahoma's season also reached an all-time low. The defending Big 12 champion saw its record fall to 3-3 after losing to rival Texas 16-13 in the Red River Rivalry game in Dallas. Worse, Sooners quarterback Sam Bradford re-injured his right shoulder, which might prematurely end his season.
The Bottom 10 believes Bradford might have avoided such a harsh fate if he'd only spent Friday night at Superpages.com Center in Dallas, where Widespread Panic performed two rip-roaring sets.
Word of advice to Texas quarterback Colt McCoy: Spend an extra night at home before making the trip to No. 15 Oklahoma State on Halloween Night. Widespread Panic is playing two nights at Austin Music Hall, and hearing "Don't Be Denied" might do you some good.
The Bottom 10 reached an all-time low last week, too. Six teams reached the midpoint of the season without a single victory. Two of them -- 0-7 Ball State and 0-6 Eastern Michigan -- play Saturday in what, unfortunately, probably isn't an all-time low for the MAC, but could be an all-time high for the Pillow Fight of the Week.
So, with apologies to Steve Harvey and with help from J.B. and the boys, here's the latest Bottom 10:
ESPN.com's Bottom 10
Waiting list: Arkansas State (1-4), Florida International (1-5), Utah State (1-5), San Jose State (1-5), Washington State (1-5), SEC officials, UNLV (2-5).
Mark Schlabach covers college football and men's college basketball for ESPN.com. You can contact him at schlabachma@yahoo.com.