The Bottom 10 inspirational thought of the week: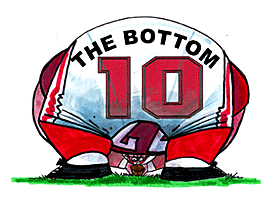 If you're on your own in this life, the days and nights are long,
When you think you've had too much of this life to hang on.
Well, everybody hurts sometimes,
Everybody cries. And everybody hurts sometimes.
And everybody hurts sometimes. So, hold on, hold on.
Hold on, hold on. Hold on, hold on. Hold on, hold on.
Everybody hurts. You are not alone.
-- "Everybody Hurts," R.E.M.
The college football teams that have become Bottom 10 staples are not alone in their misery this season.
Even some of the sport's traditional heavyweights have become bottom-feeders in 2009. Michigan finished 5-7 and will miss a postseason bowl for the second season in a row. Defending Big 12 champion Oklahoma has to beat Oklahoma State on Saturday to finish the regular season with a winning record. So does Notre Dame, which plays at Stanford on Saturday night.
R.E.M., which spent last weekend in New Orleans recording new tracks for an upcoming album, was greeted by "The Wake-Up Bomb" from its hometown of Athens, Ga., on Sunday.
After leading Kentucky 20-6 at the half at Sanford Stadium, the Georgia Bulldogs committed four second-half turnovers in a 34-27 loss to Kentucky. It was Georgia's first home loss to the Wildcats since 1977, when Prince Charles watched the Bulldogs get royally blasted, 33-0.
Georgia, which went into the 2008 season ranked No. 1 in the country and was No. 13 at the start of this season, must upset No. 7 Georgia Tech in Atlanta on Saturday night to finish the regular season above .500.
Maybe the Bulldogs will be inspired by New Mexico, which won its first game of the season by beating Colorado State 29-27 on James Aho's 27-yard field goal with 12 seconds to play. Or by Rice, which has won two consecutive games, over Tulane and UTEP.
With apologies to Steve Harvey and Michael Stipe, here's this week's Bottom 10:
ESPN.com's Bottom 10
Waiting list: Virginia (3-8), UTEP (3-8), Tulane (3-8), Vanderbilt (2-10), LSU's clock management, Florida Atlantic (3-7), Florida International (3-8), Arkansas State (2-8), North Texas (2-9), San Jose State (1-9).
Mark Schlabach covers college football and men's college basketball for ESPN.com. You can contact him at schlabachma@yahoo.com.