OXFORD, Miss. -- Beneath the patchwork and the paisley; behind the seersucker, Skoal and Sperry Top-Siders -- it's another world in The Grove.
Literally, until you've seen it, you can't imagine what goes on at Ole Miss for a game day.
In the center of campus at a place called The Grove, fans gather in a crock pot filled with football and formal. I'd call it a tailgate, but I'm not sure that accurately describes the catered tabletops with candelabras under tents toting chandeliers and Direct TV dishes.
While I'm still not sure I can define hoddy toddy, I'm certain I saw it last Saturday. It smelled like cologne, and bourbon, and brownies, and barbeque. It had names like Langston, and Kyle, and Caroline. It looked a little like golf and tennis and sailing. But it was really just football at the University of Mississippi.
Are you ready? Ralph Lauren eat your heart out.
The University of Mississippi is big on unofficial emblems. Shoot, the entire institution operates under an alias. So, Colonel Reb isn't the official mascot, "Dixie" isn't the official anthem, and while folks in Florida and Georgia might have officially cornered the market on big outdoor cocktail parties, Ole Miss unofficially has nabbed the best.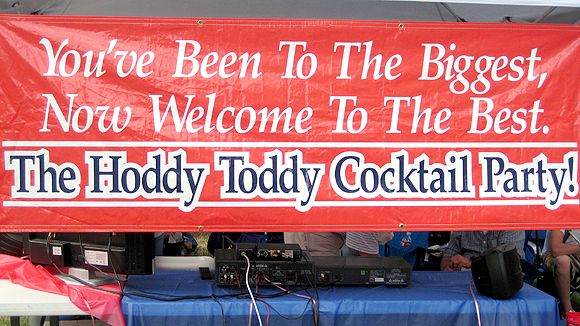 Mary Buckheit/ESPN.com
I'm pretty sure that Polo is the unofficial apparel sponsor of Ole Miss. While it might look like we crashed a wedding on the Vineyard, this is actual a snapshot of the standard attire for football game-going frat brothers. Business casual couldn't cut it around here. And neither would a buzz cut. Perfectly pressed khakis, loafers, button downs, ties and blue blazers aren't some extraordinary paradigm, they're the norm for the gentlemen of Ole Miss and their full-feathered comb-overs.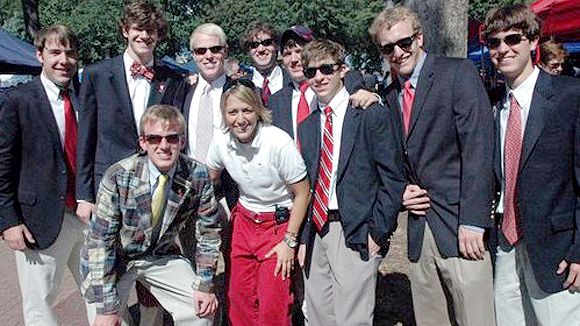 Ralph Braseth
Not to be outdone, the fairer sex also breaks out their Sunday best on Saturdays in Oxford. For the ladies, nothing but a cocktail dress and heels will do.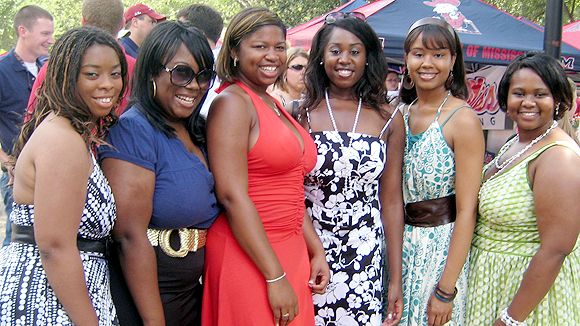 Mary Buckheit/ESPN.com
Spilling over about 10 acres of campus real estate, shaded by oak trees lies the legendary grassy patch. Coeds, catering servants, kids and alumni sporting class rings the size of tea candles gather under tents in The Grove for the festivities, many arriving before 6 a.m. On its way to the stadium a few hours before kickoff, the football team makes its way under the arch and into the sea of grovers. During the party, the arch makes for great fun and photo ops that assure you are partying like a champion.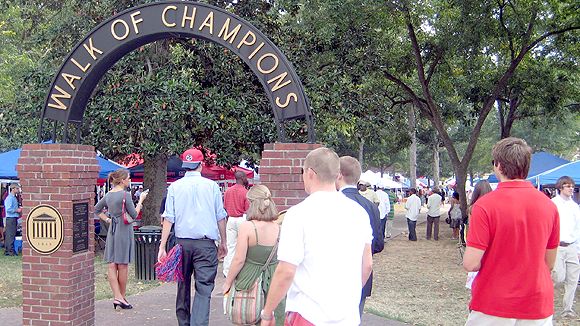 Mary Buckheit/ESPN.com
As a New Englander transplanted to Southern California, I had a lot to learn in Mississippi . Lucky for me, the little niblets of the Dixie Dance Company were kind enough to teach me the Hoddy Toddy cheer. Are you ready (for the G-rated version)? "Hotty Toddy, Gosh almighty, Who are we? Hey! Flim Flam, Bim Bam, Ole Miss, Yes Ma'am!"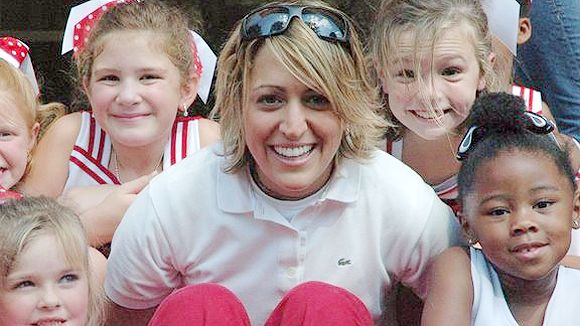 Ralph Braseth
Only the food spread can steal the spotlight from the fashion show. They serve up anything you can imagine in The Grove … most under chandeliers, on table cloths with silver-plated servers, lots of lace and designer doilies. But in a sea of hors d'oeuvres and highbrows, barbeque still has authority and this tricked out grill was a thing of beauty.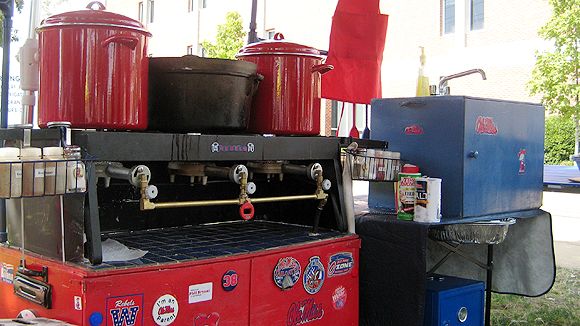 Mary Buckheit/ESPN.com
I don't Grove and tell.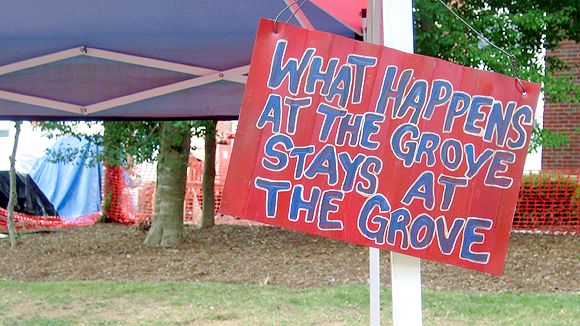 Mary Buckheit/ESPN.com
Mary Buckheit is a Page 2 columnist. She can be reached at marybuckheit@hotmail.com.