Oregon's Dixon still the pick of the litter
Healthy Choice
By Ivan Maisel, ESPN.com
Oregon quarterback Dennis Dixon's season has been over for nearly 72 hours, the result of his left knee sending him a message that went something like this: "Why do I have to repeat myself? I told you two weeks ago I was done."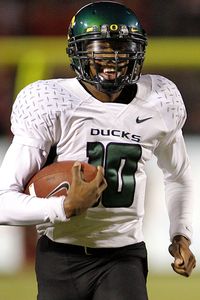 John Miller/AP Photo
Dennis Dixon was quite possibly running to a Heisman Trophy.
Dixon's season is over, and the natural inclination is to lament his disappearance from the Heisman Trophy race. In light of his injury, and in the wake of yet another highlight-worthy Saturday by several of the other top Heisman candidates, here's how one voter sees the race.
Florida quarterback Tim Tebow? West Virginia quarterback Pat White? Put the names of all the top players who still are ambulatory into the hat. Now, reach in and pick out a name to write in for second place.
The first name on the ballot should be Dennis Dixon.
The fifth-year senior had an outstanding season, as have Tebow, White and YOUR CANDIDATE'S NAME HERE. We can have the discussion regarding how sick Tebow's statistics are next week, when his season is over.
Dixon not only had a great season, he led his team into contention for the national championship. To measure his value, take a look at how the Ducks played with him for nine-plus games and how they played without him for the final three quarters Thursday night. To measure his heart, take a look at how well he played with a torn ACL against Arizona.
Dixon didn't want it known that he had torn the ACL on Nov. 3 against Arizona State. When it didn't swell, he decided to try to keep playing. For three drives, he played as well, and with as much sizzle, as he had all season.
He will miss the Ducks' last two regular-season games, and he might drift out of voters' minds by the first week in December, when the ballots are due. I won't vote until after the championship games, because I don't have to.
Tebow and Missouri quarterback Chase Daniel each have at least one more game. White has two. Maybe one of them will make a bigger impression on me than Dixon did. That will be hard to do.
Waiting Is The Hardest Part
By Heather Dinich, ESPN.com
ANN ARBOR, Mich., -- Ohio State's regular season has ended, but the waiting has just begun.
By beating Michigan on Saturday in The Big House for the Big Ten title, the No. 5 Buckeyes (11-1, 7-1) hung onto their hopes of playing for the national title.
Now, it's up to everyone else to lose -- which, considering how the rest of the season has gone, is quite possible. (See Exhibit No. 2: Oregon, USC, California, South Florida and Boston College).
Otherwise, the Buckeyes are headed to the Rose Bowl.
"We're going to Pasadena unless it shakes out the other way," said Ohio State coach Jim Tressel, who improved his record against the Wolverines to 6-1 with the 14-3 win. "Right now, we're going to worry about Thanksgiving, final exams, and when we get done with both of those, we'll have a pretty good idea on Dec. 2 where we're going."
At the very least, Ohio State won't drop lower than No. 4 in the BCS standings. Here's why:
No. 2 Oregon lost to Arizona and lost Heisman-hopeful quarterback Dennis Dixon to an injury in the process. Kansas and Missouri will play Saturday, so lop out the loser of that matchup.
LSU still has to host Arkansas and then play in the SEC title game, and West Virginia still has UConn and Pitt on its schedule.
Worst-case scenario?
Ohio State plays in the Rose Bowl for the first time since 1997. The Buckeyes have been to Pasadena only once since 1985, but only because they had to bypass it twice in the past six years to play in the BCS National Championship Game.
The next few weeks will determine if they have that choice this year.
There's Something About Matt
By Chris Low, ESPN.com
CLEMSON, S.C. -- Matt Ryan just has that aura about him. Unfortunately for Clemson, so do the Tigers.
Give Ryan a few minutes on the clock, a field to drive and the game on the line -- and there's nobody better in college football.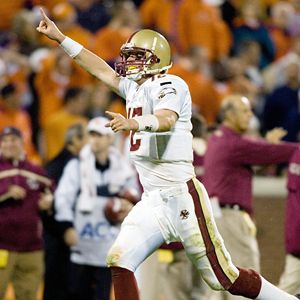 Rex Brown/Getty Images
Matt Ryan conjured up some last-minute magic for Boston College.
Give Clemson a clear path to the ACC championship game, a home crowd rocking at the decibel level of an AC/DC concert and a chance to finally break through under Tommy Bowden -- and it's the same ol' Tigers.
Ryan broke the Tigers' hearts Saturday night at Death Valley by doing what he does best. The Boston College quarterback's 43-yard touchdown pass to Rich Gunnell with 1:46 to play sent the Tigers packing 20-17 and propelled the Eagles into the ACC championship game on Dec. 1 in Jacksonville, Fla.
Was it enough to propel Ryan back to the top of the Heisman Trophy race?
Everybody who was part of it -- on either side -- sure thinks so.
"If you give him one down and take even one play off, he can hurt you," lamented Bowden, whose Tigers will have to play the "what if" game for the third straight year after sniffing the ACC championship game but not doing enough to get there.
"You can sack him, but he's going to bounce back. He's tall and scrambles. We were able to get good pressure, though. He's a great player. We were beaten by the best quarterback in the nation."
Click here to read the rest of this story.
Technical Improvement
By Tim Griffin, Special To ESPN.com
LUBBOCK, Texas -- Even after several recent struggling performances, Texas Tech cornerback Chris Parker never doubted his defensive teammates.
The Red Raiders' defense bounced back from a horrendous performance the previous week at Texas to provide the impetus for Tech's wild 34-27 victory over Oklahoma on Saturday.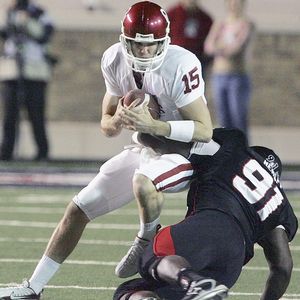 LM Otero/AP Photo
Texas Tech's defense improved vastly Saturday over the previous week's performance.
"We just came out with the mind-set that we were going to stop them on defense," Parker said. "We did just that and gave our offense a chance to do what they did."
The big effort was nothing like last week, when the Red Raiders dropped a 59-43 loss at Texas. The Longhorns were forced to punt only once as they gashed the Red Raiders for 283 rushing yards and 551 total yards and held onto the ball for more than 40 minutes.
That defensive debacle was nothing but a bad memory Saturday as the Red Raiders rebounded to shackle OU for three quarters before a late Sooners charge made the game close.
"They worked hard," interim defensive coordinator Ruffin McNeill said. "You've got a group of guys who are growing together. I was proud of the effort this week. It was a tough loss down in Austin, and they knew after the game that they could play better."
The Red Raiders twice turned away OU inside their own 15 late in the fourth quarter, deflecting fourth-down passes in the end zone to kill scoring drives.
Tech did not allow OU to score an offensive touchdown in the first 52 minutes of the game, knocking out starting quarterback Sam Bradford with a concussion in the process. The Red Raiders allowed 112 yards in the first half against a unit that was averaging 45 points per game.
"There were huge contributions by our defense, huge contributions by special teams and huge contributions by the offense," coach Mike Leach said. "I think we won the game together. And I thought today that the Tech defense was the biggest factor of the game."
Twice As Nice
By Mark Schlabach, ESPN.com
RENO, Nev. -- As Hawaii kicker Dan Kelly lined up to attempt a 45-yard field goal that would keep alive the Warriors' unbeaten season and BCS hopes, his thoughts turned to, well, a more happy place.
"Not to sound corny, but I was thinking about my girl back home," Kelly said. "I was just looking for more happy thoughts, and that's what got me through."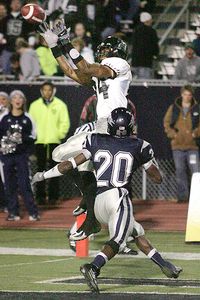 Cathleen Allison/AP Photo
Hawaii's win kept the Warriors alive for a BCS bid.
Actually, Kelly had to put two field goals through the uprights against Nevada at Mackay Stadium. With the Wolf Pack leading 26-25 with 15.8 seconds to go, Kelly's awkard line drive barely cleared the uprights to give Hawaii a 28-26 lead with 11.7 seconds to go.
But Nevada coach Chris Ault had called a timeout just before Kelly's foot hit the ball, so the Hawaii kicker had to do it all over again.
"I knew [Ault] was going to call timeout," Hawaii coach June Jones said. "When I saw Dan kick at Louisana Tech and had to make a 49-yard field goal [to force overtime], I knew he was a gamer. When he's under pressure, he seems to kick better."
Kelly's second game-winning attempt against Nevada was good, too. In fact, it might have cleared the uprights from 55 yards. Hawaii improved to 10-0 for the first time since 1925, matching the best start in school history.
The Warriors won without star quarterback Colt Brennan, who attempted only two passes in the game after suffering a concussion against Fresno State a week earlier.
"It's pressure situations, and they don't bother me," Kelly said. "As soon as the ball left my foot, I knew it was good and started celebrating with my teammates."
A New Feeling
By Adam Rittenberg, Special To ESPN.com
CHAMPAIGN, Ill. -- Two tower cranes flanked the west edge of Memorial Stadium, each dangling a flag: stars and stripes on one, orange and blue on the other.
Below the macro machines, the west balcony had been stripped of seats and spectators. Steel slabs were scattered about, and concrete partitions rose from the rear of the remodeled deck.
Illinois' $116 million facelift of its 84-year-old stadium remains a work in progress, but the rebuilding process on the field is complete.
The Fighting Illini are a finished product, as they proved again Saturday, cruising to a 41-22 win against overmatched Northwestern. A week after making a statement to the nation with a road upset of top-ranked Ohio State, the conquering heroes gave their fans one final blowout bash in 2007.
Illinois' next game will come in 2008, but unlike in the past five seasons, the wait will last only until January. As representatives from the Capital One Bowl and the Outback Bowl grinned on the sideline, the Illini likely secured at least a New Year's Day berth with their ninth win.
"These guys are going to have to learn that New Year's Eve, they don't get to go out," third-year coach Ron Zook said. "But that's a good thing."
Illinois students began chanting, "BCS! BCS!" with 2:43 left and pleaded, "One more year!" as Rashard Mendenhall (27 carries, 124 yards, two touchdowns), a junior, trotted off the field. Realizing both their appeals are unlikely to be granted, the students screamed, "Juuuuuuuuuice!" as the future of the team, quarterback Juice Williams, waved to them.
The loudest cheer was reserved for senior linebacker Jeremy Leman, who celebrated only eight wins in his first four seasons.
"The stuff we've been through has been very tough," Leman said. "Walking off that field 9-3 was all worth it."
Three Weekend Observations
By Ivan Maisel, ESPN.com

1.
You think those bowls in bed with the SEC are excited about the West Division? Take your choice: If Alabama beats Auburn, Mississippi State beats Ole Miss and No. 1 LSU follows form and beats Arkansas, four teams in the West will have records of no better than 7-5. It's quite possible the Cotton Bowl expected more, which is why it's a good bet that the bowl will take its third SEC East team in 10 years.

Crabtree
2.
Texas Tech quarterbacks have a habit of putting up great numbers and then disappearing when it comes time to play in the NFL: something about taking a snap from center and reading the defense while backpedaling. Maybe
Graham Harrell
will be different. But it's hard to imagine that freshman wide receiver
Michael Crabtree
couldn't play in any offense, including those on Sunday.

3.
Miami is a fluke finish against Florida State away from having a six-game losing streak. Let's see: The Canes haven't shown up for their past two games. Now, Miami must go play well in the cold against Boston College, the ACC Atlantic champion and a senior-dominated team that has done nothing but play hard for 60 minutes all season. Gee, the Eagles might win that one.
GameDay Crew Final Thoughts
RECE DAVIS

What a scene that was in Bloomington after Indiana beat Purdue. We throw around the term "family" a lot in football, but that's truly what's happened at Indiana because of the relentless enthusiasm of the late Terry Hoeppner. While he laid the foundation for success, it's clear his legacy will reach far beyond any bowl game.
Helmet Stickers Go To:
• CB Quintez Secka, Louisiana-Monroe: 2 INTs vs. Alabama
• PK Austin Starr, Indiana: Game-winning 49-yard FG vs. Purdue
---
LOU HOLTZ

Carr
With Lloyd Carr stepping down, college football has lost a fine coach and a fine gentleman. I know he and the reporters don't always see eye to eye, but he is a man who cares about his players and cares about his school. Michigan fans will miss him more than they think.
Helmet Stickers Go To:
• DE Vernon Gholston, Ohio State: 3 sacks vs. Michigan
• QB
Tim Hiller
, Western Michigan: 367 pass yards, 3 TDs vs. Iowa
---
MARK MAY

The team that benefited the most from Oregon and Oklahoma going down? It would have to be West Virginia. The Mountaineers didn't play perfect in Cincinnati, but as other teams fall by the wayside, they just keep winning. I think they're the best of the group behind LSU and the two Big 12 teams.
Helmet Stickers Go To:
• WR
Michael Crabtree
, Texas Tech: 12 rec, 154 yards, TD vs. Oklahoma
• WR
Jeremy Maclin
, Missouri: 360 all-purpose yards vs. Kansas State
Who Benefits From OU's Loss?
Not Just Any Freshman
By Brett Edgerton, ESPN.com
Rank This Decade
| | | |
| --- | --- | --- |
| Rec | 125 | 3rd |
| Yards | 1,861 | 1st |
| TDs | 21 | T-2nd |
Is Texas Tech wide receiver Michael Crabtree worthy of making a trip to New York next month? Have you seen the way this freshman has torn apart the Big 12, including 12 catches for 154 yards and a touchdown in a win over Oklahoma on Saturday? With a bowl game still remaining, Crabtree has racked up a hard-to-believe 125 catches, which already is 20 more than the highest total of any receiver in college football over the past five years. He also has 1,861 receiving yards, which easily is the most of any of the thousands of players who have played I-A football this decade. His 21 receiving touchdowns? Let's just say he broke the all-time NCAA freshman record six weeks ago and is just one shy of Larry Fitzgerald's decade-high for any class (22).
Highlights: Ohio State-Michigan
Looking Back ...
West Virginia flying under the radar
After losing to South Florida, West Virginia was all but dismissed. Now, the Mountaineers are two wins from a possible bid to the BCS National Championship Game, writes Pat Forde.
Story
---
Buckeyes leave UM singing the blues
If Ohio State clinching the Big Ten title on a rainy day wasn't enough, speculation about the future of Michigan coach Lloyd Carr added to the gloomy Ann Arbor mood, writes Heather Dinich.
Story
---
Sooner than expected
Graham Harrell's aerial assault lifted Texas Tech past Oklahoma to throw another wrench into the BCS title chase, writes Tim Griffin.
Story
---
Graunke helps rescue Hawaii's BCS dreams
Backup QB Tyler Graunke, playing for the injured Colt Brennan, knew he would have to keep Hawaii's undefeated season and BCS hopes alive against Nevada, writes Mark Schlabach.
Story
Highlights: Oklahoma-Texas Tech
Where Have You Gone?
By Brett Edgerton, ESPN.com
So, whatever happened to that mighty LSU defense? It's still a talented and intimidating group to line up against, no doubt. But mighty? Not lately. The Bayou Bengals' D -- the one that once was as immovable as the hat on Les Miles' head -- has given up at least 24 points in five straight SEC games. In the first five games of the season, the Tigers allowed just 6.4 points per game and one passing touchdown. Over the past six? Try 26.5 points per game and 12 passing touchdowns.
On Saturday in Oxford, Ole Miss, the lowest-scoring team in the conference, carved up LSU for a rather stunning 466 yards. It was the second-highest total of the year for the Rebels and 79 more than they gained in their previous game, which also was against a Louisiana team: I-AA Northwestern State. And it was more than double the amount Ole Miss totaled (232 yards) against the other Louisiana team on its schedule: Louisiana Tech.
Highlights: Boston College-Clemson
The Great Return
By Brett Edgerton, ESPN.com
People finally have started to figure out what a fine player Missouri quarterback Chase Daniel is. Wonder when they will catch on to freshman teammate Jeremy Maclin? On Saturday, by setting a single-game school record with 360 all-purpose yards in a 49-32 win at Kansas State, Maclin upped his season total to 2,309 yards, breaking the all-time freshman record for all-purpose yards in a season.
Kickoff Returns For TDs
Year
TDs
Returns
2007
63
5,822
2006
42
4,712
2005
38
4,440
2004
36
4,533
Among those 360 yards Saturday were 143 receiving yards on nine catches for a pair of touchdowns. He also reached the end zone on a 99-yard kickoff return. Believe it or not, that marked the first time in 25 years a Mizzou player returned a kickoff for six points. Since Ricky Doby ran one in on a reverse against Oklahoma State in 1982, the Tigers had played 287 games and returned 976 kickoffs without a kickoff-return touchdown.
Clearly, Missouri is late to the game when it comes to an undeniable trend in college football. Since kickoffs were moved from the 35- to the 30-yard line this year, the number of returns has skyrocketed, accelerating a touchdown trend that already was moving its way upward. Through 12 weeks, there already have been 1,100 or so more kickoff returns and 21 more touchdowns than there were in the entire 2006 season, including bowl games.