Sans defense, Oregon rolling up big offensive numbers
Something's Gotta Give
By Ted Miller, Special To ESPN.com
SEATTLE -- Defense? Oregon don't need no stinkin' defense!
Well, at least against Washington, the Ducks didn't. Oregon ran all over the Huskies -- literally -- in a 55-34 victory, rumbling for a school-record 465 yards rushing. The Ducks' 39 first downs were the most Washington has ever surrendered.
But the Ducks' irresistible force will meet a far more immovable object when USC travels to Autzen Stadium on Saturday.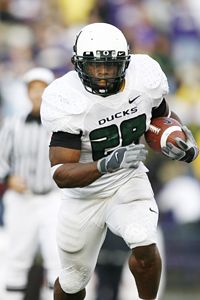 Joe Nicholson/US Presswire
Jonathan Stewart ran wild on Washington but might find things tougher against USC.
Oregon now ranks No. 2 in the nation in total offense (551 yards per game) and No. 2 in scoring (46.6 points per game). And those numbers were compiled without a single game against a certifiable patsy.
"I don't think there's a better offense in the country," Washington defensive coordinator Kent Baer said.
USC, meanwhile, despite epidemic injuries, ranks No. 3 in the nation in total defense (252 yards per game) and No. 10 in scoring defense (16.6 points per game).
So, you know, something has got to give in this critical Pac-10 game that figures to eliminate one or the other from: 1. the national title chase; 2. the conference title race.
A bigger question for Oregon might be its defense, a bend-but-don't break unit that came very close to snapping against a Huskies offense that is among the worst in the conference, relying almost entirely on the playmaking of exciting redshirt freshman quarterback Jake Locker.
Sure, Oregon moved the ball at will, piling up 661 total yards, with tailback Jonathan Stewart bulling over and outrunning the Huskies for 251 yards, but it also gave up 421 yards and 34 points to a team that had been averaging 325 yards and 26 points per game.
The game was tied 31-31 after three quarters before Oregon shifted into overdrive in the final frame.
Previously this season, the Ducks' defense had leaned on creating turnovers and a strong performance in the red zone. They weren't terribly good with either against the Huskies.
USC, fresh off hanging 38 points on Notre Dame, appears to be finding its rhythm and likely will be far tougher to outscore.
Shades Of The Past
By Ron Higgins, Special To ESPN.com
TUSCALOOSA, Ala. -- Legendary Alabama quarterback Joe Willie Namath was in the press box in the house that Bear built.
Current Crimson Tide quarterback John Parker Wilson was flinging the ball all over the joint.
Or was it the other way around?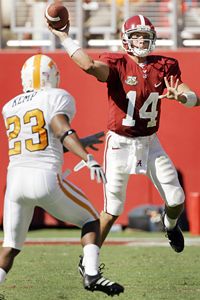 Rob Carr/AP Photo
Quarterback John Parker Wilson tossed it around the field like some Alabama legends.
The type of Saturday that Wilson enjoyed in a 41-17 pounding of No. 21 Tennessee made you think he had a little Joe Willie in him and maybe some Ken "The Snake" Stabler (also present Saturday as Bama's radio network analyst) to boot.
Wilson completed a career-high 32 passes out of 46 attempts for a career-best 363 yards and three touchdowns, as the Tide (6-2 overall, 4-1 in the SEC Western Division) rolled for 510 yards.
"I felt pretty good early," said Wilson, who has been consistently inconsistent all season. "We got in a rhythm and just stayed in it."
Almost half of his completions went to senior receiver DJ Hall, who set an Alabama single-game receptions record with 13 catches for 185 yards, two touchdowns and a two-point conversion.
Hall caught his TD passes, covering 16 yards and 2 yards, in back-to-back possessions in the second quarter, when Alabama rallied from a 14-10 deficit to a 24-14 lead. He continually abused Tennessee's young cornerbacks.
"In the first half, I was in the slot a lot and had a lot of one-on-one coverages," said Hall, who had 10 of his receptions in the opening half. "It's hard to cover someone in the slot."
It was hard for Tennessee to cover anyone with a crimson jersey. For the first time in his first season as Alabama's coach, Nick Saban had few complaints. After all, Saban's team is tied for the Western Division lead with LSU, which visits Alabama in two weeks after open dates for both teams.
"That is the first time we've played a complete game," said Saban, who took a postgame victory lap around Bryant-Denny Stadium to thank the roaring Crimson Tide fans. "We had the fewest errors that we have had all year long."
Raising The Stakes
By Tim Griffin, Special To ESPN.com
COLUMBIA, Mo. -- After a struggling start earlier this season, Missouri's defense was thought to be the Tigers' biggest impediment to their first Big 12 championship.
But after a lockdown performance in the Tigers' 41-10 victory over Texas Tech, the Tigers' defensive unit appears to be an emerging strength.
The Tigers flummoxed Tech quarterback Graham Harrell, forcing him into a career-worst four interceptions as Missouri held the Red Raiders 40 points below their scoring average in the convincing triumph.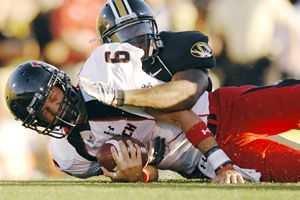 L.G. Patterson/AP Photo
The Missouri defense has picked up its play over the past several weeks, especially against the potent offense of Texas Tech.
If Missouri's defense can keep playing like it did Saturday, the stakes could be a lot higher than merely playing for a Big 12 title.
"This defense has come a long way," said strong safety Cornelius "Pig" Brown, who keyed the defensive effort with 14 tackles, 4½ tackles for loss, an interception and two pass deflections.
The Tigers struggled in their first two games, allowing Illinois and Mississippi to average 484.5 yards per game. But since then, the emerging defensive unit has trimmed that average to 367.6 yards in its past five games, helping the Tigers race to a 6-1 start.
"We gave up a lot of yards to those teams early on," Brown said. "But we've done a good job as a defense of tightening down and sharpening our fundamentals to get better from week to week."
The turnover frenzy started on Tech's first possession Saturday. Brown tipped a pass that was picked off by defensive end Stryker Sulak, who rambled 38 yards for a touchdown.
"Our whole goal was to force Harrell into making mistakes," Missouri nose tackle Lorenzo Williams said. "We knew they were going to get their yards and pass it 300 times a game. But we just didn't want to let them in the end zone, and we pretty much did that."
Harrell had thrown three interceptions in 347 attempts for the season coming into Saturday's game. But Missouri harassed him into a bad performance for the second straight season, sacking him three times.
The Red Raiders also self-destructed, with at least 10 dropped passes, including three by Michael Crabtree. The nation's leading receiver struggled through his worst game of the season, producing 10 receptions for a season-low 76 yards.
"We were distracted and trying to do too much," Tech coach Mike Leach said. "We dropped more balls today than we did in the entire week of practice. There's nothing wrong with our hands, legs, ears, eyes, none of that. We just need to unclutter what is in our heads."
First Knight
By Mark Schlabach, ESPN.com
PISCTAWAY, N.J. -- South Florida was supposed to be this year's Rutgers, the biggest surprise in college football. But the Scarlet Knights aren't quite ready to give up that distinction.
After losing consecutive home games to Maryland and Cincinnati earlier this season, the Scarlet Knights were prematurely cast aside as non-contenders in the Big East this season.
But after upsetting No. 2 South Florida 30-27 on Thursday night at Rutgers Stadium, the Scarlet Knights might have jumped into the driver's seat in the Big East.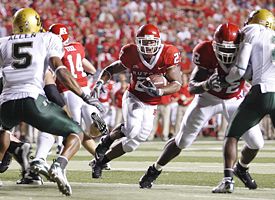 Jim O'Connor/US Presswire
Ray Rice carried the rushing load for Rutgers against USF.
Rutgers hosts West Virginia on Saturday, then should be favored in its last four games: at Connecticut, at Army, home against Pittsburgh and at Louisville on Nov. 29 to finish the regular season.
If nothing else, the upset of South Florida showed Rutgers Stadium is becoming a graveyard for ranked opponents. Last season, the Scarlet Knights knocked Louisville out of the national championship race with an upset win on their home field.
"Last year, it was new," Rutgers coach Greg Schiano said. "We hadn't had that opportunity. I'm not saying it's old habit by any means, but it's one game in the Big East Conference. It's a very tough conference. You see people getting knocked off every week. It's one of seven [games], and now we're 2-1 in the league."
The Scarlet Knights are 2-1 because of tailback Ray Rice and their aggressive defense. Rutgers used seven different blitzes to pressure quarterback Matt Grothe and sacked him seven times.
"The thing is, most teams are scared that if you come after him, he's gonna slip through," Rutgers defensive tackle Eric Foster said. "But we were very disciplined in staying in our rush lanes."
The Bulls couldn't clog the rush lanes while trying to stop Rice. He ran 39 times for 181 yards, the first time South Florida allowed a 100-yard runner in a game this season. Last season, Rice had 202 yards and two touchdowns in a 22-20 win over the Bulls in Tampa.
"I think Ray has run tremendously all year," Schiano said. "He just keeps running harder and harder. Last week, he ran as hard as I have seen him run, and I think he did it again. He was carrying people on his back. He's on a mission."
So are the Scarlet Knights, who are out to prove they weren't a one-year wonder in 2006.
Scraping The Bottom
By Adam Rittenberg, Special To ESPN.com
SOUTH BEND, Ind. -- A cheer discharged from the Notre Dame Stadium crowd with 9:49 remaining in Saturday's game.
Had the Fighting Irish finally scored on USC's out-for-blood defense? Was Trojans quarterback
Mark Sanchez
plastered on the ground, picking blades of standard-length grass out of his mouth? Nope.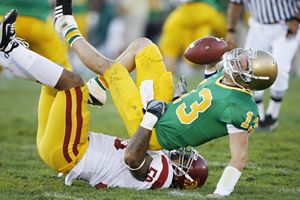 Brian Spurlock/US Presswire
Notre Dame never had a chance against the fierce USC defense.
For the first time in the second half, Notre Dame had earned a first down without a USC penalty. Two plays later, the Irish moved the chains again. Another cheer. To the credit of the Irish faithful, they don't boo when many other fans would. But the louder-than-necessary ovations, with the score 38-0 and Notre Dame moments away from bowl ineligibility, were sufficient indictments. This is life at the bottom. "What can you really say when you lose 38-0?" defensive end Trevor Laws said. The only W's the Irish are racking up are worsts. As in: worst 10-game stretch in team history (1-9), worst loss to USC in the rivalry's 79-game history, worst home loss since a 40-0 pasting against Oklahoma in 1956. You could add worst throwback uniform to the list, since Notre Dame honored its 1977 National Championship team by donning green-and-yellow outfits that would have made Gumby and Big Bird cringe. "I don't know how to define rock bottom," senior tight end
John Carlson
said. "It's never a place I'd envision being, never a place I wanted to be." Notre Dame is redefining the depths every week. Two years after playing an epic game against the Trojans, the Irish fell flat in the diluted rematch. "We're at different ends of the spectrum at this point," Weis said. "They are where we want to be." Added USC coach Pete Carroll: "We should be able to play really good football against that team, and I think today, we did." The nation's worst offense looked the part, finishing with zero net yards in the third quarter and going 4-of-17 on third down. The Irish wound up with 165 total yards -- their fourth-highest output in eight games -- but 99 of those came against a prevent defense at the end of the first half and in the final futile minutes. Weis welcomed the upcoming bye week, saying it's the "best thing" for his players. And after a game in which the Irish took punches but rarely retaliated, Weis had one parting shot for the program's growing number of critics. "I don't want to be called sarcastic, using New Jersey rhetoric," he said. "So let me just say people better enjoy it now, have their fun now."
Four Weekend Observations
By Ivan Maisel, ESPN.com

1.
Is LSU lucky or good? Both? Does it matter? Yes, in this of all seasons, when it appears judgment calls will be made among one-loss teams, it matters quite a bit. On the other hand, if the Tigers are merely lucky, the thin margin of error they leave themselves will run out somewhere between here and Atlanta on Dec. 1.
2.
California lost for the second week in a row, and again the Bears will see the reason when they look in the mirror. Four turnovers and another missed field goal by Jordan Kay added up to a 30-21 loss to UCLA. Goodbye, BCS. In a season filled with missed opportunities and unrealized potential, Cal is one of many that are making it tough to figure out who really is good.

3.
That led to this brainteaser that goes right to the heart of the BCS. Rank these, by group, in order of power: the undefeateds (Ohio State, Boston College, Arizona State, Kansas, Hawaii) and the one-loss teams (LSU, Oregon, USC, Oklahoma, West Virginia).

4.
Along the same lines, we all know defense is supposed to win championships, but personally, it's hard to imagine a more entertaining BCS Championship Game than Oregon and West Virginia. Are there two teams that can strike any faster than the Ducks and the Mountaineers?
GameDay Crew Final Thoughts
RECE DAVIS
I know people outside of the South are tired of hearing about it, but the SEC has proven to be the best conference. The balance is incredible, and it's not balance with mediocrity. There might not be a ton of elite teams, but there are several very good ones. And the bottom of the league isn't exactly chopped liver.
Helmet Stickers Go To:
• RB/WR
Mikell Simpson
, Virginia: 271 total yards, 2 TDs vs. Maryland
• RB
Tyler Roehl
, North Dakota State: 263 yards, TD vs. Minnesota
---
LOU HOLTZ

I've got Ohio State as my No. 1 team, but I do think Penn State has a great chance of beating the Buckeyes in Week 9. Keep in mind the last Big Ten team to beat Ohio State: It was the Nittany Lions on a Saturday night in Happy Valley. I think there's a good chance we'll have a new No. 1 by this time next week.
Helmet Stickers Go To:
• CB D.J. Moore, Vanderbilt: 8 tackles, 2 key INTs vs. South Carolina
• RB
Jonathan Stewart
, Oregon: 251 yards, 2 TDs vs. Washington
---
MARK MAY

Miles
Yes, it worked out, but I thought Les Miles lost his mind at the end of that game against Auburn. You don't cut it that close. If the defender from Auburn had tipped that ball, the game would have been over and everyone at LSU would have been skewering Les from here until eternity. Kick the field goal!
Helmet Stickers Go To:
• RB
Matt Forte
, Tulane: 342 yards, 4 TDs vs. SMU
• DE Maurice Evans, Penn State: 3½ sacks, 2 FFs, 55-yard FR vs. Indiana
College GameDay Review
Temple Football!
By Brett Edgerton, ESPN.com
Entering this month, Temple was 0-5 and the loser of 27 of its past 28 games. One dramatic win, and the Owls suddenly can't be beat. With a 24-17 victory over Miami (Ohio) on Saturday -- a winner despite losing starting quarterback Adam DiMichele to a broken leg in the first half -- Temple won its third game in three weeks, a remarkable feat for a program that won just four games in four-plus years before that.
| | | |
| --- | --- | --- |
| | October | Previous 46 games |
| W-L | 3-0 | 3-43 |
| Road Wins | 1 | 0 |
| PPG Allowed | 17.3 | 39.8 |
The current streak began when Jake Brownell nailed a 39-yard field goal with nine seconds left to beat Northern Illinois on Oct. 6. Then Bill Cosby's former team added a road win at Akron. It now is on its longest winning streak since playing as an independent in 1990. Since that year, Temple has failed to win three games in a season 12 times.
Highlights: Auburn-LSU
Looking Back ...
Florida's win blows SEC East race wide open
We haven't had a two-loss national champion in 47 years. But with the way the SEC East race is playing out, the conference champion might be lucky to escape with
just
two losses, writes Pat Forde.
Story
---
Last-second heroics help LSU
Matt Flynn came up big when LSU needed him most: down one point with eight seconds left against a talented Auburn squad. Coach Les Miles' gutsy call and Flynn's perfect pass equaled more SEC madness, writes Chris Low.
Story
---
Huskers' Different World
The return of Tom Osborne to the program boosted morale in Lincoln this week, but Saturday's loss to Texas A&M demonstrated just how far the Huskers have slipped, writes Elizabeth Merrill.
Story
---
USF won't get second chance to crash party
Sure, USF now is a one-loss team, just like LSU and Oklahoma. But don't expect the Bulls to get the same respect as the Tigers or Sooners, writes Mark Schlabach.
Story
Highlights: Cal-UCLA
Second To None
By Brett Edgerton, ESPN.com
Forget the ongoing transitional phase from Division II to Division I-AA. Can we give North Dakota State an exemption and just let the Bison come play in I-A? With a 27-21 win at Minnesota on Saturday, NDSU now has won three of its past four games against I-A schools, its only loss coming on a last-second blocked field goal attempt in Minneapolis last year. Ranked No. 1 in I-AA, the Bison still are in the transitional stage and won't be allowed to compete in the playoffs. So Saturday's game, with an estimated 30,000 Bison fans at the Metrodome, was like a Super Bowl for a team that includes 33 Minnesotans, most of whom didn't even get a sniff from the state's only I-A school. Well, it's time for America to take a look now. North Dakota State has the longest winning streak (11) in all of Division I and knocked off another I-A opponent, Central Michigan, earlier this season. That is eight I-AA wins over I-A opponents during a season that began with the granddaddy of them all, Appalachian State's stunning victory at Michigan. Even more impressive, five of those eight came against teams that played in a bowl game last year.
I-AA beating I-A, 2007 season
Appalachian State over Michigan*
Nicholls State over Rice*
Southern Illinois over Northern Illinois*
New Hampshire over Marshall
Northern Iowa over Iowa State
McNeese State over UL-Lafayette
North Dakota State over Central Michigan*
North Dakota State over Minnesota*
* 2006 bowl team
By the way, in the week leading up to the game, Gophers coach Tim Brewster called the Bison, "the little men in green," before complaining about how an opponent like NDSU doesn't help his recruiting efforts. Memo to Tim: neither does that 1-7 record of yours.
Highlights: North Dakota State-Minnesota
Out Of Nowhere
By Brett Edgerton, ESPN.com
Virginia sophomore Mikell Simpson had a rather uneventful career leading up to Saturday's 18-17 win at Maryland. In fact, he wasn't even listed on the depth chart. So how do you explain how he ended up producing 100-plus yards both rushing and receiving, outgaining Maryland 271-233 in total yards and scoring the game-winning touchdown with 16 seconds left? Probably the same way you try to explain how Virginia has won seven in a row for the first time since 1949, including five by five points or fewer. Over the past three weeks, the Cavs have won three games by a combined four points.
Career Breakdown: Mikell Simpson
Before
Saturday
Games
11
1
Rec
5
13
Rec yards
43
152
Rush
15
16
Rush yards
47
119
Total TDs
1
2