Gut-Check Saturday provides 'round-the-clock action
Growing Pains
By Bill Curry, ESPN.com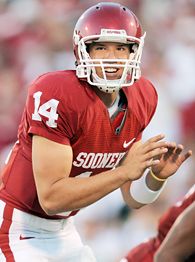 J.P. Wilson/Icon SMI
Sam Bradford will face a tough Texas team Saturday.
Sam Bradford
and
Tim Tebow
both are coming off tough losses and are facing even tougher opponents. What does it take for a young quarterback to succeed in the face of adversity? It's a lesson I learned when I coached at Georgia Tech. In 1980, we weren't a bad team -- we were terrible. We were playing Notre Dame, then the No. 1 team in the nation. Our starting quarterback was injured, and our only backup got injured early in the game. We didn't have another person on the roster who had taken a snap in college. I turned to a young freshman walk-on -- a marvelous athlete, but someone who had practiced in that position just a few minutes -- and said to him, "Please, just get the snap." His reply: "No problem, coach." He got the snap and led the team down the field for a field goal to tie the score. The final score was 3-3. He could have fumbled every snap, and no one would have blamed him, but he didn't fumble at all. That player was Ken Whisenhunt, who now is the head coach of the Arizona Cardinals. He became a great player for us -- eventually playing six positions -- and excelled as an NFL player and coordinator, and he will excel as a head coach. What made Whisenhunt successful was that he never got rattled. He was thrown into an impossible situation, but he had ice water in his veins. Obviously, he earned his scholarship pretty quickly. A player who has that natural temperament is at a tremendous advantage. We haven't seen Bradford or Tebow in a situation like the ones they will face this week against Texas and LSU, respectively. We'll know whether these young QBs have ice water in their veins by Saturday night.
Rebound Games
By Bob Davie, ESPN.com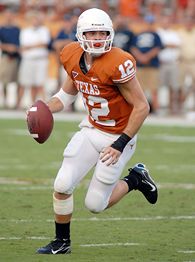 John Rivera/Icon SMI
Texas' Colt McCoy is trying to bounce back from a loss -- and a concussion.
Week 5 left a number of so-called national title contenders searching for their identity -- with little time to find it. After Big 12 favorites Texas and Oklahoma both lost their conference openers -- the Longhorns were throttled by Kansas State, while OU lost to unranked Colorado -- and Florida and Rutgers were surprised at home, all four face much tougher teams in Week 6. As a coach, getting a team to bounce back from an emotional loss can be easier than you think. The cliché "Don't let a team beat you twice" -- meaning, don't let the hangover from one loss cause another the next week -- is a bit overrated. For teams accustomed to winning, a loss is so bitter a team has no choice but to focus. The motivation takes care of itself. Those who haven't lived in a town that has a big-time program don't appreciate how gloomy it is after a loss; it permeates everything. There is such a huge difference between a win and a loss that the sense of urgency naturally is there -- so much so that coaches often worry more about their teams after a big win than a big loss. The psychological angle in games is something we in the media turn into huge story lines -- but teams often are too busy or focused to really let that angle interfere with their work. The mental problems make for great stories, but the real problem is much simpler. Teams that are used to winning don't lose because of mental errors; they lose because of something that happened on the field. Michigan is a great example of this: When the Wolverines started the season 0-2, many pundits felt they were so low they never would be able to rebound. In reality, they lost to teams against which they didn't match up well. Michigan has a tough time playing spread offenses, and that's a recruiting and scheme issue, not a psychological one. Obviously, someone will lose when Oklahoma and Texas meet. And there's a real chance that Florida could lose to LSU or Rutgers to Cincinnati. But if and when these teams fall, it will be because of a tangible issue -- not a mental one. Not that it makes it any easier to correct.
Coach Class: Florida-LSU
By ESPN The Magazine
Editor's note: Each week, analysts from ESPN.com and ESPN The Magazine will tackle a game plan for one of the biggest games on the schedule.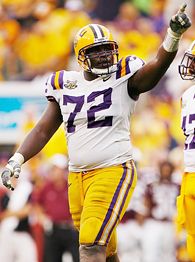 Chris Graythen/Getty Images
LSU is relying on its defense -- led by Glenn Dorsey -- to stop Florida's explosive offense.
Last year, quarterback
Tim Tebow
ran for one touchdown and threw for another as Florida beat LSU 23-10. Think LSU will be ready for Tebow this time around? We asked former coach Mike Gottfried to take over LSU and figure out a way to stop Tebow, then had Bill Curry draw up a competing game plan for Florida. Finally, Jim Donnan picked a winner. On paper, anyway.
Gottfried takes over LSU
My defensive front seven have to be unbelievable, especially middle linebacker Ali Highsmith. He's a speedy, active run-stopper, but he also is superb with his drops in pass coverage. Pass or run, LSU defensive tackle Glenn Dorsey is the ultimate disruptor. He roars around the field and does whatever he wants. Florida's O-line is OK, but Dorsey should wreak havoc. We must take out Florida RB
Kestahn Moore
and spy QB Tim Tebow. The entire Florida offense revolves around what Tebow does off the read-option. When we hit Tebow, we'll hit him hard. We'll "in and out" WR
Percy Harvin
, with a safety inside and a cornerback outside, so he can't possibly get open deep -- Harvin's first step is lethal. My corners, Jonathan Zenon and Chevis Jackson, are lockdown guys who can challenge and beat wideouts
Cornelius Ingram
and
Louis Murphy
. On offense, we have a terrific power/speed combo in RB
Jacob Hester
and change-of-pace WR
Trindon Holliday
. We'll hammer Hester, who's a bowling ball to tackle, up the gut, then pitch something -- a sweep, reverse or screen -- to Holliday, whose raw speed really energizes the crowd. Even fakes to him will open up lanes for Hester. Receivers
Early Doucet
,
Brandon LaFell
and Holliday have a big edge over Florida's DBs. But TE
Richard Dickson
is underrated. I'll use him on flats and floods early, to get QB
Matt Flynn
going and move the sticks a few times. Then we'll try some deep stuff, and I'll try those early. A big bomb early could drive a stake through Florida. If the game does come down to a field goal, PK Colt David is more than capable. I'd trust him with a game-winner.
Read the full story here.

Breaking Down Week 6
By Jim Donnan, ESPN.com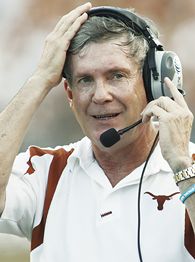 AP Photo/Harry Cabluck
Texas coach Mack Brown will have his hands full with Oklahoma on Saturday.
Florida-LSU is grabbing a lot of headlines, but Week 6 provides a day full of great matchups. Here are a few can't-miss games:
No. 10 Oklahoma vs. No. 19 Texas
(ABC, 3:30 p.m. ET)
Regardless of what the nation has said about this game losing its luster now that Texas and Oklahoma no longer are undefeated, it's a critical game for both teams in terms of conference play. The team that loses certainly has a difficult road ahead of it. The key for Texas will be containing Oklahoma's powerful ground game. The Longhorns can take a page out of Colorado's book and try to keep the Sooners' offense off the field as much as possible. Texas' defense isn't playing that poorly (its rushing D is 16th in the nation), but its offense and special teams gave up 21 points to Kansas State. Both teams had breakdowns in their kicking games in Week 5. Whichever team can correct those issues first will have an advantage. Oklahoma was dominant in its first four games, outscoring opponents by an average of nearly 50 points. Texas, on the other hand, has struggled against nearly every team on its schedule. Texas must protect QB
Colt McCoy
, who was banged up in the K-State loss, to win. The Horns have to get on the board early; if they fall behind, Oklahoma will tee off on them. The Red River Rivalry is one of the most unique games in college sports, and the buildup started early this week. When you add the 200,000 people at the state fair to the stadium-capacity crowd donned in burnt orange or crimson, you have an electric atmosphere. Since Bob Stoops and Mack Brown took over at their respective programs, this game has had conference and national title implications. Despite what happened in Week 5, that hasn't changed.
No. 15 Virginia Tech at No. 22 Clemson
(ESPN, 6 p.m. ET)
Virginia Tech has shown some growing pains at quarterback, where true freshman
Tyrod Taylor
took over for senior
Sean Glennon
after the upperclassman struggled against LSU. The Hokies rank No. 112 in total offense and No. 104 in passing offense (they are mildly better when rushing the ball -- 91st nationally). But Virginia Tech continues to shine on defense, and if the Hokies can shut down Clemson's running game and force QB
Cullen Harper
to beat them, the Tigers will be in for a long night. Clemson's offensive line is inexperienced, and the Tigers will rely on big plays from
C.J. Spiller
,
James Davis
and
Jacoby Ford
. No doubt Virginia Tech's coaches were paying attention to Clemson's loss last week against Georgia Tech. The Yellow Jackets are notorious for using a lot of different defensive fronts to confuse the opposing quarterback. I expect this to be a low-scoring battle in which field position is at a premium.
No. 20 Cincinnati at No. 21 Rutgers
(ESPN2, 8 p.m. ET)
The Big East's big three -- West Virginia, Louisville and Rutgers -- grabbed all of the headlines in the preseason, but it's the conference's undefeated and ranked South Florida and Cincinnati that are the talk of the town now. Rutgers wasn't challenged in its first three games, and that came back to bite it against Maryland in Week 5. The Knights turned over the ball three times in the loss and were forced to play from behind for most of the game. The Terps' offense did a good job of getting in Rutgers QB
Mike Teel
's face, and sophomore QB
Chris Turner
lit up Rutgers' defense in the air. The Knights will have to correct both of those issues to get past a Cinncinnati team that easily dismissed Pac-10 foe Oregon State earlier in the season. This is a revenge game for Rutgers, as the Bearcats ended the Knights' nine-game winning streak and killed the buzz from their upset of Louisville the week before. They'll be challenged on both sides of the ball once again, as Cincy returns a veteran defense, and new coach Brian Kelly has instituted an explosive offense. This is one of the better games of the weekend.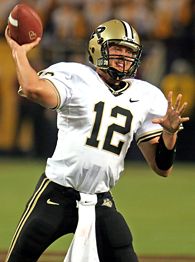 Bryan C Singer/Icon SMI
Curtis Painter will be the key to Purdue's success against Ohio State.
No. 4 Ohio State at No. 23 Purdue
(ABC, 8 p.m. ET)
I've been impressed with Purdue's offensive weaponry; in terms of accuracy,
Curtis Painter
is beginning to remind me of Drew Brees. His improvement is tough to ignore. In 2006, he threw 19 picks and was sacked 20 times. Through five games, the Boilermakers' junior QB has just three interceptions and four sacks. That said, Purdue has yet to be challenged the way it will be by Ohio State. The Boilers will have to play mistake-free ball to hang with the Buckeyes and force Ohio State to give up the ball. That's easier said than done on both accounts. Ohio State ranks in the top four in every major defensive category: total, scoring, rushing and passing efficiency. But the Buckeyes haven't faced an offense like Purdue's this year. The Boilers can spread you out. Painter will look for
Dorien Bryant
as much as possible; he's a speedy receiver capable of making big plays. Purdue hasn't played a tough team yet, but the Boilers have played consistently. It will be interesting to see if they can take it up a notch Saturday.
No. 25 Nebraska at No. 17 Missouri
(ESPN, 9:15 p.m. ET) This game sets up much like Ohio State-Purdue. Missouri has yet to be tested (except by Illinois), since its wins came against Illinois, Ole Miss, Western Michigan and Illinois State -- not exactly a murderer's row. Missouri's offense, led by the talented
Chase Daniel
, matches up well against Nebraska's defense and should be able to exploit some of the holes in the Huskers' coverage. Daniel hasn't been mentioned for a lot of postseason awards, but good performances in front of a national audience against Nebraska and next week against Oklahoma could do what the Louisville and Arkansas wins did for
Andre' Woodson
's Heisman campaign. The Huskers can't give up the ball multiple times like they did against Ball State; to beat Missouri, they'll have to keep Daniel off the field as much as possible. Missouri has beaten Nebraska the past two times the Huskers have visited Columbia. Can the Tigers make it three in a row?
Looming Questions
By Rod Gilmore, ESPN.com
What questions need to be answered for the teams that lost in Week 5? Rod Gilmore breaks down what to look for Saturday: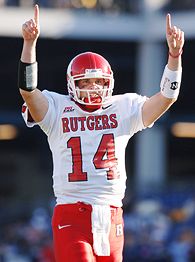 AP Photo/Gail Burton
Mike Teel's improvement will play a pivitol role in how far Rutgers goes this season.
1. Can Mike Teel make a statement?
The quarterback position has been Rutgers' Achilles' heel for two seasons. There are questions about Mike Teel's talent. He can silence those critics with a strong performance against rising Cincinnati. The Bearcats will try to force Teel to beat them, and DB Haruki Nakamura, a force in pass defense, won't make Teel's job easy. How well Teel responds could be the difference in this game.
2. Can Florida regain its swagger?
Florida loomed large in the SEC, like a big heavyweight boxer who scared everyone -- until little Auburn came around and knocked 'em out. Now the Gators don't look quite as scary -- and they needed that going into Baton Rouge. That means Florida will have to rely even more heavily on its game plan -- and one that doesn't require QB
Tim Tebow
to rush 25 or more times. Can Tebow lead his team with his arm? Can the Gators contain Glenn Dorsey? A loss to LSU could force Florida to do some serious soul searching.
3. Is the Red River Rivalry still must-see TV?
It's hard to know what to make of either Oklahoma or Texas after their disappointing losses in Week 5. But the game still is compelling. Texas defense will have to answer questions about being soft, a reputation it had lost after Mack Brown took the reigns. The Horns certainly were outmuscled by Kansas State. Oklahoma lost in the fourth quarter, and it's the first time the Sooners' freshman QB,
Sam Bradford
, has looked like a freshman. Many people overlook the importance of conference games; those opponents know you better than nonconference teams. We'll know the answers to these questions Saturday night: Can Texas' defense overpower Oklahoma? Can Bradford get up to game speed in time?
From The Reporter's Notebook
By Joe Schad, ESPN.com

• Cincinnati quarterback
Ben Mauk
will play Saturday's game about one year after two surgeries to repair a broken arm and dislocated shoulder suffered while playing for Wake Forest. Mauk has eight screws in his throwing arm, and doctors told him they didn't think he'd play again. Mauk told me: "There's still a lot of stuff going on in there." Mauk has played great football, although he's had to rest his arm at times during the 5-0 start. Not Saturday. "I'm gonna take one shot in the butt and one in the arm," Mauk said. "I plan to start this game and not come out. I've been watching from the sideline too long."
Benn
• Before this season, Illinois coach Ron Zook told me that he had never recruited or signed a wide receiver with the physical dimensions -- size, speed, strength -- of true freshman wide receiver
Arrelious Benn
. Now we see why. Benn's breakaway touchdown catch and kickoff return for a touchdown last week made highlight reels. After speaking with Benn, I was impressed by his humility. Benn took a risk in signing with Illinois over some more traditionally successful programs. But he says he also takes a risk every time he returns a kick. "It is dangerous. But I think outside of that. I trust my size and speed," he said. Why Illinois? "I wanted to build my own thing," he said. " I didn't want to be a part of someone else's tradition. I wanted to start my own tradition." So far, so good.

Clausen
• Former Notre Dame quarterback Joe Montana was back in South Bend this week. And he told reporters that the Irish have to look at the remainder of this season as a "preseason" for next year. Montana praised true freshman
Jimmy Clausen
as "strong-armed," "tough-willed" and "confident." Clausen is expected to start because he's healthy enough, despite a hip injury. But some have wondered if junior
Evan Sharpley
, who moved the team with 208 yards and two touchdowns in relief of Clausen with a comeback against Purdue last week, deserves a start. Before this season, former Notre Dame quarterback Brady Quinn told me Sharpley was the most prepared to lead team Irish this season, because of his poise and experience. Sharpley also is a baseball player for Notre Dame. However, Weis clearly is on board with Montana's thoughts. They're playing for more than this season.
Viewer's Guide
(All times ET)
Saturday:
10 a.m.:
"
College GameDay
" from Baton Rouge (ESPN)
Noon:
Wisconsin at Illinois (ESPN)
Bowling Green at Boston College (ESPNU)
3:30 p.m.:
Oklahoma at Texas (ABC)
6 p.m.:
Virginia Tech at Clemson (ESPN)
8 p.m.:
Ohio State at Purdue (ABC)
Cincinnati at Rutgers (ESPN2)
Notre Dame at UCLA (ABC)
9:15 p.m.:
Nebraska at Missouri (ESPN) •
Television sked
|
ESPN GamePlan
•
Coverage Maps:
3:30 ET
8 ET
Breaking Down Florida-LSU
By Bob Davie, ESPN.com

If there were a way to measure collisions on a football field, this game might be off the charts. When you combine the athletic ability of these two teams with what's at stake and add the dynamic of Florida's loss, it will create a frenzied atmosphere in Baton Rouge. How many times will Tim Tebow be asked to carry the football? How many licks will he take? Florida will put the game on his shoulders, and he'll be matching up against a team with one goal: Knock the heck out of the quarterback. Gators coaches say that when it comes to strength and toughness, Tebow is a freak. But he'll be pounding away at a defense that can keep up with him.

Florida was tripped up by Auburn because the Tigers could tackle in space. LSU has the same ability. The Gators haven't shown a commitment to the run game, which could take some of the pressure off Tebow. The option could be the big balancer in this game; the Gators will try to stop LSU from flying around on defense by making them play assignment football. It will be interesting to see what type of game plan Urban Meyer cooks up for this matchup.
Coach's Corner
By Jim Donnan, ESPN.com
Here's what we've learned in the first five weeks of the season:

1. Talent will overcome -- even itself.
Teams often lose because of the mistakes they make, but really talented teams often can overcome an absurd amount of mistakes. For example, USC threw an interception, lost two fumbles, had a punt blocked and racked up 16 penalties, yet still won on the road. Against Tulane, LSU was hit with 15 penalties and allowed six sacks. It's proof that you can avoid losing if your defense is good enough.

2. Good offense = good defense.
Sometimes the best defense is a really good offensive game plan. Oklahoma and Florida lost in Week 5 because they couldn't get on the field. Colorado and Auburn controlled the ball, which mean the Sooners' and Gators' powerful offenses didn't have as much time to wreak havoc on the field. There's nothing worse for an offense than feeling helpless, sitting on the bench and rushing to make something happen when it finally gets back on the field

3. Tipped passes are on the rise.
We've seen an increased number of tipped passes (many that have led to big plays). Defensive line coaches are beginning to teach players that if the offense puts two guys on them, instead of fighting to get through to the QB, they should maintain position and get their hands up. Tipped passes have played a big role in Kansas State's and Mississippi State's big wins.

4. Defenses are getting creative.
The spread offense caused defenses fits -- until they started reacting to a mobile quarterback as they would a running play. We saw South Florida use a number of line stunts to create confusion. Because the defense was plugging up the running game like they would rushing the passer, there was little room for the back to get past the line of scrimmage. The added pressure forced West Virginia to turn the ball over six times (the Moutaineers recovered their own fumbles three times). Similarly, Auburn's inside line put the skids on Florida's offense.

5. … And causing more bad snaps.
Defenses are increasingly putting people in the A-gap, which is the guard-center gap, trying to penetrate up the field. The center feels that pressure and is in a hurry to reach him -- but often the exchange between the quarterback and center is disrupted. When you don't have routine exchanges on offense, it adds to your inability to move the ball -- something we saw frequently in West Virginia-USF. When a defense causes indecision, it makes a quarterback work -- both in the shotgun and under center -- and often he makes mistakes. The same way secondaries disguise coverages to confuse passing reads, defensive fronts stunting in and out make the quarterback's reads more challenging.
Todd McShay's Upset Special
Coach Holtz's Pep Talk
Looking Forward, Looking Back
By Bob Davie, ESPN.com

• Wisconsin gave up a lot of yards (564) and a lot of points (34) to Michigan State. I'd be concerned if I were the Badgers. Traditionally, they've won with defense. I don't know if they can sustain their success if they keep giving up this many points.

• Oregon State might be the disappointment of the year -- not because of the losses, but the way it loses. It's unbelievable how the Beavers have self-destructed. They've turned the ball over, had punts blocked, given up leads -- they continue to find new ways to not win.

• Poor scheduling is coming back to haunt teams. Rutgers was ranked in the top 10 last week, yet had beaten no one big. When you open your season against easy opponents, you don't have the opportunity to see what your weaknesses are. When you find out, it's too late, and you panic a bit.
• The Big East needed a big year to gain credibility. One year of success for a team or a league does not a legitimate contender make. Yes, the Big East was undefeated in bowl games in 2006. That's a great accomplishment. But poor nonconference scheduling doesn't give a conference credibility.
Stock Up/Stock Down
By Rod Gilmore, ESPN.com

Grothe
Stock Up: South Florida
You've heard about South Florida's speed. You've heard about
Matt Grothe
. But have you heard about Bulls cornerbacks Mike Jenkins and Trae Williams? They're probably as good a tandem as you're going to find. Both are considered NFL draft picks and two big reasons why South Florida is on the rise. (Bulls WR
Jessie Hester
is another under-the-radar star -- he creates matchup problems and exploits opposing defenses in the slot.)

Carpenter
Stock Up: Arizona State
The Sun Devils are undefeated, but no one is paying attention, and deservedly so -- their schedule is weak. But Arizona State has a few bona fide stars who give the team a chance against USC, Oregon and Cal. QB
Rudy Carpenter
is bouncing back from a tumultuous sophomore campaign. Running back
Ryan Torain
is a combo big guy and a slashing runner who has deceptive speed. The Sun Devils could be 7-0 before they get into the meat of their Pac-10 schedule. The last five games will tell us whether or not they're for real.

Booty
Stock Down: USC
The Trojans are much more banged up than they'd like you to believe. In fact, they have four starters injured in the secondary alone. No college team is deep enough to sustain that type of hit. USC is close to running on empty, and Washington exposed two of its weaknesses: it's lack of talent at wide receiver and QB
John David Booty
's struggles throwing on the move.
Florida-LSU preview
Kirk Herbstreit's Top Five
Inside the Numbers
By ESPN Research

• This season has provided further proof of the absurdity of preseason polls. After one month of games, the preseason Top 10 looks as dated as the fumblerooski. Only USC, LSU and Wisconsin made it through September without a loss, and Wisconsin had to survive multiple scares against unranked teams. Two preseason top-10 teams -- Michigan and Louisville -- lost twice. It's the most preseason top-10 teams to lose before October since 2000 (also 7).

• If the BCS had come out this week, LSU would be ranked No. 1 on the strength of its computer ratings, even though USC is ranked first in both polls that are part of the BCS formula. Aside from the LSU-USC flip, the rest of the top five would mirror the polls. South Florida is actually the third-best team in the computers (behind LSU and USC) right now and would be ranked seventh overall. The only potential "BCS Buster" on the radar is Hawaii, which would be 18th this week and needs to reach the Top 12. The Oklahoma-Texas winner may still be alive in the national championship hunt, but things don't look good for the Big 12's elite. The Sooners' best ranking in any computer is 24th. The Longhorns' best is 26th.

Miles
• Both Florida head coach Urban Meyer and LSU head coach Les Miles were among the 21 head coaches that started with their current school in the 2005 season. With a 5-0 mark this year, LSU coach Les Miles has run his record with the Tigers to 27-4 overall. The 27 wins in his first 31 games is the most of any coach in school history during that span. Bernie Moore ranks second with 26 wins during his first 31 games. • It hasn't been pretty this season, but Wisconsin coach Bret Bielema keeps racking up wins.

Best starts through 18 games
(Div. I-A, since 1960)
Larry Coker, Miami (2001-02): 18-0
Barry Switzer, Oklahoma (1973-74): 17-0-1
Bret Bielema, Wisconsin (2006-07): 17-1
Chris Peterson, Boise State (2006-07) is 16-1 entering Sunday's game

• Good sign for the Horns? The last time Texas entered the OU game off a loss was 1999. That loss in '99 was also a blowout in Austin at the hands of Kansas State (35-17). Sound familiar? Texas rebounded to beat Oklahoma, 38-28, the next week and went on to win the South division. UT hopes history repeats itself Saturday.

• Notre Dame is playing in Pasadena for the first time since winning its first consensus national title in the 1925 Rose Bowl (beat Stanford 27-10). The game featured the newly penned "Four Horsemen" of Notre Dame, who cemented their legendary status with the victory, despite being outperformed by Stanford's one-man team, Ernie Nevers. Notre Dame has started a season 0-5 for the first time in program history (had never been 0-4 prior to this year), and is one loss away from matching its longest losing streak ever (8 in a row in 1960).