Tide, Trojans, Irish looking for payback in Week 12
Situation Room: Sweet revenge is on their mind
Can Miss. State, Stanford, Navy provide encores?
By Rece Davis, ESPN.com
Revenge has been described by Homer as "sweeter far than flowing honey." Another writer called it "the weak pleasure of a little and narrow mind." Ultimately, living well is the best revenge, but couldn't an occasional perk of living be a taste of that "flowing honey"? At least the revenge motif gives us something to talk about on what appears superficially to be a pedestrian week of college football.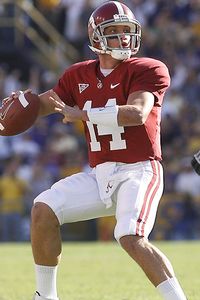 Crystal LoGiudice-US Presswire
John Parker Wilson has a personal score to settle with Miss. State.
Few thorns stuck in sides have been quite as agonizing as the ones Mississippi State have applied to Alabama. The Dogs have won the past two meetings, but State has been vexing the Crimson Tide offense far longer than that. Alabama hasn't scored an offensive touchdown against the Dogs since Britney Spears and K-Fed were newlyweds (2004). While talking to Tide QB
John Parker Wilson
for "College Football Live" this week, it was apparent that the touchdown drought isn't one of those stats to which players are completely oblivious. Wilson told us it was embarrassing. Embarrassment that should keep the Tide from taking the scuffling Bulldogs for granted. This game might be personal for Wilson. Despite holding a slew of records, the 100-yard game-changing pick six he threw in the loss to the Dogs last year stood as the quintessential picture of his career. Big numbers were offset by bigger mistakes. But Wilson has reshaped his legacy with stellar clutch play and a steady hand this season. Still, it will be interesting to see how State's confidence grows defensively if it keeps Alabama out of the end zone early. I'd be surprised if that happens, but momentum and the pressure to put away a relentless underdog with nothing to lose can be tricky. Just ask Penn State.
USC, Cal among Pac-10 revenge-seekers
You could also ask USC. The Trojans face-planted as a 4,000-point favorite against Stanford last year. Officially, it was 40-something, but who's counting? It's payback time. Our research team came up with this gem: In the eight previous "payback" Pac-10 games USC has had under Pete Carroll, the Trojans have won by an average of 21 points. USC has also never lost a November game under Carroll (25-0). This Cardinal team is much better than last year's, but they'll need a healthy
Toby Gerhart
and a dose of good fortune to avoid the wrath of the Trojans. USC is scary good on defense. But quietly, Jim Harbaugh's team is 17th in the nation in rushing offense, rolling up 207 ypg. That's roughly triple what the Trojans usually allow (78 ypg). Harbaugh hasn't popped off about Carroll going to the NFL this year. Comments from USC's players have been tame. I'm guessing their defense won't be.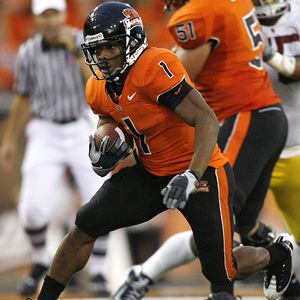 Tom Hauck/Getty Images
If Cal is to get revenge on Oregon State, it needs to contain Jacquizz Rodgers.
Oregon State completely destroyed Cal's season in 2007. The "sturdy" was sapped from the sturdy Golden Bears after the Beavers' victory. Remember Jeff Tedford spiking his ball plays when
Kevin Riley
tried to run late with no timeouts? The clock expired, and Cal pretty much did, too. The Bears not only blew the game; they blew a chance to be No. 1 in the polls. BCS at-large hopefuls need Cal to be stoked by that memory. Oregon State, not USC, controls its Rose Bowl destiny in the Pac-10. An extra Pac-10 team in the mix isn't helpful for teams like Ohio State. Cal has been pretty sound against the run. It'll have to do what USC couldn't: stop the Pac-10's leading rusher,
Jacquizz Rodgers
.
Navy goes for two vs. Irish
It took Navy 43 tries to feast on revenge against Notre Dame, but a year of basking in that glory comes to an end Saturday. Navy goes for the two-game streak without last year's leader Kaipo-Noa Kaheaku-Enhada, who has been plagued by a hamstring injury most of the season. Where is the Irish psyche? How bruised are they after the quadruple-overtime loss to Pitt and the washout at BC? For the Irish, tasting the flowing honey of revenge against Navy is a distant second to breathing a sigh of relief. This game is to salvage what's left of their season. There's no way that this season can reasonably be viewed as improvement if it includes another loss to Navy. That's no disrespect to the Midshipmen, but if the Irish truly are progressing, they have to beat somebody with a winning record. If it's not Navy, then it certainly won't be USC. The record is going to look better than it did last year. The question is, are the Irish really making progress? I agree with my buddy Chris Fowler. It would be stupid to fire Charlie Weis this season. It's too soon and too expensive. But Notre Dame needs to turn the corner, or at least look as if it can see the corner soon. Otherwise, the time will come when it's too expensive to keep Weis no matter what the buyout is. That time just shouldn't come this year -- regardless of how the Irish finish or whether they avenge last year's loss to Navy.
More nuggets
Ohio State is mad at Illinois for spoiling its senior day last year. The Buckeyes can return the favor Saturday. Auburn is mad at Georgia for dancing to Soulja Boy during the Dogs' win last year. The Tigers can dance their way to bowl eligibility by beating their longtime rival. The truth is, once the game starts, most of this revenge stuff gets lost in the heat of the battle. Fitting, since it's best served cold anyway.
Hunt: HBCU's all-time team
"College GameDay" hits Tallahassee on Saturday for the Hampton-Florida A&M game. In honor of "GameDay's" visit, Donald Hunt takes a look at the HBCU all-time football team.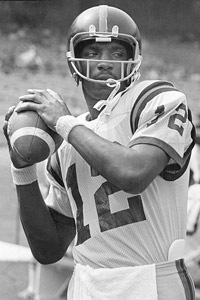 Icon SMI
Doug Williams' Grambling State career was one to remember.
The history of black college football is more than a century old. The number of outstanding players who played black college football is incredible. For many years, HBCUs have been able to get the cream of the crop when it comes to landing the top black athletes. It wasn't until the mid- to late '70s that the doors to the major-college football programs started to gradually open up for African-Americans. As a result, a lot of great players have come through programs like Grambling State, Florida A&M, Tennessee State and Morgan State. Despite these players' successes, a number of people don't realize they honed their skills at HBCUs. It's important to know the history of the game. It's also important to recognize the best black college football players to ever play the game.
Story
Viewer's Guide
(All times ET)
Saturday:
10 a.m.:
College GameDay
from Tallahassee, Fla. (ESPN)
Noon:
Ohio State at Illinois (ESPN)
Northwestern at Michigan (ESPN2)
3:30 p.m.:
North Carolina at Maryland (ABC)
Wake Forest at North Carolina State (ESPNU)
Cal at Oregon State (ABC)
Minnesota at Wisconsin (ABC)
7 p.m.:
Connecticut at Syracuse (ESPNU)
7:45 p.m.:
Mississippi State at Alabama (ESPN)
8 p.m.:
Oklahoma State at Colorado (ABC)
Boston College at Florida State (ABC)
Vanderbilt at Kentucky (ESPN2)
•
College football schedule
|
ESPN GamePlan
•
Coverage maps:
Week 12
Week 12 Debate
Blog Network: What to Watch
Each week our bloggers will take a closer look at the story lines you should watch. What's on tap for Week 12?

How will Maryland's run defense fare against North Carolina? Will BC's front seven disrupt Florida State? Is Clemson WR Aaron Kelly catching up to history?
ACC

How will Kansas State fans react to Ron Prince? Can Kansas handle Texas' defensive front? Will Oklahoma State rebound? Baylor's a favorite -- in the Big 12?
Big 12

Can Cincinnati score after halftime? Where's South Florida's passion? Can Matt Grothe escape Rutgers' pass rush? What will Donald Brown do against the Cuse D?
Big East

How will Daryll Clark respond? Can Juice carry Illinois against Ohio State? Will Penn State expand Derrick Williams' role? Will Michigan send off its seniors in style?
Big Ten

Will Mark Sanchez feast against Stanford? What's Cal's top priority against Oregon State? Can Oregon's secondary finally live up to the hype?
Pac-10

How will Steve Spurrier fare in his return to the Swamp? Is this Tubs' farewell to Jordan-Hare? Which teams could become bowl-eligible this weekend?
SEC

Non-BCS:
How will the MWC shake out? Is Marshall keeping the faith? Will Utah and Boise stay unbeaten? Who's streaking to the finish?
Around the nation
Preview: Mississippi State at Alabama
By The Numbers
By ESPN Research

• Alabama has lost two straight to Mississippi State and has gone three consecutive games without scoring an offensive TD on the Bulldogs. That's easily the longest such streak in the SEC.

• Texas has won six straight against Kansas since the two became conference mates in 1996. KU's most recent win versus Texas was in 1938. The Longhorns have scored more than 50 points in three of the past four meetings. More bad news for Kansas: Texas is 28-4 in regular-season games versus Big 12 North teams under Mack Brown.

• Florida has the top scoring defense in the SEC (11.9, fourth nationally), while South Carolina has the top total defense (256.5, third nationally). The difference? Florida is seventh nationally in scoring offense (42.8), while South Carolina is 70th (24.0).

• With wins in its final two games, Ohio State would clinch at least a share of the Big Ten title for the fourth straight year -- something it hasn't done since winning six straight from 1972-77 -- and would keep alive hopes for a BCS bid.
College Football Spotlight