Many teams will establish their identities this weekend
Take An Identity
By Rece Davis, ESPN.com
Who are you? I really wanna know.
I doubt those lyrics from The Who grace the kids' iPods these days, but they perfectly capture what we're going to find out this weekend.
It is a season-shaping, identity-securing weekend for teams like Notre Dame and Michigan State, Arkansas and Georgia, Nebraska and Virginia Tech, Auburn and West Virginia, Cincinnati and Oregon State. Lou Holtz constantly reminds us everybody gets a different team every week. That's true. But it's amazing how one identity-establishing game early in the season can have repercussions that last throughout the year.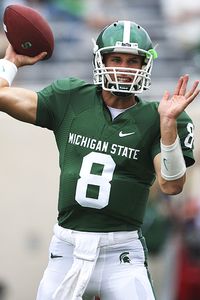 Leon Halip/Getty Images
Kirk Cousins has played well for the Spartans this season, but it wasn't enough against CMU.
Michigan State is coming off an embarrassing loss to Central Michigan. I don't mean to imply the Chippewas aren't good. They are. Dan LeFevour is one of the most exciting players in the game. But we might as well be honest. When a Big Ten team loses to an in-state MAC foe, it's embarrassing for the big brother. And it was for Sparty. At least Michigan State gets to go home … to South Bend.
The Spartans have planted a big block-S flag at midfield and should be assessed property taxes on the Golden Dome because they've owned the place. The last Irish coach to beat Michigan State in Notre Dame Stadium was Holtz. It was 1993. Since then, the Spartans have won six straight trips to South Bend. We'll find out who Notre Dame is Saturday.
Jimmy Clausen should have a big day against a defense that gave up more than 300 yards passing to the Chippewas. Michigan State can get some pressure on the passer, but Clausen has yet to be sacked. Holtz's prediction of Notre Dame playing for the national title probably is out the window, but Notre Dame still can create an identity as a player on the national scene this season. If the Irish don't start Saturday by beating Michigan State, we'll know who they are. The Irish are just a run-of-the-mill team with some nice offensive weapons. That won't satisfy ND nation.
We'll know plenty about Michigan State, too. Another win in Irish territory could mean the Central Michigan debacle was a hiccup. Getting thumped by the Irish could mean a season that was expected to show a giant step forward might actually be a step backward. Don't think for a second that Michigan State's performance Saturday won't be measured against how Michigan played against the Irish. It might not be fair, but that's life for the Spartans, trying to measure up to the Wolverines.
Arkansas has the toughest road schedule in the history of football. That might be a bit of hyperbole, but how would you like to stare at trips to Alabama, Florida, Ole Miss and LSU? I thought all summer that the Hogs would steal at least one of those games. The potential springboard comes Saturday night at home against Georgia. We don't know who the Razorbacks are yet, but we know who Bob Petrino is. The second-year theory for a coach applies here. With an elite-level coach, it all seems to click in the second year.
Better still for Arkansas, the really talented quarterback theory applies. Ryan Mallett faces his first SEC competition. This is a pivotal game for both teams. If the Hogs win, they still are an extremely long shot to win the SEC West because of their road schedule, but it'll be apparent they'll have a major effect on who does win it.
Arkansas has three talented running backs in Michael Smith, Broderick Green and freshman Ronnie Wingo Jr. to go with the big-armed Mallett. The Hogs take aim at a Dog D that has given up a lot of yards and points and forced only one turnover in their first two games.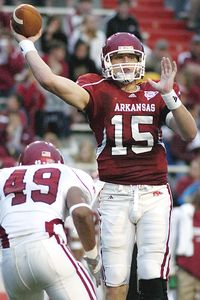 AP Photo/April L. Brown
How will Arkansas quarterback Ryan Mallett fare against Georgia in his first SEC start?
Georgia narrowly missed starting 0-2 for the first time in 13 years. A second poor performance on the road would be very un-Mark-Richt-like for a coach who is 30-5 in true road games. Richt said practice Wednesday was a little sluggish and the guys were a little tired. We shouldn't minimize the fact that Arkansas has been getting ready for this game all summer while the Dogs are headed for their third straight gut-wrencher. Is Georgia careening toward a middle-of-the-pack season in the SEC? We'll have a good idea Saturday night.
Can Nebraska hang with the big boys? Is Virginia Tech still one of the big boys? The Hokies maintain their goals are intact after losing to Alabama. Any remote national-title aspirations will be gone with a loss to Nebraska, as will the ACC's reputation of being on equal footing with powers from other conferences. The Huskers have smashed a couple of overmatched teams. Their trip to Blacksburg is a measuring stick in Bo Pelini's second year. The Hokies have won 31 in a row at home against nonconference opponents. A Huskers win in Lane Stadium would make me re-evaluate the power structure in the Big 12. Just how close is Nebraska to being more than just a threat in the North and joining the Texas-Oklahoma realm? The answer will come in how well Zac Lee handles pressure from the Hokies, particularly Jason Worilds.
Auburn looks rejuvenated with Gus Malzahn running the offense for new head coach Gene Chizik. West Virginia appears to be coping without Pat White. But who are these teams really? Auburn has two of the top 10 rushers in the country in Ben Tate and Onterio McCalebb. Can the Tigers move the ball against a legitimate defense? Does West Virginia even have one of those? The Tigers checked out about the time they turned off the sideline heaters on a chilly night in Morgantown last year. A win over the Mountaineers would help the Auburn faithful further warm up to Chizik, no heaters necessary.
It could be a huge weekend for the Big East. Not only does West Virginia have a chance in SEC country, but Cincinnati goes to Oregon State. Tony Pike has been brilliant early for Brian Kelly's team. The Bearcats have rolled up 117 points in two games. Mardy Gilyard became the first player in four seasons to score on a punt return, run and reception in the same game last week against Southeast Missouri. But the Beavers aren't SEMO. At least they aren't when they get to stay at home. If Cincinnati is more than just a Big East power, it will announce that by winning this game. If Oregon State is a threat to USC in the Pac-10, it will protect its turf.
Who are you? I really want to know. Mark May, Lou Holtz and I will serve up answers aplenty on "College Football Final" on Saturday night. See you then.
Weekend Watch
By Mark Schlabach, ESPN.com
Here's a list of five things to watch in college football this weekend:
1. How many points will No. 1 Florida score against Tennessee?
Probably as many as Gators coach Urban Meyer wants to put on the scoreboard. Saturday's game in The Swamp probably won't be very competitive, but it will be intriguing to see whether Meyer tries to make new Vols coach Lane Kiffin pay for some of his ill-advised remarks during the offseason.
Meyer continues to say the game is about the players, but Meyer tends to hold grudges (ask Georgia coach Mark Richt). Meyer also has a lot of respect for Kiffin's father, Monte, who is Tennessee's defensive coordinator.
If Tennessee plays like it did in last week's 19-15 loss to UCLA, this game might get ugly very early.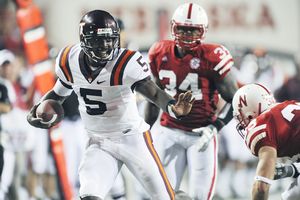 G. Newman Lowrance/Getty Images
Will Nebraska be able to slow down Virginia Tech quarterback Tyrod Taylor this season?
2. Can the Cornhuskers slow down Virginia Tech quarterback Tyrod Taylor?
Taylor was a one-man wrecking crew in the Hokies' 35-30 victory at Nebraska last season. Taylor enjoyed perhaps his best college game in Lincoln, running 15 times for 87 yards and one touchdown, and passing for 171 yards without an interception.
Containing Taylor will be the key when No. 19 Nebraska plays at No. 13 Virginia Tech's Lane Stadium on Saturday, according to Cornhuskers linebacker Blake Lawrence.
"There were a lot of times last year when Taylor slipped out of a tackle in the backfield or broke containment," Lawrence said. "We have to keep him in the pocket. When he gets out of the pocket, he becomes a dual threat."
Nebraska's defense played well in its first two games, allowing only 12 points combined in victories over Florida Atlantic and Arkansas State. But Virginia Tech figures to be a much stiffer test on the road. In last week's rout of Marshall, the Hokies ran for 444 yards. They also moved the ball well in a loss to Alabama in their opener.
3. Can Taylor Potts do what Graham Harrell did against Texas?
Probably not, but Potts has put up some eye-popping numbers in his first two games as Texas Tech's starting quarterback. Harrell's replacement has thrown for 861 yards with nine touchdowns, including seven touchdown passes in a 55-10 rout of Rice last week.
Last season, Harrell threw the game-winning pass to Michael Crabtree with one second left to upset the No. 1-ranked Longhorns 39-33 in Lubbock. Texas Tech coach Mike Leach said Potts might be the best quarterback to play in his system. He is bigger than Harrell and has a stronger arm.
Texas Tech will need Potts to play well if it is going to upset No. 2 Texas again Saturday night at Royal-Texas Memorial Stadium.
"They all look alike," Texas coach Mack Brown said of Tech's quarterbacks. "They're accurate and don't give up sacks. He's 60 percent in accuracy and leads the country in passing again. It looks like the same guy every year with different jersey numbers."
4. Which Florida State team will show up at BYU?
The Seminoles played pretty well in a 38-34 loss to Miami in their Sept. 7 opener, but then they needed two touchdowns in the final 35 seconds to beat Football Championship Subdivision foe Jacksonville (Ala.) State 19-9 five days later.
FSU's defense will get a stiff test from BYU quarterback Max Hall at LaVell Edwards Stadium on Saturday night. The Cougars have won 18 games in a row at home, and Hall has thrown for more than 300 yards in each of his first two games this season. FSU is allowing close to 300 passing yards per game.
The No. 7 Cougars have their highest ranking since 1996, after upsetting then-No. 3 Oklahoma 14-13 and routing Tulane 54-3 last week.
5. Can Washington play with USC?
The No. 3 Trojans are coming off an emotional 18-15 victory at Ohio State and travel to Washington, a Pac-10 foe they've beaten seven times in a row.
But former USC offensive coordinator Steve Sarkisian has the Huskies playing much better, and Washington ended a 15-game losing streak with a 42-23 victory over Idaho last week. Washington defensive coordinator Nick Holt, another former USC assistant, also knows the Trojans very well.
USC quarterback Matt Barkley, who engineered the winning drive at Ohio State, has a bruised right shoulder and didn't throw in practice all week. Aaron Corp will start if Barkley can't play.
Viewers' Guide
(All times ET)
Thursday:
7:30 p.m.: Georgia Tech at Miami (ESPN)

Friday:
9 p.m.:
Boise State at Fresno State (ESPN)
Saturday:
10 a.m.: "College GameDay" from Austin (ESPN)

Noon: Cal at Minnesota (ESPN)
East Carolina at North Carolina (ESPN2)

3:30 p.m.: Tennessee at Florida
USC at Washington (ABC)
Nebraska at Virginia Tech (ABC)
Utah at Oregon (ESPN)

6:45 p.m.: Cincinnati at Oregon State

7 p.m.: Florida State at BYU

7:45 p.m.: Georgia at Arkansas (ESPN)
West Virginia at Auburn (ESPN2)

8 p.m.: Texas Tech at Texas (ABC)

•
College football schedule
|
ESPN GamePlan
•
Coverage maps
:
Week 3
Herbie's Weekend Preview
CFL Extra: The Revenge Games
Blog Network: What To Watch
Each week, our bloggers will take a closer look at the storylines you should be watching. What's on tap for Week 3?

C.J. Spiller is on the verge of ACC history. BC will have a QB surprise, but Duke has no controversy.
ACC

How will Texas' secondary handle Texas Tech? It will be Taylor Potts' first road game as a starter.
Big 12

Cincinnati will have its hands full with the Rodgers brothers. Will the Bearcats' offense have success in the air?
Big East

Week 3 doesn't match its predecessor in terms of national prestige, but it still means a lot to the Big Ten.
Big Ten

With two nonconference games on the road at Big Ten sites and two home games against ranked teams, the Pac-10 can make a statement.
Pac-10

Kudos to Lane Kiffin. Thanks to some of his offseason comments, he's managed to turn a potential blowout into an anticipated matchup.
SEC

Non-AQs:
Can BYU sustain its momentum against another BCS foe? How will Nevada rebound after a week off?
Around the nation
Todd McShay's Stock Report
Picking The Winners
By ESPN.com
Want to know what our experts think will happen this weekend? Our bloggers and ESPN The Magazine's Bruce Feldman give their predictions for Week 3.
•
ACC
|
Big 12
|
Big East
•
Big Ten
|
Pac-10
|
SEC
|
Non-AQs
Blogger Breakdown: Tenn.-Florida
The Nickel Package
By ESPN Stats & Information
No. 19 Nebraska travels to No. 13 Virginia Tech, hoping to beat a top-20 team on the road for the first time since Tom Osborne was coach. Since Osborne's retirement from coaching after the 1997 season, Nebraska is 0-16 in true road games versus teams ranked in the top 20 of the Associated Press poll. The highest-ranked opponent that Nebraska has beaten in hostile territory since '97 was then-No. 23 Notre Dame in 2000.
Each week, ESPN Stats & Information will provide five nuggets on the upcoming games. For the rest of the list, click here.

Blogger Breakdown: Tech-Texas
Fantasy College Football
By ESPN Fantasy
Check out College Football Challenge, our new fantasy game. Each week, our fantasy gurus will provide players or units that should be on Challenge owners' radars.
•
Sign up for a team
Charlie Weis On Sparty
Mel's Matchups To Watch
By Mel Kiper
No. 19 Nebraska at No. 13 Virginia Tech
Ndamukong Suh versus Sergio Render

This is just a classic guard-defensive tackle showdown. I've said all there is to say about Suh, who's currently No. 5 on the Big Board. He's a relentless force, never takes a play off, and subsequently, he's one of the more difficult guys any guard or center (or both) will ever have to deal with. Suh is a guy who can go to secondary moves any time you handle his first.
Render is a good athlete at a position that you rarely find them and is a key for the Hokies running game. He performed well when they faced Alabama, who has a lot of talent on defense and even battling Suh to a stalemate would be impressive.
For six more matchups Mel Kiper is watching this weekend, click here.