Oklahoma State has not been treated well by Texas recently
Any Candy For Pokes?
By Rece Davis, ESPN.com
Trick or treat! For 11 years, Oklahoma State has dressed up like a cowboy, usually one named Pistol Pete. Its players take along the biggest bag they can find because they hear that this year, the richest guy in the neighborhood is giving away gigantic portions of candy. So, decked out in their brightest orange, they make their way to Mack Brown's house. (Every other year he moves to Stillwater for the purposes of my column.)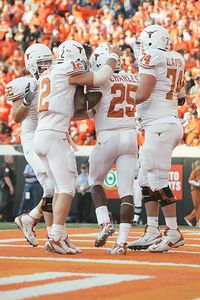 Alicia Jerome/US Presswire
Colt McCoy is 3-0 in his career against Oklahoma State.
Surely, they think, this will be the year we hit the mother lode. They ring the doorbell. Brown doles out heaping helpings of candy. So much, in fact, that the Cowboys have trouble handling the bag. That's when Brown swoops in and says, "Let me lighten that load for you," and the Cowboys lose all their candy and go home like Charlie Brown on Halloween with nothing but a rock.
Or maybe Brown is more like Lucy, and every year he pulls the football away just as Oklahoma State is about to kick it, and the Pokes wind up flat on their backs.
Texas toys with Oklahoma State, and recently it has done that in a most excruciating fashion. The Longhorns spotted the Cowboys a 28-point lead in 2004, 19 points in 2005 and 21 in 2007. Texas won every one of those games. The 2004 and 2005 games turned into Longhorns blowouts. 2007 was a heartbreaker. Brown is 11-0 against Oklahoma State.
That kind of repeated defeat could damage a team's self-esteem. An upgrade in facilities has boosted the Cowboys' image, and the slight inferiority complex when compared to the Texas and Oklahoma types seems to have diminished significantly. They've knocked off the Sooners from time to time. Chalk that up to a bitter in-state rivalry. But this game is about national legitimacy. The Cowboys won't take a step back in building their program with a loss. But they could take a significant step forward with a win.
Texas at Oklahoma State
Can Texas stay undefeated in the Big 12? Will Oklahoma State be able to slow down Colt McCoy and gain an edge in the South race? Our experts take a closer look at the matchup.
•
Griffin: Cowboys contend despite adversity
•
Griffin: Horns battle for playing time
•
Griffin: OSU's Robinson not fazed by Horns
•
McShay: How to stop Texas

•
Scouts' edge: Longhorns at Cowboys

This appears to be the biggest obstacle remaining between Texas and the national championship game. The Longhorns know that, and they'll be ready to play. Regardless of the fever pitch with which the Cowboys might greet them early, the Longhorns will know they have time to rally because they've come back against Oklahoma State so many times before. That's why a win for the Cowboys would be a cornerstone on which their program could be elevated.
The problem for the Cowboys is that Texas' defense is coming dressed as the Goon Squad, the nickname it has given itself. The Horns' D has knocked out three straight starting quarterbacks. It's the best rush defense in the country and ranked second in total defense. It has the look of a championship defense.
There's nothing statistical to suggest the Cowboys' defense can keep pace, especially against a Texas offense that seems to be settling into a rhythm. The Horns are moving a little more three-wide than four-wide on offense and say it helps their play-action game. However teams have thrown it, it has worked against the Pokes. They're giving up 253 yards per game passing, which ranks 106th in the country.
Oklahoma State already got a lousy Halloween trick stuffed in its bag by the NCAA when Dez Bryant was ruled ineligible. The Big 12's leading rusher last year, Kendall Hunter, likely will have a limited role at best due to injury. So the Pokes will need some Halloween magic.
It takes more than hocus-pocus to trip up Texas. I listed the Longhorns No. 1 this week in my ESPN.com Power Rankings. I expect it to be a great scene in Stillwater, but similar to all Halloween movie sequels, I think the ending will be very familiar. Texas plays the ghoulish, indestructible fiend who is occasionally wounded but retreats only to plot his next attack. Oklahoma State fills the role of brave adversary who has chance after chance to slay the monster and escape but doesn't.
---
Getting a read on the USC-Oregon game is a little tricky. The Trojans have had a checkered recent history in the Pacific Northwest. They've lost a game in the state of Oregon each of the past three seasons and already lost one at Washington this year.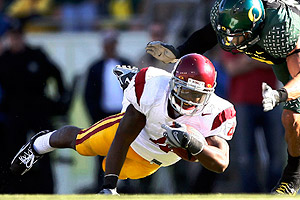 Joe Nicholson/US Presswire
USC fell short in its last trip to Autzen Stadium.
The Ducks don't look like the same team that embarrassed itself against Boise State in Week 1. Could it be it hasn't played a team as good as Boise State since then? Just asking. This week, the Ducks definitely face an elite-level team, and it's a real measuring stick game for them. It's also the game on which Boise State's season résumé will be built. That's not really a precise way to evaluate it because too much changes between the first game of the season and the final game of October. But that's the system we have. Some of Boise State's perceived BCS worthiness will hinge on whether the Ducks beat USC.
The Ducks have by far the best defense USC has seen since playing Ohio State. Certainly the Trojans' offense has matured since, but I'm interested to see whether that Autzen Stadium crowd can do what couldn't be done in The Horseshoe or Notre Dame Stadium: rattle Trojans quarterback Matt Barkley. I'm not banking on it. That doesn't mean I don't think the Ducks can win. I just think if they do win, it won't be because the young quarterback gets spooked by road ghosts in Eugene.
By the way, while we're thinking of Halloween frights, I wonder whether Oregon will go sleek or garish for its costumes, uh, I mean uniforms Saturday.
It's Georgia's turn to go for payback after taking umbrage at a rival's on-the-field behavior. The Dawgs are seething over Urban Meyer's stick-it-in-their-grill timeouts last year. That, of course, was in retaliation for Georgia's storm-the-field touchdown celebration in 2007.
Georgia has been reduced to a spoiler, and it would love to knock Florida from its perch. But it appears to me that the Dawgs' defense might be just the tonic for Florida's red zone woes. Georgia ranks 95th in red zone defense. It's much better in touchdown percentage allowed, ranking in the top 35, but this could be the week the Gators' offense isn't disguised at all and looks like, well, the Gators' offense.
We'll unmask impostors on "College Football Final" on Saturday. There's a rumor that Mark May will dress up as Lou Holtz for Halloween. To really get into character, he might even sing the Notre Dame fight song. OK, probably not.
Weekend Watch
By Mark Schlabach, ESPN.com
1. Will No. 1 Florida's red zone offense improve?
The Gators have been playing with fire in their past two games, scoring only two touchdowns in their past 15 trips inside opponents' 20-yard line. In the past two games, closer-than-expected victories over Arkansas and Mississippi State, Florida has had three turnovers inside its opponent's 10-yard line.
Florida coach Urban Meyer and his staff worked into the early-morning hours Monday trying to correct the problems before Saturday's game against Georgia in Jacksonville, Fla.
The Bulldogs rank 95th nationally in red zone defense, allowing opponents to score 22 times in 25 drives inside their 20-yard line. Georgia's defense has been victimized by the passing game (the Bulldogs rank 79th nationally in pass-efficiency defense and 70th in total defense), so Florida quarterback Tim Tebow might have to be more effective in the downfield passing game.
2. Can Colt McCoy stay hot?
Texas quarterback Colt McCoy is coming off his best game of the season, and he'll have another chance to put up big numbers Saturday night at Oklahoma State.
Longhorns coach Mack Brown said earlier this week that he sensed McCoy was carrying a pretty big burden and told him to relax.
"He's very much like me," Brown said. "He wants to carry the whole load for the offense if they're not working well. I told him, 'You can't be everything to everybody. You've got to be yourself.' He's four games away from being the winningest quarterback in college football history. I want him to enjoy the moment. I want him to enjoy what he's accomplished here."
McCoy told me earlier this week that he's finally starting to have fun again. He's coming off his best game of the season, completing 26 of 31 passes for 269 yards with three touchdowns in a 41-7 rout of Missouri.
"There comes a point where you put so much pressure on yourself that it's not fun anymore and you don't even enjoy playing anymore," McCoy said. "I don't think I ever reached that point, but I didn't think I was having as much fun as I should. I just wanted to have fun and relax, and that's what I did."
In three games against the Cowboys, McCoy has completed nearly 80 percent of his passes for more than 1,000 yards with six touchdowns.
3. Can Oklahoma State stay focused?
Brown said he believes Oklahoma State's Mike Gundy has produced one of the best coaching jobs in the country this season.
The Pokes have won five games in a row despite playing all of them without top tailback Kendall Hunter and the past four without star receiver Dez Bryant. Hunter has been sidelined since the Cowboys' second game because of a sprained right ankle. He was the Big 12's leading rusher with more than 1,500 yards last season.
Bryant hasn't played in a month after he was declared ineligible by the NCAA because of concerns about his relationship with former NFL star Deion Sanders. OSU learned Tuesday night that Bryant's college career might be over. He was suspended for the rest of the season by the NCAA and is expected to enter next year's NFL draft.
Senior Keith Toston has played well in Hunter's absence, running for 130 yards against Texas A&M and 109 against Baylor. Sophomore Hubert Anyiam has emerged as Oklahoma State's deep threat, catching 19 passes in his past two games.
"I really admire Mike and their staff for what they've done," Brown said. "They've just moved forward and didn't talk about it. I think Mike and that staff have done one of the great coaching jobs in the country."
Viewers' Guide
(All times ET)
Thursday:
7:30 p.m.: North Carolina at Virginia Tech (ESPN)
Friday:
8 p.m.: West Virginia at South Florida (ESPN2)
Saturday:
10 a.m.: "College GameDay" from Eugene (ESPN)
12:21 p.m.: Mississippi at Auburn (ESPN360)
1 p.m.: Southern Miss at Houston
3:30 p.m.: Georgia at Florida
California at Arizona State (ABC)
Kansas at Texas Tech (ABC)
Central Michigan at Boston College (ESPNU)
4:30 p.m.: Penn State at Northwestern (ESPN)
7 p.m.: Iowa at Michigan State
7:45 p.m.: South Carolina at Tennessee (ESPN)
8 p.m.: Texas at Oklahoma State (ABC)
USC at Oregon (ABC)

•
College football schedule
|
ESPN GamePlan
•
Coverage maps
:
Week 9
Herbie on USC-Oregon, Tebow
Blog Network: What To Watch
Each week, our bloggers will take a closer look at the storylines you should be watching. What's on tap for Week 8?

The Canes will have a different look at Wake Forest this week without Sean Spence.
ACC

Can Mack Brown continue his remarkable winning streak against Oklahoma State?
Big 12

Can West Virginia solve South Florida's defense? Actually, can South Florida solve South Florida's defense?
Big East

After rising to No. 4 in the BCS standings, Iowa can help its cause and possibly win over more pollsters with a convincing win against Indiana.
Big Ten

Matt Barkley thinks Autzen Stadium is going to be a barrel of monkeys, and Oregon State can't afford a "USC hangover."
Pac-10

Florida faces a key showdown with archrival Georgia, and South Carolina and Tennessee square off in a game that could have bowl implications.
SEC

Non-AQs:
Halloween has not been kind to Navy. The Midshipmen are 1-12-1 all-time on the holiday, and their last win came against NC State in 1914.
Around the nation
CFB Live Extra: Texas at Oklahoma State
Picking The Winners
By ESPN.com
Want to know what our experts think will happen this weekend? Our bloggers and ESPN The Magazine's Bruce Feldman give their predictions for Week 9.
•
Feldman

|
ACC
|
Big 12
|
Big East
•
Big Ten
|
Pac-10
|
SEC
|
Non-AQs
CFB Live Extra: USC at Oregon
The Nickel Package
By ESPN Stats & Information
With Alabama's 12-10 win over Tennessee this past Saturday, The Associated Press poll's No. 1-ranked team has now gone three straight games without scoring 24 points. The previous two weeks, Florida was the top-ranked team and beat Arkansas 23-20 and LSU 13-3. This is the first time since 1963 that the No. 1 team has won three consecutive games while scoring fewer than 24 points.
Each week, ESPN Stats & Information provides five nuggets on the upcoming games. For the rest of the list, click here.

Forde: Big Men On Campus
Fantasy College Football
By ESPN Fantasy
Check out College Football Challenge, our new fantasy game. Each week, our fantasy gurus will provide players or units that should be on Challenge owners' radars.
Preview: South Carolina at Tennessee