Culture Clash
In three seasons at Notre Dame, coach Charlie Weis has won nine games, 10 games and one game, making him the first person in history to hit 20 and bust.
As Notre Dame and Nebraska plummet toward the bottom of their respective history books, as the Fighting Irish and the Cornhuskers find out how the other half has lived for the past few decades, their fans share a great many emotions: embarrassment, humiliation, disgust.
What they don't share is a solution. Notre Dame is not entertaining the idea of firing Weis. There isn't a soul between Scottsbluff and Omaha who believes Bill Callahan should or will return to run the Huskers next season.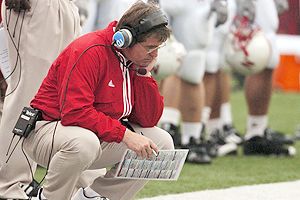 AP Photo/Dave Weaver
Bill Callahan's Huskers have dropped five straight.
Notre Dame has fallen farther, and faster, than Nebraska. The last team to play in a BCS bowl and win as few as three games was Alabama, which followed its SEC Championship and an Orange Bowl berth in 1999 by going 3-8 in 2000. Crimson Tide coach Mike DuBose didn't survive that fall.
Yet Weis won't be fired this year. Weis will survive in part because of the heights to which he took the Irish in the past two seasons. But he will also survive because he embraced the culture on campus.
Callahan came in as an agent of change, dismantling what had worked for three decades. It's not just the West Coast offense that Callahan brought in. Callahan and athletic director Steve Pederson brought a professional, business mentality to what had been a homey athletic department.
Out went the framed paintings of past Huskers stars that lined the walls. In came a new building with security worthy of a Manhattan office building. Neither move sat well with the Nebraska faithful.
Irish eyes frown on Weis
Notre Dame created a monster when it fired Tyrone Willingham after just three seasons. Now Charlie Weis is paying the price. Gene Wojciechowski
Callahan struggled, but in the midst of struggling, neither he nor Pederson developed a base among the fans. When the bottom dropped out this season -- five straight losses, capped by a 76-39 loss at Kansas -- no one rallied to Callahan's defense. Instead, they are pinning their hopes on interim athletic director Tom Osborne, who already has indicated that he will make a coaching change.
Looking on from afar is Callahan's predecessor, Frank Solich, a former Huskers running back, an assistant to Osborne for 19 seasons and the man who went 58-19 as the Huskers' head coach during 1998-2003. Pederson fired him after the Huskers went 10-3 in 2003.
Solich said he has spoken with Osborne since the Hall of Fame coach returned to run the athletic department.
"We thought we were moving in the right direction. What happened, happened," Solich said. "There were just a few people that I was bothered with. You like to see your alma mater do well. But things are where they are at. I'm sure Tom will get things upgraded there."
Weis likely will get things upgraded at Notre Dame. It's difficult to imagine how they could get worse.
WACky Waiting
WAC commissioner Karl Benson has railed against the injustices of the BCS for pretty much its entire 10-year existence. He is well aware that his two candidates for a bowl jackpot this season -- No. 16 Hawaii (8-0) and No. 20 Boise State (8-1) -- could do all they could do and still get shut out when the pairings are announced on Dec. 2.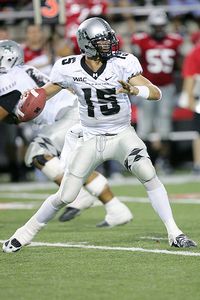 Paul Jasienski/Getty Images
If Colt Brennan and Hawaii finish undefeated, WAC commish Karl Benson likes their BCS chances.
Benson is not hopping mad. He's not even hopping.
"Bask in it while you can," he said Tuesday morning. "It can be fleeting. It's fun to have two teams in the top 20."
There are two ways that the WAC can grab one of the four at-large bids. One, have a team finish in the top 12 of the final BCS; or two, have a team finish 13th-16th, yet finish ahead of one of the six conference champions with guaranteed bids.
Benson believes the winner of the Hawaii-Boise State game on Nov. 23 (ESPN2, 9 ET) will be good enough to make the top 12. He thinks the other way to win the bid comes with an asterisk, anyway.
"I wouldn't want to see Hawaii or Boise State back in," Benson said, "especially from Hawaii's standpoint, being undefeated. Twelve is the number. The only chance of the 16 [standing] coming into play might be [an upset in] the ACC championship game. If they win out and they are 12-0, history has shown that is enough."
Benson is willing to believe in the system that sent undefeated Boise State to the Fiesta Bowl last season.
"The system was developed to recognize an undefeated team," Benson said. "I think we have to acknowledge that Hawaii's schedule to a large part is not their fault."
Therein lies Hawaii's problem. Its schedule hasn't gotten off the couch. The Warriors' struggle to find nonconference opponents in the age of the 12-game schedule is well-documented. The Warriors are unranked in the computer portion of the BCS formula. Hawaii has played two I-AA opponents, and its six I-A opponents have a combined record of 14-42.
"Those six opponents have a collective computer ranking of 103," Benson said. "The good news is that Hawaii's next four opponents (Fresno State, Nevada, Boise State, Washington) have a combined computer ranking of 57 and a won-lost record of 22-14. We're expecting that the computer will begin to recognize the last four opponents."
Offensive Diversity
No. 9 Arizona State leads the nation with an average of 34:30 minutes of possession per game -- an astounding number -- and has run 83 more plays than its opponents, an average of about nine per game. Makes sense, right? You hold the ball, you run more plays.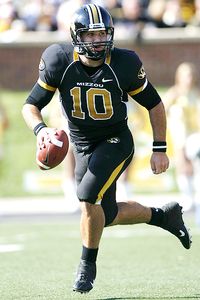 G. Newman Lowrance/Getty Images
Chase Daniel and the Tigers average 79.4 plays per game.
How about No. 6 Missouri? The Tigers average 28:13 in possession, 104th in the nation, yet they have 39 more plays than their opponents, or about four per game. How does that work?
It works like this: The Tigers are fourth in the nation in plays per game (79.4), behind Houston, Troy and Tulsa. All four teams spread the field and believe huddles are for emergencies. Missouri also is plus-seven in turnover margin. That translates to more plays, too.
"What we try to do is get up there and snap the ball before the play clock gets to :10, and most of the time, before it gets to :14 or :15," Missouri offensive coordinator Dave Christensen said. "It's a quick-strike offense. Most of the drives throughout the season are less than two minutes. … One thing is, the more series we have, the more we're going to score."
That's where that plus-seven in turnover margin comes in so handy.
The one part of the offense that is holding the Tigers back is a problem they want to have. In the fourth quarter, Missouri begins to hang on to the ball to protect its lead. The Tigers kept the ball for 10 minutes in the fourth quarter of their 55-10 victory over Colorado last week. Christensen said the change in rhythm doesn't upset quarterback Chase Daniel and the offense.
"You would think that would be the case," Christensen said. "Last week, we just ran it and moved down the field and scored another touchdown."
Ivan Maisel is a senior writer for ESPN.com. Send your questions and comments to Ivan at ivan.maisel@espn3.com.
3-Point Stance

1. Texas A&M supposedly wants a big-name coach -- Tuberville is a big name; it's got 10 letters -- and will pay a lot of money because the Aggies want to be taken seriously. They made a splash by hiring Jackie Sherrill from Pittsburgh in 1982 and by hiring Dennis Franchione from Alabama in 2002. The coach with the most wins in Texas A&M history? The unknown-when-hired R.C. Slocum. Hmmm.

Chris Long
2. I'm rooting for Virginia to play Michigan in the Champs Sports Bowl. That's how we could see Cavaliers defensive end Chris Long line up against Wolverines offensive tackle Jake Long. Both Longs are Lombardi Award finalists. I voted for them and another finalist, LSU tackle Glenn Dorsey. But I missed on Ohio State linebacker James Laurinaitis. I voted for South Florida defensive end George Selvie.

3. Iowa has won three of its past four, is on pace for the fewest turnovers in school history (nine this season; the record is 15, set in 1963) and has allowed only one field goal in the second half of each of its past two games. So why is Iowa only 5-5? Eleven first- or second-string offensive players have missed significant time because of injuries. The Hawkeyes average 310 yards and 18 points per game, a good half's work for Hawaii.
Work In Progress
Three games into the season, after Florida State struggled through a three-point first half at Clemson and strained to score 16 points at Colorado, offensive coordinator Jimbo Fisher and offensive line coach Rick Trickett spoke about how close their players had gotten to grasping the new responsibilities in the schemes that the coaches had installed.

Nine games into the season, with the Seminoles 6-3 after their 27-17 upset in the rain at then-No. 2 Boston College, there is reason for optimism. Florida State junior Drew Weatherford completed 29 of 45 for 354 yards and two touchdowns.
"Jimbo came in here and threw the whole offensive package at them," Bobby Bowden said. "It was entirely different from what they've been doing and it is a package that, if you execute it, it has the answer to everything you can do. They didn't grasp it at first. They were trying to grasp it. They were grasping parts of it, but they couldn't get the whole picture. And I think what's happening now, they're beginning to get the picture. They're beginning to execute what he wants, and with that, he can make his calls much more effective."
Two of the Seminoles' remaining three games are on the road. FSU travels to No. 11 Virginia Tech on Saturday (ABC, 3:30 ET) and ends the regular season at No. 15 Florida on Nov. 24. It's too early to state that Florida State has emerged from its battle with mediocrity. But the victory over the Eagles is a sign of progress.
To Have And Have Not
The Pac-10 is becoming a league of haves and have-nots. While three teams are ranked in the top 17 of the current BCS standings, there's a very good chance that two of the league's six bowl partners will have to look elsewhere for a team.

First of all, there's a very good chance that two of the Pac-10's top three -- No. 3 Oregon, No. 9 Arizona State and No. 17 USC -- will earn BCS bids. But after those three teams, only Cal (6-3) has qualified for a bowl berth. Of the remaining six teams, four -- Arizona, Stanford, Washington and Washington State -- already have six losses, leaving them one loss short of elimination from the postseason.
Both Oregon State and UCLA are 5-4, meaning each needs only one victory for a bowl bid. But the Bruins' three remaining opponents are the league's top three: Oregon, Arizona State and USC.
The Las Vegas Bowl and the Bell Helicopter Armed Forces Bowl, which would get the fifth- and sixth-place teams, respectively, from the Pac-10, would have to go on the open market for teams, with the condition that they must take any team that is 7-5 before they take a team that is 6-6.
On The Clock

Saban
Alabama coach Nick Saban has made it clear that he prefers the college game to the NFL. But when asked if there is anything in the NFL rulebook that he believes the colleges should adopt, he went right to the clock.
The NFL gives teams 40 seconds from the end of one play to get off the next one. The college rule, which provides 25 seconds after the referee winds the clock, has either more flexibility or less definition. Saban wants definition.
"The 40-second rule makes everything the same," Saban said. "You know exactly what's going on."
Saban said he also likes how the NFL does not stop the clock after first downs. He recalled a game in which an opponent got off 14 plays in 1:43, thanks to the first downs.
"It's very difficult to stop somebody in two-minute offense," Saban said of colleges. "You better try to win the game on offense."
Spoken like a true defensive coach.
East Side Story
Something will have to give Saturday when No. 13 Connecticut (8-1) plays at Cincinnati (7-2), and that something is giving up the ball. The Bearcats lead the nation with 21 interceptions. The Huskies are second with 19. Do you buy into Cincinnati, which leads the nation in forcing giveaways with 34? Do you buy into UConn, which not only is tied for the fourth in the nation with 10 giveaways but also has returned four of its picks for touchdowns?

Cincinnati quarterback Ben Mauk is the senior who has started 19 games in his career at Wake Forest and Cincinnati. But UConn junior Tyler Lorenzen, one of the top junior college recruits last season, has made a smooth transition this season.
On a Saturday with only one top-25 matchup -- No. 18 Auburn at No. 10 Georgia -- the Bearcats and Huskies will be worth watching. The winner will become the chief contender to No. 7 West Virginia for the Big East championship.