The Heat Is On
It is November, that time of year when Clemson fans call for coach Tommy Bowden's head, and Clemson players win a lot of games and save Bowden's head. No. 15 Clemson (8-2) takes a four-game winning streak into Death Valley on Saturday to play No. 17 Boston College (8-2) for the ACC Atlantic Division championship (ESPN2, 7:45 p.m. ET).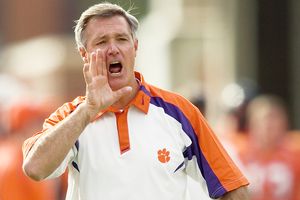 Rex Brown/Getty Images
Clemson's Tommy Bowden has grown accustomed to life on the hot seat.
The loser, if he's Bowden, might lose more than the title. Bowden's comment on the situation was, "We'll find out." But this much is clear: He has three years remaining on his contract, and the business of college football suggests that Clemson either will extend Bowden's contract or buy him out. If Clemson does nothing, Bowden's assistants and recruits will take off for more stable environs.
Bowden has brought Clemson to the cusp of big success. It might happen this season. The Tigers are at home against a Boston College team that has lost two in a row and is a Matt Ryan miracle at Virginia Tech away from losing three in a row. If it doesn't happen this season, next season looms. Clemson will have 18 returning starters in 2008, so the coach, whoever he is, will be set up to succeed. It should be Bowden.
Bowden's record over nine seasons is 68-40 (.654). He has not won so much as a division championship, which is what has frustrated Tigers fans. But this team has all the markings of his best ever. Clemson started out 4-0, lost to Georgia Tech and Virginia Tech, and had a week off.
"We had a lot of injuries," Bowden said. "For two weeks, we had to read negative press. That is the hardest thing."
The team that came out of the break has won four games by an average of 35 points, three of them against respectable teams (Central Michigan, 70-14; Maryland, 30-17; Wake Forest, 44-10). The Tigers are tied for first in the nation in fewest turnovers with 10, and two of those turnovers were onside kicks Clemson didn't recover (those are considered fumbles). Wake Forest has scored seven defensive touchdowns this season. When Clemson took care of the ball, Wake crumpled.
Tigers quarterback Cullen Harper has been a revelation, and he has been protected by an inexperienced offensive line that has matured into an effective group.
Before last season, when Clemson lost four of its last five, the Tigers specialized in slow starts and fast finishes. This season, Clemson started fast and is finishing fast. The Tigers are a game away from a division championship. If Clemson dumps Bowden for being guilty of not winning enough, he will join former Minnesota coach Glen Mason on the list of coaches who won't be unemployed long.
Florida's Natural Star
He's good-looking. He has a personality you can take home to Mom and Dad. He has stats most quarterbacks only dream about. Florida sophomore Tim Tebow is the closest thing college football has to a rock star, which can make it difficult to assess the player without drowning in the hype.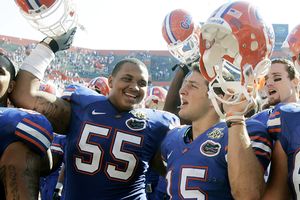 John Raoux/AP Photo
Tim Tebow has found success by adding a new dimension to his game.
It's hard to believe, but when this season began, Tebow still hadn't started a college game. Ten starts later, the 6-3, 235-pound Tebow is second in the nation in passing efficiency (177.1), is third in the nation in rushing touchdowns (19) and has 3,250 total yards (2,532 passing, 718 rushing). Tebow also has led the No. 12 Gators to a 7-3 record and an outside shot at retaining their SEC East championship.
In an attempt to get a no-hype read on the man who inspired tebowzone.com, timtebowfacts.com and endless Web searches for shirtless photos of him -- if you're into that -- we checked in with Gators offensive coordinator and quarterback coach Dan Mullen.
Mullen said the best measure of Tebow's progress this season is as a pocket passer. That's the traditional skill Tebow didn't need in high school or as the alternative to Chris Leak last season.
"We spend a lot of time on that," Mullen said, "stressing it to him, teaching it to him, working on just standing still in the pocket."
Most young quarterbacks have happy feet because of panic. Everything happens so fast. With Tebow, it's a little different. Mullen wants him to slow down, yes, but Tebow is ready to take on the rushers.
"He's continually improving," Mullen said. "His speciality is play-action, because he's such a threat to run. He throws a great deep ball. His ability to scramble and create plays is great. … Pressure just doesn't bother him. He has no fear of getting hurt. We want him staying back [in the pocket] and relaxing."
Tebow's progress has impressed Mullen because pocket passing makes up less than half of the Gators' passing game. Mullen figures five passes a game come off scrambles, and 15 are first- or second-down play-action throws or quick throws out of an empty backfield -- bubble screen, three-step hooks, etc. That leaves about 10 calls a game for Tebow to do his best John Elway imitation.
"You can't let it go to his head," Mullen said, laughing. "I'm watching West Virginia [last Thursday]. Pat White took that big hit. I told Tim, 'Pat White weighs only 185 pounds. He's running people over. He's a lot tougher than you are.' Tim is so competitive. It drives him crazy when you tell him there's something he can't do or this guy is better than you."
The best thing for Florida fans, of course, is that Tebow will be back next season.
Gator Bowl Rumblings
If you thought one-win Notre Dame would have no effect on the bowl selections this year, think again. The lure of a recovering Fighting Irish team in 2008 or 2009 might convince the Gator Bowl to take 7-5 Texas Tech this season. Here's how the Gator Bowl's trick box works: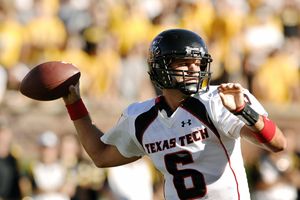 AP Photo/L.G. Patterson
Could we see Graham Harrell and Texas Tech in the Gator Bowl?
The Gator Bowl is in the second year of a four-year contract with the Big East and the Big 12. The Gator will take a team from the Big East in two seasons and a team from the Big 12 in two seasons (an ACC team will be on the other side of the bowl). Keep in mind that when Notre Dame does not make the BCS, it participates in the Big East's bowls.
Last year, Big East runner-up West Virginia played in Jacksonville. That leaves two seasons for the Big 12, one for the Big East. For that alone, it stands to reason that the Gator would lean toward the Big 12 this season.
In one of the two seasons the Gator picks a Big 12 team, it may choose ahead of the Cotton and Holiday bowls, the league's top two non-BCS bowls. With four highly ranked teams in the Big 12 -- No. 3 Kansas, No. 4 Oklahoma, No. 5 Missouri and No. 13 Texas -- this would seem to be the obvious year to take advantage of that clause.
But here is where it gets tricky: If the Big 12 sends two teams to the BCS, the Gator may not move ahead of the Cotton and Holiday bowls to make its choice. Since two Big 12 teams appear headed to the BCS, that means the Gator would get the fifth pick in the league. That would appear to be a Texas Tech team that is 7-4 and playing Oklahoma this week.
The Gator could return to the Big East, where the second pick could be Cincinnati or UConn, both of which are 8-2 and must play Syracuse and No. 6 West Virginia in the next two weeks. But if the Gator takes, say, a 9-3 Cincinnati, the bowl is committing itself to the Big 12 for the next two seasons and precluding itself from access to Notre Dame and the Big East.
If you think Notre Dame is in too deep a hole to get back to eight or nine wins in the next two years, then you take the Bearcats this season. If you want to keep your options open, you take the Red Raiders. Gator Bowl president Rick Catlett said he would consult with CBS, which televises the game, and make his decision.
Ivan Maisel is a senior writer for ESPN.com. Send your questions and comments to Ivan at ivan.maisel@espn3.com.