Brief History Of Conference Title Rematches
No. 1 Missouri is a three-point underdog to No. 9 Oklahoma, which may be a reflection of the public's regard for the Sooners -- point spreads are supposed to reflect the public consensus. That's why No. 6 Virginia Tech is a 4½ point favorite over No. 11 Boston College, even though the Eagles won their regular-season game 14-10.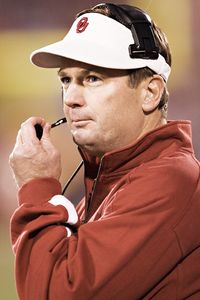 Wesley Hitt/Getty Images
Bob Stoops and OU are looking for a second win over Mizzou in 2007.
The point spread favoring the Sooners reflects their 41-31 victory over the Tigers earlier this season. It also lines up with what happens in championship game rematches. Since the NCAA allowed Division I-A conferences to stage championship games in 1992, there have been 16 rematches of regular-season games. The team that won in the regular season has gone 11-6.
The records:
SEC: 4-1
MAC: 3-2
Big 12: 3-2
C-USA: 1-1
The Big 12 championship game has more of a legacy of upsets in first-time meetings than it does in rematches. In both 1996, when Texas shocked Nebraska 37-27, and in 1998, when Texas A&M defeated Kansas State 36-33 in double overtime, the loser got knocked out of the national championship game.
In 2003, Kansas State redeemed itself, humiliating unbeaten Oklahoma 35-7, which somehow was not enough to knock the Sooners out of the BCS Championship Game. Oklahoma went on to lose to LSU 21-14. A Missouri victory Saturday night would rank as an upset only in Las Vegas. But history, as well as the oddsmakers, give the edge to Oklahoma.
Minority Report: Dropping The Ball
Texas A&M snapped up former Aggies assistant Mike Sherman in three days. Ole Miss snapped up former Arkansas head coach Houston Nutt in one day.
On the one hand, each school seized on the opportunity to get the coach it wanted.
On the other hand, each school recycled a middle-aged white guy, and as much as we should all be into recycling, it's an inconvenient truth that college football is dropping the ball in minority hiring again.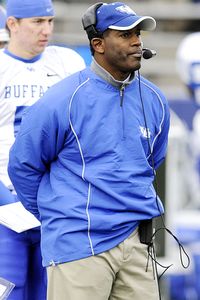 Jeff Harwell/US Presswire
Buffalo's Turner Gill is one of only six African-American head coaches in Division I-A.
It could be that extrapolating the results of the entire 2007 hiring season from the first two hires is foolish. I wouldn't be the first journalist accused of ready-fire-aim reporting. But the numbers call for an itchy trigger finger. There are six African-American head coaches at 120 Division I-A schools. By comparison, there are six African-American head coaches among 32 NFL teams.
Don Yee, whose coaching clients include Boston College's Jeff Jagodzinski (white), UCLA's Karl Dorrell (black) and Tennessee Titans offensive coordinator Norm Chow (Asian), remains mystified that university administrators think the current pace of change is acceptable.
"I've got to think these people can see these numbers are abysmal," agent Don Yee said. "We don't have to say there is a certain number that is right. Whatever it is, this [current] number is abysmal."
The NFL, as a private business with a single commissioner, has put teeth into its "Rooney Rule," fining teams that don't interview minority candidates.
The NCAA, as a federation of universities, some of them public institutions with their own hiring requirements, has no such autonomy.
The BCS is governed by the commissioners of the 11 I-A conferences. Mike Slive of the Southeastern Conference and Dan Beebe of the Big 12, whose schools made the quick hires, both say there's nothing the commissioners as a group can do other than cajole.
Slive said he will put minority hiring on the agenda when his athletic directors meet in the coming weeks "and see whether there is something else we should do."
Beebe, who has been on the job for only a couple of months, said that Texas A&M assured him that it had put minority members in its pool of candidates (Texas A&M athletic director Bill Byrne, unavailable for comment Tuesday, said the same thing through a spokesman), as have Baylor and Nebraska.
The latter has received permission to interview Buffalo coach Turner Gill, a former Huskers quarterback and assistant coach, which means that interim athletic director Tom Osborne will interview a man who played and coached for him. Maybe the old-boy network, long blamed for the lack of upward mobility among minorities, will work in Gill's behalf.
The officials who can do something about minority hiring are university presidents. Until they are motivated to demand change, either through a sense of mission or a sense of embarrassment, the hiring of minority coaches will inch forward instead of leap.
Reality Check
The drama that unfolded at Arkansas and Southern Mississippi over the last few days revealed that college football fans are all about perception.
After 10 seasons at Arkansas, a substantial portion of Razorback fans believe Houston Nutt is an underachiever with questionable ethics. At Ole Miss, which snapped up Nutt only hours after he resigned, Nutt is the coach who can teach the Rebels how to win.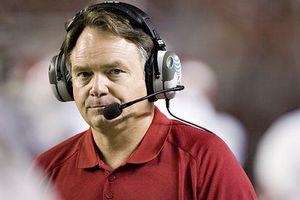 Wesley Hitt/Getty Images
Arkansas fans wanted more from Houston Nutt.
In this age of egalitarian football, fans have contracted gold fever. Boise State wins the Fiesta Bowl. Kansas gets to 11-0 and No. 2 in the nation. Everyone believes his team should win the national championship. More than once.
It's gotten so bad that we applaud Mississippi State for letting Sly Croom coach a fourth season. The Bulldogs go 7-5, and athletic director Larry Templeton becomes a steady hand who doesn't bend. When did four years become an eternity?
It's all perception. Fans around the country see Southern Mississippi as a consistently successful program at the mid-major level. Golden Eagles fans grew impatient with 7-5.
There's something about being a fan that makes you lose touch with reality.
If it's your team, you should be proud that they went 8-4.
If it's my team, I can't stomach the mediocrity another day. We should have been at least 10-2.
If it's your team, there's something to be said for winning three division titles in 10 seasons.
If it's my team, the coach has got to go because he never won the conference.
If it's your team, 10 bowls in 11 seasons is a badge of honor.
If it's my team, and we play one more PapaJohns.com Bowl, I'm going to boycott takeout pizza.
If it's your team, you win despite a small recruiting base.
If it's my team, we've been ranked in the top 25 in recruiting five years running and our coaches can't develop talent.
If it's your team, you'll never overcome the rivals with deeper pockets and more tradition.
If it's my team, we had those guys beat with 10 minutes to play and that idiot of a coach blew the game.
If it's your team, I love your coach's one-liner about how they couldn't play dead in a cowboy movie.
If it's my team, and I hear that tired line about playing dead in a cowboy movie one more time, I'm going to stop donating to the athletic department.
If it's your team, your coach's 10 years are a sign of stability.
If it's my team, get that guy out of there -- now.
Ivan Maisel is a senior writer for ESPN.com. Send your questions and comments to Ivan at ivan.maisel@espn3.com.
3-Point Stance

Daniel
1. Missouri tight end Martin Rucker was giving perfunctory answers on a conference call Monday morning until Wendell Barnhouse of the Fort Worth Star-Telegram asked him whether Tigers quarterback Chase Daniel is the shoulder-padded version of Phoenix Suns point guard Steve Nash. The tone of Rucker's voice came alive. "That's a really good analogy," Rucker said. "I think I'm going to start calling him Steve Nash."

2. No team has had a stranger year than Maryland. On offense, only three of the 11 starters started every game. On defense, one starter, outstanding linebacker Erin Henderson, missed a total of one start. The Terps beat two top-10 teams (Rutgers and Boston College) and finished the season with a 37-0 victory at -- at! -- North Carolina State. Yet they finished 6-6.

Muschamp
3. The Broyles Award, given to the nation's top assistant coach, announced its 2007 finalists Tuesday and the list is a hoot. Kansas defensive coordinator Bill Young, who has been coaching 38 years, is one finalist. Auburn defensive coordinator Will Muschamp, who has been alive 36 years, is another finalist. It proves there's more than one way to reach a college athlete.
Run For The Border
As of Tuesday morning, more than 121,000 votes came in for the SportsNation poll question Monday regarding which game you would like to see for the national championship, and it's not good news for Ohio State.

Missouri-West Virginia routed Ohio State-West Virginia, 52 percent to 34 percent. The rest of the votes went to Missouri-Ohio State.
The preference for the Tigers and the Mountaineers stretched from the Pac-10 to the Big East: 48 of the 50 states would like to see this week's No. 1 and No. 2 teams move on to New Orleans.

The two states that preferred West Virginia and Ohio State? One, obviously, was Ohio. Maybe I'm missing something, but the other one isn't obvious to me. It wasn't Missouri, where two-thirds of the voters want to see the Tigers and the Mountaineers.
The other state is West Virginia. It could be that the states share a border and their teams rarely play (six times, last in 1998) one another. Maybe the Mountaineer fans think the shortcut on the road to their first national championship is through Ohio.
No Accidental Tourists
As you wait to hear where your bowl team will play this season, keep in mind that the first task of any bowl is not to reward your team. The first task is to sell its tickets, and the second task is to fill its hotel rooms.
That's why the loser of the ACC Championship Game may be passed over by the Gator Bowl, which is wary that any school's fans will want to make two trips to Jacksonville a month apart.

That's why, despite my projection, the Music City Bowl may not take Wake Forest, which played at Vanderbilt last Saturday.
That's why, again despite my projection, the Fiesta Bowl may not select Arizona State. The local team doesn't fill hotels and restaurants for several days before the game.
Playoffs are about championships. Bowls are about tourism.
Pay It Forward

There is a bit of payback involved in the Meineke Car Care Bowl's selection of UConn over Cincinnati. It would seem as though the Charlotte bowl would select the Bearcats, who defeated the Huskies, 27-3. But the 2004 Continental Tire Bowl snubbed UConn, succumbing to pressure from the Atlantic Coast Conference to select Boston College, which was leaving the Big East after the 2004 season to move to the ACC. That didn't sit well with the Big East or UConn. Nothing against Cincinnati, but the Meineke owed UConn one.
Student Body Left?
Talk about your power sweeps: USC waited until the week of the UCLA game to threaten the Los Angeles Memorial Coliseum with a move to the Rose Bowl next season. The Coliseum, which has been home to Trojan football since 1922, hasn't been upgraded since then.

OK, it only seems that way. But the grand old stadium, which is all but on the USC campus, is more old than grand these days. USC wants to take over operation of the Coliseum and has pledged to spend $100 million over 10 years to bring the Coliseum and its plumbing into the 21st century.
Here's hoping USC is posturing and not serious about moving. The Trojans' goal is to play in the Rose Bowl on Jan. 1, not Sept. 1, and something ineffable about college football would be lost if the Coliseum is left behind.
White Heat
When I appeared on "The Herd" on Wednesday morning, Colin Cowherd brought up a good point about a potential national championship game between West Virginia and Ohio State. Nothing has given the Buckeyes defense as much trouble as a mobile quarterback. In fact, Illinois' Juice Williams just made another first down at Ohio Stadium.

White
What quarterback is more effective running and passing than the Mountaineers'
Pat White
? When the season began, both White and tailback
Steve Slaton
received Heisman attention. Slaton's production has dropped, yet West Virginia is one victory away from playing for the national championship.
White makes that offense go. Don't forget, he sat out the second half of the South Florida game with a bruised quad. That remains West Virginia's only loss.
Rumor Has It

Tuberville
Coaching rumors take on a life of their own, and it baffles me how they live as long as they do. It never made sense that Tommy Tuberville would leave Auburn for Texas A&M. But Auburn, especially now that Tuberville has been there nine seasons, is a better job than Texas A&M. And as for the theory that Nick Saban is whipping Alabama into shape, Tuberville just continues to whip Alabama.
It's hard to believe he'll leave Auburn for any other college job.
Of course, there's the rumor about Tuberville and Arkansas …