Not At Home In The Dome
Oklahoma coach Bob Stoops made it clear over the phone Monday night that he has no beef with Nick Saban. Stoops said it more than once.
But four years after the Sooners lost the BCS championship to Saban's LSU Tigers 21-14 in the Sugar Bowl -- aka LSU's backyard -- Stoops said he "may have made a mistake" by having the Sooners practice in the cavernous Louisiana Superdome in the days leading up to the game.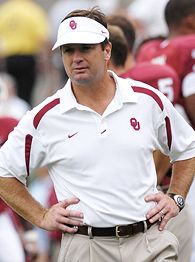 June Frantz-Hunt/Icon SMI
If OU makes it to New Orleans, Bob Stoops won't have the Sooners practice in the Superdome.
"In hindsight, I would not have," Stoops said of practicing at the site of the game. "I would have gone to some high school and hopefully have a lot fewer people [around] and [it would] be a lot more flexible with time. … I'm not saying that in any negative way toward Nick. I'm just saying there were too many people to track or keep up with."
Saban, reached at his office at Alabama Wednesday morning, cracked, "I don't care where Oklahoma would have practiced in Louisiana. It would have been hard for them. If somebody wanted to do that [spy], it would have gotten done."
But, Saban emphasized, it's not something that he has ever wanted to do, for reasons both ethical and practical.
"I never did that," he said. "I never do anything to try to skunk the other team. You watch the film of what they do, and 99 percent of what they do against you is what they did against somebody else."
Spying is a hot topic in football this week. The NFL's Bill Belichick is a week removed from self-inflicting a black mark on his lily-white sweatshirt. Georgia coach Mark Richt closed practice this week to prepare for Saban's Crimson Tide. That raised an eyebrow in part because a former Saban assistant, Stacy Searels, now works for Richt.
The Alabama coach recalled working as an assistant at Ohio State in 1981, when the Buckeyes played Duke. Someone saw the Blue Devils running option in their Friday walkthrough. The Ohio State coaches panicked and went over option defense with their players. Never mind that Duke had Ben Bennett, one of the most prolific passers in NCAA history.
"They didn't do anything we hadn't seen on film," Saban said. "I guess my point is, sometimes you get too much info. You get the wrong info."
Now, Saban said, if somebody were to come to him with spy matter, "I don't want to know. You mess me up."
Stoops' 2003 Sooners were not the first team in college football history to try to win a national championship at a neutral site that was anything but. Nebraska lost many a ring trying to beat Miami or Florida State in the Orange Bowl. Michigan and Ohio State for years took turns humiliating themselves against USC and UCLA in the Rose Bowl.
But the more Stoops talked, the more he remembered. The Sugar Bowl gave him his choice of practice fields, he said, and he chose the Superdome. The Sugar Bowl also allowed LSU to practice at the Dome after the Sooners finished.
"They were trying to hurry us up so that LSU could get on the field. … I found it strange that a couple of times [the Tigers] were standing in the hallway waiting for us to finish," Stoops said.
Stoops didn't recall a play that he believed LSU thwarted with inside information. He did recall that the Sooners played well enough despite early mistakes to have the ball deep in LSU territory with a shot at tying the game in the final minutes. On one play that sticks in his mind, or even his craw, quarterback Jason White overthrew a wide-open Kejuan Jones.
"If they looked for it," Stoops said of LSU, "they didn't do a good job. Jason got a little more pressure. He leaned back and just overthrew him. There wasn't a guy within 10 or 15 yards of him. So I don't know."
Four years have passed. Saban is at Alabama. Stoops has his best team since, yes, 2003. Oklahoma is ranked fourth. Look who's ranked 1-2: USC and LSU. It's the same three names that endured the controversy at the end of the 2003 season.
Wouldn't you know it? LSU and Oklahoma could meet in the Superdome again to play for the BCS championship. If the Sooners get there, Stoops will see to it that they don't set foot on the Dome turf to do anything until they have to.
When East Meets West
On a weekend in which the good matchups are as rare as a Notre Dame first down, four SEC East teams go on the road Saturday to play four SEC West teams. No. 3 Florida plays at Ole Miss, No. 21 Kentucky goes to Arkansas (ESPN2, 6 p.m. ET), No. 22 Georgia plays at No. 16 Alabama (ESPN, 7:45 p.m. ET), and No. 12 South Carolina goes to No. 2 LSU.
If this interdivisional showdown escaped your otherwise eagle-like vision for all things Saturday, don't feel bad. We live in an age when every 3-yard gain is marketed, when nothing goes on the air without a title sponsor. Yet none of the I-A conferences that have split into divisions have tried to sell the public on a rivalry between East and West, or North and South, or even Coastal and Atlantic.
"East versus West has never really developed," SEC executive associate commissioner Mark Womack said this week. "People look at the strength of East versus West. … People look within the division. The fan base is following more of a, 'How am I doing within my division? What does this game mean to win the division I'm in?'"
That these four games are being played Saturday is no accident. Womack said the league usually devotes the fourth Saturday of the season to interdivisional games, parking them here to get to the real business of spreading the rivalry games across enough Saturdays to make schedules fair and acquire the maximum television exposure.
Still, given that the divisions are geographically based, and given that the most of the great college football rivalries are built on geography, it seems logical that fans would take up arms for their divisions.
In case you're wondering, though SEC East teams have won 10 of the league's 15 championship games, the West teams lead in regular-season play, 140-131-3. This season, the divisions are tied 1-1. Alabama beat Vanderbilt, which turned around and beat Ole Miss.
Livin' On Tulsa Time
At first glance, Tulsa's 55-47 victory over BYU appears incredible enough. The Golden Hurricane and the Cougars combined for 1,289 yards, yet played enough defense to force 10 punts.
A closer look, however, shows just how explosive the Tulsa offense is. Six touchdown drives averaged 1:27 in length (a seventh touchdown came on Roy Roberts' 49-yard interception return). In fact, Tulsa (2-0) held the ball for only 24:56. BYU, in its 35:04 of possession, snapped the ball on 94 plays from scrimmage.
Woe be unto the Tulsa defense. Linebackers Nelson Coleman and Chris Chamberlain not only played all 94 snaps, they also played on special teams. And in a game with 102 points and 10 punts, there are a lot of special teams plays.
"A good [defensive] game is 50 to 60 snaps, maybe 70," Coleman, a 6-foot-2, 235-pound senior from Dallas, said in a telephone interview Tuesday. He estimated that he participated in the neighborhood of 110 plays. "I guess you could say this was a doubleheader. It kind of felt like that."
Coleman said his Sunday wasn't all that bad. He described a dip in the cold pool, some stretches and some running to work out the lactic acid.
He didn't use the phrase "good as new."
"[The game] took a long time," Coleman said. "At the first of the third quarter, I looked up at the clock and thought, 'It's supposed to be over.' It was a different experience."
Tulsa coach Todd Graham promised relief for Coleman and Chamberlain.
"You can be in the best shape and be an iron man," Graham said at his media conference Monday, "and you're going to have a hard time sustaining that."
Against BYU, new coordinator Gus Malzahn's offense tried to provide the defense with time enough to catch its breath. For instance, quarterback Paul Smith became more conscious of bleeding the 25-second play clock. But it's a problem that the Golden Hurricane would love to have at Skelly Stadium on Friday night. That's when they host No. 4 Oklahoma (ESPN2, 8 ET).
Gurus Gone Bad II
Notre Dame coach Charlie Weis isn't the only guru struggling these days. At Tennessee, where defensive coordinator John Chavis has churned out tough units for 12 seasons, the Vols are in the bottom quartile nationally in rushing defense (191.7 yards per game), tackles for loss (3.67), passing defense (268.0), total defense (459.7) and scoring defense (41.0).
There are extenuating circumstances, namely road losses to No. 3 Florida and No. 6 California. But head coach Phillip Fulmer, while praising his team's attitude, said at his media conference Tuesday that the solution is simple.
"That is to be where you're supposed to be," Fulmer said. "If it's on top of a receiver, then you're on top of him, not running with him. If it's an assignment that you have a responsibility for the quarterback or the pitch, that you're where you're supposed to be."
Chavis hasn't suffered a sudden loss of coaching marbles. It's one thing if the Vols didn't get lined up correctly. That can happen to inexperienced players in early-season games. But if Tennessee continues to struggle, it will confirm that the Vols don't have the talent that the top teams have. After all these years of winning, that's hard to believe.
Ivan Maisel is a senior writer for ESPN.com. Send your questions and comments to Ivan at ivan.maisel@espn3.com.
3-Point Stance

Harper
1. Clemson redshirt junior Cullen Harper is fourth in the nation in passing efficiency (50-69-0, 696 yards, 10 TDs, 205.0 rating). But how much of Harper's success is due to defenses keying on tailbacks James Davis and C.J. Spiller? "We're going to find out as we get into the meat of our schedule," Clemson coach Tommy Bowden said. Next three: at NC State, at Georgia Tech, Virginia Tech.

Groh
2. After the officials ruled Virginia kicker Chris Gould's 48-yard field goal no good Saturday, Cavaliers student manager Michelle Quiroga alerted the coaches on the sideline that the ball actually went through the uprights. Head coach Al Groh challenged the call, got it reversed and Virginia beat North Carolina 22-20. On Saturday, Quiroga got a high-five from Groh. After practice Wednesday, she and her fellow managers got cookies hand-delivered by Groh's wife Anne.

Brown
3. Now that James Henry has become the sixth Texas player arrested since June, here's the conversation I'm picturing. It's late in the game, the Longhorns are continuing to give up nearly three touchdowns a game, and Mack Brown goes to quarterback Colt McCoy and asks him to bail out the defense. McCoy replies, "Coach! I don't have that kind of money!"
Podcast: Ivan and Beano
Beano Cook joins Ivan in the ESPNU College Football Insider Podcast to talk about Saturday's key SEC games, coaches hearing footsteps, Notre Dame and more. Listen

And Then There Were Three
When August practice began, USC coach Pete Carroll threw open the tailback job to his 10 blue-chip candidates. When the Trojans played at Nebraska on Saturday night, they still had five backs on the misnamed "two-deep" flip card.

But after senior Chauncey Washington and sophomores Stafon Johnson and C.J. Gable combined for 256 yards and three touchdowns on 27 carries against the Huskers, the threesome underwent a successful "or-rectomy." The word "or" no longer appears after Washington's name.

Johnson
Sophomore Allen Bradford, who had six carries in the fourth quarter after the Trojans led 42-10 and heralded freshman Joe McKnight, who has fumbled in each of his two college games, are no longer on equal footing.
That doesn't mean the whittling down will continue. For one thing, USC operated quite well with Reggie Bush and LenDale White sharing the job in 2004-05. For another, Carroll mentioned after the game Saturday night that sixth-year senior Hershel Dennis would soon be healthy enough to get some carries. Better keep that "or" handy.
Taking Flight
Air Force is 3-0 because the Falcons have sailed over a hurdle that trips up most new coaches. Rookie coach Troy Calhoun believes in a spread offense. He took over a team that ran the option under Fisher DeBerry. Judging by the record, bridging that gap has been no trouble at all.

"The other night [the 20-17 OT victory over TCU], we called 33 passes," Calhoun said. "I don't know if in the last 33 years, we've called 33 passes."
Calhoun, who graduated from the Academy in 1989, believes in the leadership that is taught there. It's the first quality he discusses in senior quarterback Shaun Carney, who's on a pace (36-60-2, 425 yards, two touchdowns) to throw nearly double the passes he threw last season (137 in 12 games).
"He's not a blazer with his feet. He's 5-10," Calhoun said. "He's got a lot of moxie and he has played a great deal."

Carney
Calhoun has catered to Carney's running ability, using bootlegs and moving pockets much the way Denver Broncos coach Mike Shanahan used Jake Plummer when Calhoun worked on that staff from 2003 to 2005.
"Shaun has some of those same physical attributes," Calhoun said. "He's accurate on the move … He could set up and throw some strikes [moving] to his left. That's a pretty good accomplishment for a right-handed quarterback."
Carney can turn his hips and shoulders and hit his target, a big reason Air Force is turning heads.
If Mama Calls, I'm Not Here

Weis
Three weeks into the season, there are 31 unbeaten teams and 18 winless teams.
Of the 18 I-A head coaches working at their alma maters, only Rich Rodriguez of West Virginia and Troy Calhoun of Air Force are undefeated. Three of the 18 alums -- Tom Amstutz of Toledo, Mark Snyder of Marshall and Charlie Weis of Notre Dame -- are winless.
In other words, that's 2-of-31 (6.4 percent) enjoying a happy return and 3-of-18 (16.7 percent) who aren't.
Disconcerting

Writers across the press box at Nebraska scrambled for NCAA Football Rules manuals after referee Randy Christal announced a penalty against USC for "disconcerting," when a defense calls out signals in an attempt to confuse the offense. According to NCAA statistics, disconcerting was called a total of five times in Division I (I-A and I-AA
combined
) last season. That's a lower number than such oddball penalties as tripping (eight) or roughing the free kicker (seven). The penalty sent the Huskers' field-goal team off the field and gave Nebraska a first-and-goal at the 2-yard line. The Huskers scored a touchdown two plays later. Disconcerting, indeed.
Missouri's Got Nothing On The Farm
Sitting in his office in July, Stanford coach Jim Harbaugh, in his first year in Division I-A, discussed how he can sell a Cardinal program that had won 16 games in the previous five seasons.

"Faith defined," Harbaugh said, "is belief without evidence."
You would think that the Cardinal provided evidence Saturday by defeating San Jose State 37-0. Stanford hadn't had a regular-season shutout since 1974. The Cardinal got their first win in the new Stanford Stadium after going 0-5 there last season.
And on Monday, the first business day after this stunning show, with a visit by No. 13 Oregon coming up, ticket sales showed "no significant increase," senior assistant athletic director Gary Migdol said via e-mail.
Skepticism defined must be disbelief despite evidence.