Scarlet Dreams for Rose Bowl Officials
It would be considered impolite in certain circles for the Rose Bowl to wish ill upon the Ohio State Buckeyes. But you could excuse Rose Bowl chief executive officer Mitch Dorger if he begins rooting against all things Scarlet for the next few weeks. It has been 11 seasons since "Carmen, Ohio" has been sung in the Arroyo Seco, and the only way to avoid making it 12 is if the Buckeyes stumble between now and Dec. 1.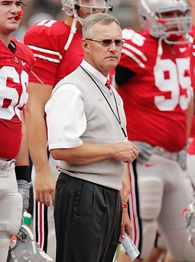 David Maxwell/Getty Images
Rose Bowl officials can't help but root against Ohio State, if it helps their cause.
What's worse for the white-suited traditionalists who reside in Pasadena: For the fifth time in seven seasons, it looks as though the Big Ten and Pac-10 will not play each other in the Rose Bowl.
"At this point, we try not to get too far in front of our headlights," Dorger said Tuesday, shortly after presiding over the naming of the 2008 Tournament of Roses Queen. "There's a lot of football to be played. … You can drive yourself crazy."
BCS bowl executives have steeled themselves not to project what teams might play in their game until the last week of the season. It leads to needless worry and speculation. If you are reading this, then you, like I, revel in needless worry and speculation when it comes to the bowls. Otherwise, where's the fun?
In this of all seasons, Dorger is better off not studying the Big Ten too closely. The state of the rest of the conference is so broken-down that virtually the only way the Rose Bowl will have a Big Ten team is for Ohio State to win the league without winning a trip to New Orleans.
Ohio State is approaching the meat of its schedule -- this meat looking more like Sizzler than it does Ruth's Chris. (And I say that with love, having survived on Sizzler throughout college.)
If the Buckeyes win out, they will play in the BCS Championship Game for the second consecutive season. The good news is that each of Ohio State's five remaining opponents has a 5-2 record. The bad news is that four of the teams are unranked.
The BCS rules dictate that any at-large team must have at least nine victories and a No. 14 ranking in the final BCS standings. In the initial standings released Sunday, Ohio State is No. 1. The next Big Ten team is 5-2 Michigan at No. 25.
The SEC has seven teams in the Top 25. The Big 12 has five. The Pac-10 has four. The Big Ten is the guy in Texas hold 'em with a pair of deuces, getting no help from the river.
The only likely scenario in which a Big Ten runner-up finishes in the top 14 is if Ohio State falls down. If Michigan runs the table and gets to 9-2 before it plays the Buckeyes, it's hard to see how the Wolverines could lose that game and not fall below No. 14.
Dorger said Tuesday that the Rose Bowl's policy, if it does not get the Big Ten or Pac-10 champion, is to look at those conferences' runners-up. That worked out fine last season, when runner-up Michigan also happened to be No. 3 in the nation. The Rose Bowl embraced the Wolverines, who stayed close to USC for a half before losing 32-18.
This year, the Rose Bowl and the Big Ten will have no such fortune. Should Ohio State lose, if you hear a squeal of delight emanating from Pasadena, try to have the good manners to ignore it.
Defense Is English's First Language
When preseason practice began at Oklahoma in August, two of the biggest questions had to be answered at quarterback and defensive end. On the former, redshirt freshman Sam Bradford has become the nation's most efficient passer and gathered the headlines that good quarterbacks gather.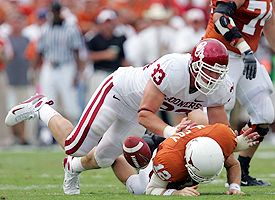 Ronald Martinez/Getty Images
Auston English has answered questions about Oklahoma's issues at defensive end.
On the latter, however, redshirt sophomore Auston English has made as big an impact on the Sooners' defense as an end can make. English leads the Big 12 with 7½ sacks, and his 11 tackles for loss rank 11th in the country.
That's not bad for a Canadian native -- Canadian, Texas, that is, a town of 2,250 in the top-right corner of the panhandle (this weekend's Fall Foliage Festival includes a Family Cow Milk, horse-drawn wagon rides and Campfire Saturday Night).
English has made the leap from 2A Texas high school football to All-American contention, which is amazing when you consider that English can remember playing against only one other I-A scholarship player in high school. In English's senior year, Canadian High beat Tuscola's Jim Ned High (quarterbacked by Colt McCoy) 32-27 to reach the quarterfinals of the state playoffs.
McCoy now quarterbacks Texas. English is now 2-0 against him, sacking McCoy twice in the Sooners' 28-21 defeat of the Longhorns on Oct. 6. They talked on the field after the game.
"I wished him good luck," English said. "He's a good guy, a real nice person."
At 6-foot-3, 257 pounds, English has been too fast for most offensive tackles to catch and strong enough to deal with those who can.
"The guy is so athletic, it's unbelievable," coach Bob Stoops said. "He can play linebacker. He could play standup on those 3-4 teams. He could be a rush guy like he is. He's a heck of an athlete, and the guy's got a motor like nobody. He runs a quarterback [McCoy] down on the sideline last week, and we're looking to spell him, and he's waving us off. No, he's not coming out. Not everyone has the ability, stamina-wise, to be able to do it. And he's only a sophomore."
There is little in English's play to suggest that he's only 20 years old.
"I guess I've gotten a little more confidence in myself," English said, "just knowing that, 'Hey, I can actually play a little bit.' Just the experience of the game, just knowing that you can do it, knowing you've got the ability to do it."
Only when English volunteers his biggest individual goal does his lack of experience reveal itself. Staying sharp mentally, play after play, is a mountain all young players must learn to climb.
"Focus," English said. "At times, I feel myself slipping. You get antsy and want to make a play. You forget your presnap read, where if the back is here, they like to do this, and [try to] go play like you did in high school. [College football] is a whole different game. Focus, focus and more focus."
Carrying The Load
The Michigan offense remains a Western Union telegram in a Facebook world. Coach Lloyd Carr is resolute in his belief that a single tailback can handle a game's worth of wear and tear every Saturday.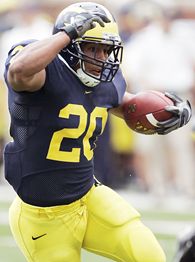 AP Photo/Duane Burleson
Mike Hart has rushed for 1,078 yards on 200 carries this season.
As the spread offense spreads, in a season when only 17 of the top 25 rushers average as many as 20 carries per game, Wolverines senior Mike Hart has carried the ball 200 times in seven games, an average of 28.6 attempts. It's as if Hart is the last complete-game pitcher in baseball.
The classic retort to overusing a running back belonged to the late John McKay of USC, who said, "Why not? The ball's not heavy."
Carr didn't say that. In fact, he said his first choice would be to spread the carries among Hart and his backups, Brandon Minor and Carlos Brown. But when the latter two got banged up early in the season, Carr didn't adjust the offense. Hart adjusted his workload. It's what Carr did with Chris Perry in 2003, when Perry carried the ball 338 times on his way to winning the Doak Walker Award.
"The more times a guy is able to get repetitions running a play, the better feel he gets and the more effective it can become," Carr said Tuesday.
Asked if he felt he had fallen out of fashion, Carr chuckled.
"I've never given that much thought," he said. "We've tried to study the game. We've tried to look at people who have been successful running the football and the other important part is to be able to marry our play-action passing game with the running game. I think this is a system that allows us to do that and still be able to spend a lot of time working on our drop-back passing game."
Oh, yes, Hart has an ankle injury. He is expected to be ready for his 25 carries Saturday night at Illinois (ABC, 8 ET).
Ivan Maisel is a senior writer for ESPN.com. Send your questions and comments to Ivan at ivan.maisel@espn3.com.
3-Point Stance

Callahan
1. Bill Callahan dismantled the structure upon which Nebraska built four decades of success -- out with option offense, out with big walk-on program -- and now his new interim boss is the man most responsible for building that structure. I don't believe that Tom Osborne has made up his mind about Callahan. But Callahan shouldn't let Osborne decide. His W's and L's should do it. Five games remain to improve on 4-3.

2. Three of Virginia's six wins have come by a total of five points, with the last two victories arriving on late-game field goals by Chris Gould. Twenty kickers have made more 3-pointers than Gould's 10 this season, but it's hard to imagine anyone could be more clutch. In 2006 and '07 combined, Gould is 14-of-16 inside of 40 yards. After going 4-of-12 from 40-plus yards last season, Gould is 3-of-3 this season.

Dillard
3. Rice has gone from a 7-6 record with a bowl appearance to 1-5 this season. The Owls have had huge defensive problems -- five I-A opponents averaged 49 points per game. But the most glaring change comes in 2006 All-American wideout Jarett Dillard. Last season: 91 catches, 21 for touchdowns. This half-season: 28 catches, four touchdowns.
Eyes On The Prize
Texas Tech redshirt freshman wide receiver Michael Crabtree is accumulating numbers rare in college football. Crabtree has caught 78 passes for 1,244 yards and 17 touchdowns -- outstanding for an entire season, and Crabtree is barely halfway through this one.

Crabtree
Much has been made of Crabtree's athleticism -- the 6-2, 208-pound Dallas native was recruited by Red Raiders basketball coach Bob Knight, too -- but Texas Tech quarterback Graham Harrell said the key to Crabtree's success is not his hands or feet. It is his eyes.
"He sees the football," Harrell said Monday. "He always sees the ball thrown, and he has good body control. … It's a weird thing. I never thought about it too much, being a quarterback. Michael is so good at it. You don't recognize it until you watch film. The coaches pointed it out.
"When you're running routes, you try to see the defensive backs and where the holes are and where you need to be to get open. You don't see the quarterback and you don't see him throw. He sees the ball out of the quarterback's hand. He's able to move to the ball, get into position to catch the ball and not let the defensive back break it up. It's a quality that Mike has. Every time I throw the ball, he has been exactly where I've thrown it."
Just For Kicks
As Kentucky sophomore kicker Lones Seiber lined up a 43-yard field goal at the end of the second overtime, he looked up at the scoreboard and saw LSU 37, Kentucky 34.

Seiber
"If I miss this," Seiber recalled thinking to himself, "I'm a dead man."
So much for the power of positive thinking.
Seiber nailed the kick straight down the middle, started celebrating with holder Tim Masthay, and sent the Wildcats into the third overtime, when they beat the No. 1 Tigers, 43-37.
If you're wondering how Seiber's life on campus changed after making that field goal, don't bother. He attended his Monday classes with almost total anonymity.
"It's funny," he said. "People think that there are people around congratulating me. By the fact that I am 5-9 and not very big, people don't notice me. The professors know who I am. Walking around campus, I don't look like a football player."
He sure kicks like one. That's why LSU is no longer No. 1.
Every Passing Moment
The rushing game isn't as prevalent as it used to be. The passing game continues to produce more yards. Take a look:
Offensive Evolution

Year
Rush (yards per game)
Pass (yards per game)
1987
1. OU 428.8
1. San Jose St. 338.1
10. Arkansas 266.3
10. Oregon St. 286.5
15. Clemson 244.3
15. West. Mich. 263.5
1997
1. Nebraska 392.6
1. Nevada 370.2
10. Okla. St. 226.0
10. Kent St. 294.8
15. Va. Tech 215.3
15. Florida 276.3
2007
1. Navy 345.5
1. Texas Tech 500.4
10. LSU 232.1
10. BC 310.9
15. UCF 209.0
15. Wash. St. 299.6
Public Access

You don't often hear a coach assess his quarterbacks as honestly in public as Tommy West of Memphis did after the Tigers' 21-7 loss to Middle Tennessee.
Will Hudgens
, who won the starting job from
Martin Hankins
after leading Memphis (2-4, 1-1) to a 24-21 victory over Marshall in the previous game, completed only 13 of 35 passes for 134 yards against the Blue Raiders.
"Right now we'll go back to Martin for the same reason I went with Will. … I felt like Will gave us some things creating some plays against Marshall," West said Monday. "And then Will got his opportunity and Will didn't play very well and didn't do the things I thought he would do to help move the team. Right now we'll go back to Martin."
Notice the use twice of the phrase "Right now." That means the Memphis offense is in a state of flux. You get the sense that West expects improvement, yep, right now.
Living To Fight On
It says here that Tennessee quarterback Erik Ainge will play well Saturday at Alabama. Ainge struggled a year ago, throwing three first-half interceptions, before finding something of a rhythm as the Volunteers came back to beat the Crimson Tide 16-13. Ainge's overall numbers are slightly down from a year ago (151.95 rating in 2006; 140.8 this season) but that may be as much a reflection of Tennessee's struggles running the ball (155.1 yards per game, ninth in the SEC) as it is of Ainge.
Something that Alabama defensive end Wallace Gilberry said this week about Ainge made me realize how well the Tennessee senior is playing. "Erik Ainge is a guy who definitely can get the ball away before he goes down and not have an intentional grounding," Gilberry said.
That rang a bell. Sure enough, check out the NCAA stats for sacks allowed. Tennessee leads the nation with two. No other team has fewer than four. One of Vols offensive coordinator David Cutcliffe's primary lessons for his quarterbacks is, "Live to fight another down."
Ainge takes care of the ball. He has only three interceptions in 221 attempts. In his case, his stats don't tell the whole story of the Vols' passing game. Watch Ainge on Saturday.