Ducks Flying At Warp Speed
The goal, No. 5 Oregon offensive coordinator Chip Kelly said, is 22 seconds. Give the Ducks 22 seconds and they'll give you the next play.
Kelly is referring to the time it takes the Ducks to get lined up and execute the next snap. But he doesn't mean starting the next play with :03 showing on the 25-second clock. Kelly means that 22 seconds after the last play is blown dead, he expects his offense to pick itself up, run back to the line of scrimmage, line up for the next play, wait for the snap count, and go.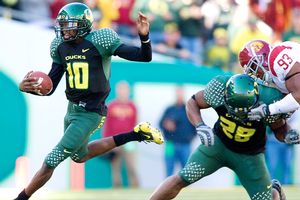 Dustin Snipes/Icon SMI
Dennis Dixon keeps the Oregon offense moving.
That isn't fast. That is warp speed. That is also one of the ways in which the Ducks' offense has transformed under Kelly, whom head coach Mike Bellotti hired from the University of New Hampshire, only 3,168 miles, three time zones and one NCAA subdivision away. No. 4 Arizona State, which comes to Eugene on Saturday night (ESPN, 6:40 ET), had better be ready.
The Ducks don't always play in their fast mode but when they do, the pace itself can be as effective a weapon against the defense as the plays themselves. In the first half of Oregon's 24-17 victory over USC on Saturday, the Trojans not only looked tired, they struggled to get lined up on a few plays. Among other things, the fast pace prevents defenses from NFL-style substitutions based on down-and-distance.
"We wore them down a lot and ran the ball real successfully," Kelly said. "We're not expecting to wear them down, but that's a byproduct of us playing so fast."
Take the 72-yard, 13-play drive in the first quarter that produced Oregon's first touchdown. On second-and-8 from the USC 9, tailback Jonathan Stewart ran seven yards up the middle. By my count, it took 15 seconds from the end of the play for the Ducks to line up, and only eight seconds for quarterback Dennis Dixon to get the ball, which he faked handing off to Stewart and kept for a two-yard touchdown run.
"We were tired as well," Dixon said. "We can't get too carried away."
In fact, Kelly, like any good pitcher, mixes up the speeds of his offenses.
"Today was kind of a pedestrian pace, to be honest with you," Kelly said after the game. "We looked at a few more things because they [the Trojans] were bouncing in and out of fronts, so we were holding some things. There were some spurts of playing fast, but we've played a lot faster than that."
Dixon and his offense are so accustomed to the rhythm of playing quickly that it's difficult to play slowly when needed. After USC pulled within 24-17 and kicked off to Oregon with 4:44 to play, the Ducks burned only 1:34. It wasn't just that Jaison Williams dropped a third-down pass, stopping the clock. After both first and second down, Dixon didn't bleed the 25-second clock, taking the snap at with at least :10 remaining on it on both plays.
USC took over at its own 17-yard-line with 3:10 to play.
"I think he rushed it a little bit," Kelly said of Dixon. "It's a tough environment to play in on both sides of the ball … I would have liked him to work the clock a little bit more in those situations. We'll talk about it."
Reservoir Dogs
The news at Mississippi State isn't that quarterback Mike Henig, who has missed five of the Bulldogs' last six games because of a broken hand, participated in practice Tuesday. It's that Henig came back and can't reclaim his starting job. That's how good freshman Wesley Carroll has been in his five starts.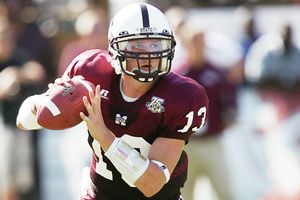 Marvin Gentry-US PRESSWIRE
Freshman Wesley Carroll hasn't thrown an interception in 137 attempts this season.
After the 31-14 upset at Kentucky, Mississippi State is 5-4, one victory away from qualifying for its first bowl game in seven years.
Mississippi State's season began like the others in head coach Sylvester Croom's four years. Embarrassing early losses coupled with quarterback injuries to make the offense toothless. Henig broke his hand in the Bulldogs' 19-14 victory over Auburn. Backup Josh Riddell started the fifth game, against South Carolina, but tore an ACL and is out for the season.
That left Mississippi State with Carroll, those lucky Dogs.
His stats range from average (75-for-137, 54.7 percent, 702 yards) to below average (107.42 rating) to stunningly good -- Carroll already has set the school record for consecutive passes without an interception at 137 and counting.
But it's what offensive coordinator Woody McCorvey saw in recruiting Carroll out of St. Thomas Aquinas High in Fort Lauderdale, Fla., that made the Bulldogs decide to go after a quarterback whose arm strength raised questions.
Three times Carroll led St. Thomas to the 5A state championship game only to lose to Lakeland High. Last season, St. Thomas spotted Lakeland a 21-0 lead, scored 35 points in the final 6:07, and lost 45-42 in double overtime. It's considered among the greatest games in the history of Florida high school football.
"Everywhere he had been, he had won," McCorvey said. "For a kid to bring his team from that type of deficit, he had to be somebody special. He's a winner. He completes passes. He doesn't throw interceptions."
Carroll also is still a freshman. McCorvey said Carroll will spend this off week working on his footwork, which in turn will help his timing with passes to the perimeter.
"The passes to the backs and the tight ends, he has those down," McCorvey said. "If we can come out of this week getting his timing down with the outside guys, that would be good."
Running On Empty
As Syracuse languishes near the bottom of the rushing statistics (73.5 yards per game, 113th) for yet another season, and as fans continue to withhold their support for coach Greg Robinson by withholding their presence from the Carrier Dome ( capacity: 50,000; average attendance at last three home games: 34,156), it's worth pointing out the multitude of New York state high school running backs now starting at schools other than Syracuse: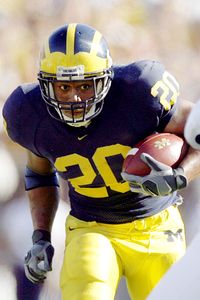 Gregory Shamus/Getty Images
Mike Hart is one of the talented native New York backs whom the Orange didn't get to Syracuse.
• Mike Hart of Syracuse, the Michigan senior who's third in the nation (154 rushing yards per game).
• One spot behind him nationally is Ray Rice of New Rochelle, who planned to sign with Syracuse until the school fired Paul Pasqualoni and instead went to Rutgers (142.6 yards per game).
• Michigan State senior Jehuu Caulcrick of Findlay Lake, a three-time all-state player who's tied for fourth in the nation in touchdowns with 16.
• Penn State senior fullback Matt Hahn of Dix Hills, a talented blocker who scored the first rushing touchdown of his career against Wisconsin on Oct. 13 before tearing his right ACL against the Hoosiers the following week in the fourth quarter, ending his collegiate career.
• And Boston College senior linebacker Jolonn Dunbar, who played running back at Syracuse Corcoran High before becoming a co-captain and leading tackler of the second-ranked Eagles in 2006 and 2007.
Robinson has run into a rough set of circumstances. The players that Pasqualoni recruited for his freeze option offense have struggled in Robinson's West Coast system. Injuries have waylaid some top players, including sophomore tailback Delone Carter, a talented back who dislocated his hip in practice shortly before the season began.
The question is whether athletic director Daryl Gross, who hired Robinson, will continue to support him despite the fan apathy. The Orange (2-6, 1-2) appear as if they have left square one and begun to move on, and a new hire surely would return them to that square. But no athletic director is immune to an attack of empty seats.
Ivan Maisel is a senior writer for ESPN.com. Send your questions and comments to Ivan at ivan.maisel@espn3.com.
3-Point Stance

Edsall
1. UConn head coach Randy Edsall used to work for Tom Coughlin, and I didn't think that Edsall would ever sound like the load of warmth that is the Giants' coach. But the more the Huskies (7-1) win, the more joyless that Edsall sounds. Can someone pull him aside and tell him it's OK to acknowledge his team's success? He's draining the thrills out of the Huskies' best season ever.

Perrilloux
2. In four years, Ryan Perrilloux has gone from being one of the top recruited quarterbacks in the nation, the prospect who broke hearts at Texas by switching late to LSU, to being a backup quarterback serving his second suspension of the season. You know no one at Texas would say a thing publicly but you can imagine what they're saying privately: "Whew!"

Mangino
3. It's official: The football world as we know it has turned upside down. Here's a quote about Nebraska from Kansas coach Mark Mangino: "When I see them on tape, I still believe that they are a very fine football team." When a Kansas coach damns a Nebraska team with one of those are-you-going-to-believe-me-or-your-own-eyes coaching assessments, it's official: Times have changed.
Rush Week
The Texas running game seemed to transform in the course of one quarter Saturday. The Longhorns rushed for 248 yards and three touchdowns in the fourth quarter of their 28-25 comeback victory over Nebraska, which is why tailback Jamaal Charles no longer is listed among the missing.

Charles
It is too early to say that the Longhorn running game has recovered, because Nebraska came into Austin allowing an average of 227.4 rushing yards per game.
The Huskers responded by blitzing Texas on virtually every down.
"We thought because of all the problems they'd had with stopping the run that they would do something drastic to stop the run but we weren't sure what it would be," Texas coach Mack Brown said. "… [The blitzing] was a good risk for them. And I give our offensive coaches and offensive players credit because they had enough patience to hang in there and figure it out and figure out the new schemes and end up scoring 19 points in the fourth quarter. They didn't get frustrated and they didn't panic."
The Longhorns dominated the end of the game, when they have struggled this season. Texas had rushed for a total of 283 yards in the previous eight fourth quarters. In the fourth quarter of the five games leading up to Nebraska, Texas had exactly one run of 20 yards or more.
Against the Huskers, the Longhorns had five, including touchdowns of 25, 86 and 40 yards. Charles rushed for 216 yards and those three touchdowns in the final quarter.
"I don't think I've ever seen a guy have a better performance in a quarter much less a game," Brown said.
The good news for Texas is that two of their final three opponents, Texas Tech and Texas A&M, rank ninth and 10th respectively, in rushing defense in the Big 12.
Podcast: Ivan and Beano
What would Beano Cook be for Halloween? Ivan Maisel and Beano address that, try to find a Heisman favorite and discuss why Notre Dame and Navy play every year. Listen

Balance Of Power

My colleague Brett Edgerton presented a couple of unusual SEC scenarios in GameDay Final on Sunday, including 11 teams qualifying for bowls and Vanderbilt winning the SEC East. He left out the goofiest (although not implausible) one of them all.
If Georgia loses to Auburn and to Kentucky;
If Tennessee beats Arkansas and loses to Vanderbilt and Kentucky;
If South Carolina loses to Arkansas and beats Florida;
If Florida beats Vanderbilt and loses to South Carolina;
If Kentucky loses to Vanderbilt and beats Tennessee and Georgia;
And if Vanderbilt loses to Florida and beats Kentucky and Tennessee;
The SEC East will have a six-way tie for the championship at 4-4.
If that happens, the SEC East will hold a jamboree at the Georgia Dome on the Wednesday before the conference championship game, in which each team will play one quarter against the other five. Tickets will go on sale …
Just kidding.
The SEC has a seven-step tiebreaker in place that begins with the teams' records within the division and will winnow out teams until there are two remaining. At that point, head to head competition prevails.
Come to think of it, a jamboree might be simpler.
On The Line

While it's difficult to imagine that Notre Dame could be humiliated any more than it already has been this season, the Fighting Irish (1-7) have a 43-year winning streak on the line Saturday when they play Navy (4-4). Roger Staubach, the 1963 Heisman Trophy winner who led No. 4 Navy over Notre Dame, 35-14, turned 65 earlier this year.
The last time the Irish lost to the Midshipmen, 44 years ago Friday:
• Irish coach Charlie Weis, then 7 years old, was in second grade;
• Amos Alonzo Stagg, the legendary coach and innovator of the game, was still alive at age 101;
• A ticket for the Sugar Bowl earlier that year between Ole Miss and Arkansas cost $6;
• The price of a first-class stamp went up -- to a nickel.
• Notre Dame finished 2-7, the last time the Irish finished more than two games below .500 -- unless they lose another game this season.
Keep in mind that a loss would drop Weis' three-year record at Notre Dame to 20-14 (.588), a statistical dead heat with the predecessor, Ty Willingham (21-15, .583) whom the university fired for lack of performance. Weis, of course, has eight years remaining on the extension that Notre Dame awarded him midway through his first season.