Seasons Of Change
Topsy hooked up with turvy for the entire 2007 college football season, and those crazy kids first met a year ago this weekend at the Big House.
Appalachian State took its spread and its quickness and humiliated Michigan. Little did anyone realize that the Mountaineers' 34-32 victory at Michigan Stadium foreshadowed a season full of upsets. Thirteen top-five teams lost to unranked teams. Kansas finished 12-1 and No. 7 in the nation. Stanford beat USC. Pittsburgh beat West Virginia.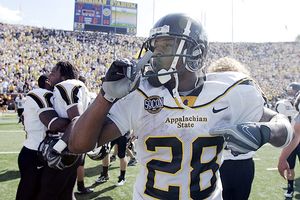 AP Photo/Duane Burleson
Appalachian State kicked off the chaos in '07.
So much upheaval, so little time, and when it came to winning a national championship, so what? No. 2 LSU lost in triple overtime at home to unranked Arkansas, 50-48, on Thanksgiving Friday, and the Tigers still climbed high enough in the rankings to play for and win the national championship.
Fast-forward to a new season. LSU opens Saturday against the same Appalachian State that kicked off last season's insanity. Except, that is, it's not the same Appalachian State. It's not the same anything. The rules of 2007, if there were any in a season of anarchy, don't apply to 2008.
That is no slight to the Mountaineers, who should contend for an FCS (I-AA) four-peat with quarterback Armanti Edwards running the show. What LSU coach Les Miles said at his media luncheon Monday shouldn't be mistaken for coachspeak.
"Certainly, they're in position to play strong against anybody," Miles said. "They have a great football team. It's not specific to any division. They have a good football team."
The 2007 season provided delightful entertainment because it strayed so far from the norm. History, however, shows that the norm is usually a four-touchdown favorite over the unexpected. The 2008 season looks as if the powers that have been will resume their position as the powers that be.
Kevin C. Cox/Getty Images
Knowshon Moreno is one of Georgia's 17 returning starters.
Not only is the top five filled with traditional powers, but those schools all field teams with a wealth of experience.
No. 1 Georgia has 17 returning starters, give or take an early-season suspension.
No. 2 Ohio State has 21 returning starters.
No. 3 USC has eight returning starters on defense.
No. 4 Oklahoma has the most experienced offensive line in the nation protecting sophomore Sam Bradford, the most efficient passer in the nation.
No. 5 Florida has 17 returning starters.
It's as if college football took a page from Major League Baseball before free agency, when you knew who played for which team. Al Kaline played right field for the Tigers. Willie Mays played center field for the Giants. And Rudy Carpenter played quarterback for the Sun Devils.
Oh, check that. Carpenter plays for No. 15 Arizona State now, and this is only his fourth season as starter. It just seems as if he's been around since the '60s. There will be upsets this season, as surely as the tailgaters will return to Tiger Stadium. There will be surprising players and stunned coaches. But surprise connotes the unusual. The upsets will be noteworthy because they will stand out. Order may be boring. Order never entertains as well as chaos. But order will come as a comfort nonetheless.
Neutral Ground
Fans who yearn for more nonconference games among the powers that be in college football should take a good, long look at the Clemson-Alabama game Saturday night (ABC, 8 ET) at the Georgia Dome. The Chick-fil-A College Kickoff, as it is called, is the future of the sport.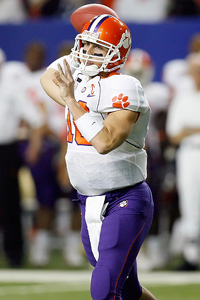 Chris Graythen/Getty Images
Cullen Harper and Clemson will face Alabama in Atlanta on Aug. 30.
It is a commonly held belief that most coaches like to duck big-time opponents. The truth is that more scheduling decisions are made because of money than because of wins and losses. Home games -- actually, the dollars they bring in -- are the lifeblood of an athletic department.
The traditional arrangement of a home-and-home series requires each school to surrender a nonconference home date. But the Chick-fil-A College Kickoff will provide Clemson and Alabama with a one-time windfall. Each school will net about $2 million, a good chunk of the revenue of a home game, without having to surrender a future away game in exchange and without having to open a gate, man a parking lot or grill a hot dog.
Chick-fil-A Bowl president Gary Stokan believed he had "fertile ground" for a neutral-site game and listed reasons why: Atlanta is annually a hotbed of college recruiting, and the city is the biggest alumni base for nearly every SEC and ACC school. He approached only those schools that have seven home games on the books.
"If an AD had seven home games, he had met his budget," Stokan said. "What is he going to do with the four nonconference games? Let's create a bowl atmosphere on the front side of the season. That's a piece of turf we can own."
Other bowls would like to horn in on Chick-fil-A's turf. Fiesta Bowl executive director John Junker has looked into staging a big season-opening game in University of Phoenix Stadium. He isn't sure it makes sense, given the geography of the Southwest.
"It's easier to do in the Southeast because of driving distances," Junker said. "Two hours outside of Phoenix, what you find is death by thirst."
Neutral-site games may thrive because the market price for smaller FBS (I-A) schools to play at the largest SEC and Big Ten schools has risen into the high six figures.
"There are some programs out there that are willing to pay a lucrative amount," said Louisiana Tech's Derek Dooley, the only head coach/athletic director in the FBS. "…It's market-driven. It's economics. If you're bringing in 95,000 into a home game, you're making well over $3-to-$4 million. Would you rather pay someone $1 million, and make $2-to-$3 million…?"
Dooley didn't need to finish the rest of the thought -- or play a home-and-home and give up that gate.
The neutral-site game will provide a third way. Virginia Tech already has committed to play in Atlanta in 2009. Stokan said he is talking to schools about games into 2012.
ESPN's "College GameDay" will be at Centennial Park in Atlanta, and the bowl is staging a FanFest in the park, as well. Stokan wants this game to become the "Daytona 500 of college football." He is referring both to Daytona's stature among the NASCAR races and the celebration of the sport. Stokan is onto something.
Obligatory Michael Phelps Item
What does an eight-time gold-medal-winning swimmer have to do with the opening of college football season? Hmmm, let's see.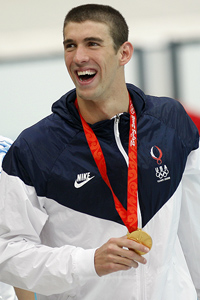 Jerry Lai/US PRESSWIRE
What would Michael Phelps look like wearing a winged helmet instead of a gold medal?
Phelps is 6-foot-4 and nearly 200 pounds of hulk. His wingspan stretches from hash mark to hash mark, and his body fat is lower than Minnesota's winning percentage. There's a guy that any football coach would love to have.
Since Phelps trains in Ann Arbor, surely Michigan coach Rich Rodriguez has dropped a hint. He is starting five freshmen in the Wolverines' debut of his no-huddle spread Saturday against Utah. One more novice -- one who would challenge Tiger Woods on the competitive spectrum -- couldn't hurt.
"Oh, I would put him at wide receiver," Rodriguez said. "With those long arms, he'd be perfect."
Linebacker? Safety?
"He became a hero for my linemen when they heard he eats 8,000 to 10,000 calories a day," Rodriguez said. "I asked them, 'Do you understand how much he works out if he puts away 10,000 calories a day?'"
Rodriguez watched Phelps swim the way that Ann Arbor -- and the rest of America -- did.
"They say he didn't want to lose a race, even in practice," Rodriguez said. "What I saw," Rodriguez said, "was everybody else was breathing hard. He just won the race and he looked like, 'I'm ready to go again.' His conditioning was amazing."
Phelps held a press conference in Schembechler Hall earlier this year. Rodriguez, in a meeting, didn't get to meet him. But Michigan plans to honor its Olympians at the Sept. 27 game against Wisconsin, and Rodriguez said Phelps is expected to attend. You know, Phelps has some eligibility left.
"I think he's going to have some other things in his plans," Rodriguez said. "He's got some more golds to win."
Ivan Maisel is a senior writer for ESPN.com. Send your questions and comments to Ivan at ivan.maisel@espn3.com.
3-Point Stance

Leahy
1. Today is the centennial of the birth of Frank Leahy, who has the second-highest winning percentage (.864) in major-college football. Leahy, who coached at Boston College for two seasons and Notre Dame for 11 -- winning four national championships with the Irish -- trails only his own college coach, Knute Rockne (.881). Then again, Leahy will be forever in the shadow of the Rock. Two years ago, Notre Dame produced a T-shirt with the pictures of Rockne, Parseghian, Holtz and Weis. Leahy? Hello?

2. As I said over to your left, it's never smart to apply last year's events to this year's season. And I've read all about Florida's offensive talent. But with Percy Harvin running on one heel, all I can think about is the physical price that Georgia made Tim Tebow pay last season because the Gators had few other weapons. I'll feel a lot better about the Gators a lot more when I see backs Kestahn Moore and Emmanuel Moody give Tebow some relief.

Bowden
3. Alabama has two freshmen in the starting lineup against Clemson. Colorado has eight freshmen on its two-deep roster. But most freshmen arrive with a five-star swagger only to be relegated to the ego-deflating reality of the scout team. Clemson coach Tommy Bowden told me he reminded his staff, on the day the scout-team lineup was posted last week, that there would be some counseling to do.
King Of Hidden Stats
One of the best hidden statistics I have found for determining the success of a college football team is the number of cumulative starts among its offensive linemen. The magic number for success is somewhere around 75.

Robinson
Among the many reasons No. 4 Oklahoma appears so imposing this season is that the Sooners begin the season with 122 starts among their offensive linemen. The core of the line -- center Jon Cooper, All-American guard Duke Robinson and guard Brandon Walker -- has started for two full seasons.
Oklahoma offensive line coach James Patton has gone from an assistant professor teaching Line 101 to teaching a graduate seminar.
"Graduate course? That's pretty good," Patton said. "With young guys, you do a lot of teaching, a lot of drill instruction, fundamental work."
With older players, Patton said, he can move into strategy. They can watch video and study the moves the defenders in front of them will make. They can come off the field and explain what happened on a breakdown: who missed a block, where the blitz came from, the kind of details that escape a young player overwhelmed by the speed of the game.
"We've got veteran guys," Patton said. "[Tackle] Phil Loadholt played in junior college. Last year was his first year of playing big-time football. He'll be more confident for being in this environment. The rest of these guys have been around here for four years. It gives you some confidence. They see things. They see things coming. They know what to look for."
Patton will rotate eight juniors and seniors and may play as many as 10 linemen overall. That advantage is incalculable.
Among other highly ranked teams with veteran offensive lines: No. 8 West Virginia has 113 starts returning. No. 16 BYU has 109 returning starts, and No. 6 LSU (the defending national champion) has 95.
If you're looking for a surprise team, Ole Miss leads the SEC with 101 starts among its offensive linemen, and they will be blocking for Texas transfer Jevan Snead at quarterback.
Most Entertaining Injuries
Let us stipulate that it's not kind to laugh at the misfortune of others. And let us admit that there's something about jock itch that awakens the 12-year-old giggles in all of us who aren't suffering from it.

But USC's outbreak of tinea cruris -- so that's where the name Cruex came from -- this month failed to win the BCS Injury Championship. At Louisiana Tech, it hasn't been safe to go to sleep at night.
Senior defensive back Weldon Brown woke up earlier this month with a sore spot on his leg. Not only did a spider bite Brown as he slept, but antibiotics didn't prevent the bite from becoming an abscess. He spent three nights in the hospital and missed nearly two weeks of practice.

Brown, however, can't top his classmate, wide receiver Josh Wheeler, who sleepwalked his way into the training room. Wheeler, while asleep, stood on his bed and began walking. His foot wedged between his mattress and the bed frame. Timber! When he fell, he injured his ankle and his shoulder. Wheeler, out for 10 days, and Brown both should be ready Saturday when Louisiana Tech opens against Mississippi State. Provided they make it out of their hotel rooms Saturday morning in one piece.
Podcast: Ivan and Beano
Beano Cook joins Ivan in the ESPNU College Football Podcast to talk about the season openers, make some picks and more. Listen

The More Things Change
Every coach is looking for the new Vince Young, the next Tim Tebow, the young Pat White. Listen to this coach:
"If we just spread people out and let the quarterback drop back and throw like the pros, you could play a consistent defense. But now you've got teams with two split receivers, with runners, and with quarterbacks who can run the option as well as throw. This simply generates more offense than any defense can handle."
Frank Broyles of Arkansas said that to Dan Jenkins of Sports Illustrated in 1968.
Gone To Carolina

So when you think of Carolina, do you think of the Tar Heels or the Gamecocks? The debate over the identity of the real Carolina continues this fall on the cover of the football team's media guides, which are almost identical in design.
North Carolina grabbed "Carolina Football." South Carolina sticks to "Carolina Gamecocks," the thought being that the mascot prevents any confusion. But you have to have some sympathy for South Carolina. The school doesn't own Carolina. And it can't even claim its own initials. Southern California got there first.

Perhaps winning a few Southeastern Conference championships would get the Gamecocks over the identity hump. Or even one. Or even an SEC East title. Head coach Steve Spurrier said when he came to Columbia that he wanted the challenge of doing what had never been done. Winning games, and winning ownership of "Carolina" and "USC" -- it's all the same.
On The Bookshelf
If you miss Woody and Bo or if you aren't old enough to miss Woody and Bo and want to know what the fuss was about, keep an eye out for "War As They Knew It: Woody Hayes, Bo Schembechler and America in a Time of Unrest" by Michael Rosenberg (Grand Central, $26.99), which comes out next month.
The Detroit Free Press columnist placed the Ten-Year War between Woody and Bo against the backdrop of the Vietnam War protests on their campuses. It's a compelling idea. But as Rosenberg's reporting illustrates, the two coaches carried such strong personalities that the activists pale in comparison. By 1975, the counterculture had become an afterthought, but the Ten-Year War had escalated. Read this book to marvel at Hayes and Schembechler.
That story, told as well as Rosenberg tells it, will never get old.