Deep Impact
USC has played only one game, and against a young, rebuilding defense at that. But the re-emergence of a vertical passing game in the Trojans' 52-7 rout of Virginia is the biggest indication that the nation's top-ranked team has a more complete offense than it did a year ago. With No. 5 Ohio State awaiting USC at Los Angeles Memorial Coliseum on Saturday night, the versatility is just in time.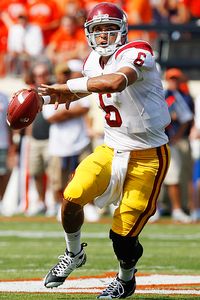 Kevin C. Cox/Getty Images
Mark Sanchez and USC will be looking deep more often in 2008.
Mark Sanchez completed four passes of 20 yards or more, including two touchdowns, against the Cavaliers. One look at the Trojans' statistics for last season indicates the lack of a downfield threat. The leader in yards per catch in 2007, at 14.2 yards per catch, Fred Davis, may have been an All-American tight end. But if your deep threat is a tight end, you've got issues.
Among wideouts Patrick Turner, Vidal Hazelton and David Ausberry, no one averaged 12 yards per catch, and their cumulative average dipped beneath 11. The 238 passing yards per game were second lowest of Pete Carroll's seven seasons.
"When teams aren't as concerned about getting beat over the top and getting beat deep, yeah, they're able to sit on routes," offensive coordinator Steve Sarkisian said, referring to last season. "They're able to take away a lot of your intermediate game; it makes it difficult. Windows get small. It gets tough. … It's something we used to be really good at. For whatever reason, we weren't as good at [it] the last couple of years. I think this year we're back at it again. We're really stressing at and working at it."
"For whatever reason" may be a euphemism for former quarterback John David Booty's ability, especially after he broke a finger early last season. It may refer to the wide receivers. The important thing, Sarkisian said, is that the Trojans set out to fix it.
"One, we really put an emphasis on it in spring football and fall camp. Two, I think Mark Sanchez is a tremendous deep-ball thrower. He puts great air under the ball. He's very powerful. And three, I think we've added a couple of guys to our receiving corps that allow us to get down the field: Damian Williams, Ronald Johnson. The kid you didn't see [against Virginia] that can do it as well is Travon Patterson."
Williams, the third-year sophomore transfer from Arkansas, and Johnson, a sophomore who had never played wide receiver until he became a Trojan, will be tested by an Ohio State secondary that's one of the best in the nation.
Wellsness Center
Frank Solich didn't bristle at the question. But the Ohio University coach wants to be clear that he doesn't think Ohio State came onto the field last Saturday thinking about playing USC.
"I didn't get the feeling that Ohio State was just walking around on the field," Solich said Wednesday. "They were trying to make plays."
He saw Buckeyes trying to make plays and Bobcats thwarting them, which is why No. 3 Ohio State needed to make a fourth-quarter comeback at home to win 26-14. Ohio State dropped to No. 5 in the polls.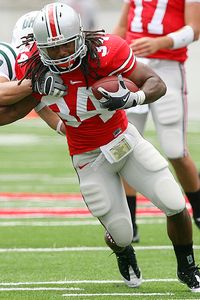 Aaron Josefczyk/Icon SMI
Maurice Wells and Ohio State were held to 162 rushing yards by Ohio.
To hear Solich discuss what his defense did to slow down the Buckeyes, it may be that Ohio State missed tailback Beanie Wells, who sat out the game with a foot injury, more than it missed paying attention to Ohio. His defensive game plan subscribed to the theory of take away what the offense does best.
"Our plan was to stop the power running game. I felt we did that. They build their offense out of excelling at the running game and coming off it with play-action and their ability to throw the deep ball."
Ohio State rushed for 162 yards on 40 carries. Quarterbacks Todd Boeckman and Terrelle Pryor combined to complete 16 of 28 passes for only 110 yards. Without an effective ground game, the Buckeyes struggled to throw. Think they missed Wells?
"Our feeling was that they've got great athletes in the program and they'll be able to put another great player on the field," Solich said. "It's obvious he brings something other players can't bring with his size and speed and toughness. When you're 240 pounds, that can be a different story."
There's another reason Solich dismisses the idea that Ohio State looked past his team. Solich, who spent most of his college coaching career as an assistant and a head coach at Nebraska, has been on the sideline of the heavily favored.
"To line up and play 12, 13, 14 games and think you're going to be on your game every week, it's tough to do," he said. "I don't believe they just looked [past us]. In a lot of ways, we played good football. We came up with good plays when we needed to."
Nick Of Time
Vanderbilt quarterback
Chris Nickson
, as of Monday afternoon, had not seen the SEC East standings that say at the top: Vanderbilt 1-0.
That's right. The Commodores, by virtue of their 24-17 victory over South Carolina last Thursday, are in first place. It is jarring to the eye. Imagine a photo of Amy Winehouse with a caption, "Nobel Laureate." Better yet, take a look yourself: SEC standings.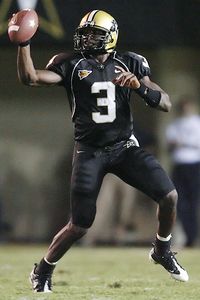 Charles Small/US Presswire
Chris Nickson and the Commodores are off to a fast start.
Yes, that kind of jarring. Or maybe the kind of jarring Nickson saw in downtown Nashville last weekend.
"I probably saw 55 people. At least 35 had on Vanderbilt apparel," said Nickson, a fifth-year senior. "I've never seen that before. I don't know if they just hopped on the bandwagon or were just waiting for a change. I was just surprised to see 'Vandy.'"
Nickson, a fifth-year senior, is a big reason Vanderbilt has started out 2-0 for only the second time since 1982. He is healthy for the first time since early last season, before a separated right shoulder rendered him ineffective and out of the lineup.
That showed when he rushed for 166 yards and two touchdowns in the Commodores' opener, a 34-13 victory at Miami (Ohio).
On the morning after the game, Nickson said, "I was extremely sore. That was the first time I've been hit in almost a year." He laughed. "Any time you win, it's a good soreness."
The investment that Nickson made in the weight room this year may be the biggest reason he regained the starting job taken away last season by junior Mackenzi Adams.
"I worked really hard this offseason, probably harder than I've ever worked," Nickson said. "I do feel if I had worked hard on my shoulders, I probably wouldn't have separated it. Whether that's true or not, I don't know. That was definitely in my mind, to protect my body from injury."
More important, however, is the investment Nickson and the other upperclassmen have made in the locker room.
"Actually the biggest thing I saw that is different is the team chemistry of the players," Nickson said. "In the offseason, our captains were basically just leaders, picking up freshmen and doing things with them that we've never done before. We were without groups and cliques. Everybody was together. Guys took it upon themselves to make others feel comfortable, accepted, to really generally care about what's going on in the other guy's life."
Team chemistry may not stare down the traditional powers in the SEC East. But the Commodores surely won't go to their first bowl in 26 years without it.
Department Of Defense
Vandy fans may be giddy, but there is cautious optimism at Kentucky. The Wildcats, pegged for a rebuilding year after consecutive seasons of 8-5, have started out not only with two victories, but two victories in which the Cats have not given up a touchdown. Kentucky followed a 27-2 defeat of Louisville with a 38-3 victory over FCS Norfolk State.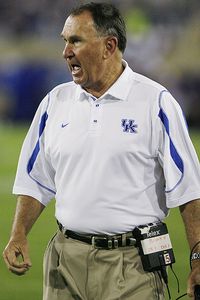 Mark Zerof/US Presswire
Rich Brooks hasn't seen his defense give up a TD in 2008.
Rare? It's been 12 seasons since Kentucky had two games in which it gave up fewer than seven points. For a comparable performance, you have to go back 30 years, when Kentucky beat Virginia Tech, 28-0, and Vanderbilt, 53-2, on consecutive Saturdays.
"It's the best defense I've had since I've been here and I will continue to say that," Wildcats coach Rich Brooks, in his sixth season in Lexington, said at his news conference Monday, according to a transcript.
Brooks warned that Middle Tennessee, with its spread offense and coming off a 24-14 upset of Maryland, may give Kentucky trouble Saturday. But the Cats, who rank third in the nation in pass efficiency defense (four interceptions, no touchdowns, 29-for-67, 62.58 rating), 10th in total defense (184.5 yards) and third in scoring defense, sound as if they have turned a mental corner.
"I think once you taste success, you don't want to go back," said junior strong safety Ashton Cobb, one of only three new starters on the veteran defense, at the news conference. "You want to keep doing whatever it takes to keep tasting that success. If it's extra film, extra drills, or whatever, that is what we are willing to do to keep that taste of success on our tongue."
Cobb made another comment, one that reflects the success of the past two seasons. Last season, the Wildcats beat two top-10 teams, including No. 1 LSU, 43-37 in triple overtime.
"A couple of years ago," Cobb said, "I was talking to some teammates and they said that they used to look at the schedule and say 'Oh, this is an automatic loss,' and I don't think it's like that anymore. Each game is very winnable. We feel that we can compete with anybody as long as we bring our A-game."
No one is confusing Kentucky with an SEC East contender just yet, not with No. 2 Georgia and No. 4 Florida in the same division. But if Kentucky turns back Middle Tennessee, only Western Kentucky will stand between the Wildcats and a 4-0 record when they go to No. 11 Alabama on Oct. 4.
Ivan Maisel is a senior writer for ESPN.com. Send your questions and comments to Ivan at ivan.maisel@espn3.com.
3-Point Stance

Toal
1. When Boston College linebacker Brian Toal lines up at fullback in short-yardage situations, Eagles fans call it, "third-and-Toal." Maybe's there's something to that: He has carried the ball three times on third down, and converted all three plays for a total of 13 yards. He has carried it three times on other downs and gained a total of two yards. And by the way, he is second on the team with 14 tackles, including a sack.

2. According to the 2007-08 annual report of the Oklahoma athletic department, the Sooners' football team brought in about $30.6 million in revenue and spent slightly less than $15 million. I'm not sure what's more impressive: the profit margin, the fact that Oklahoma spent only $15 million or the idea that $15 million doesn't seem like a lot of money for a football program these days.

3. No one will confuse Nebraska's first two opponents, Western Michigan and San Jose State, with offensive juggernauts. But the Huskers have allowed 703 total yards and 36 points in their first two games. A year ago, Nebraska allowed an average of 477 yards and 38 points per game. I'm sure that new head coach Bo Pelini doesn't have his team where he wants it yet. But after two games the Huskers' defense is no longer a national punch line. That counts for something.
Rose To Remember
Most people recall USC's 17-16 defeat of Ohio State in the 1980 Rose Bowl for the Trojans' game-winning touchdown drive in the fourth quarter, on which tailback Charles White carried the ball six times for 70 yards, getting the last yard on fourth-and-goal with 1:32 to play. White finished the game with 247 rushing yards.
However, the anecdote worth repeating this week regards USC's other touchdown, a 53-yard pass from quarterback Paul McDonald to wide receiver Kevin Williams. According to the book "Fight On!" "McDonald has never let Ohio State's secondary coach forget what occurred." That would be former Buckeyes assistant Pete Carroll, who coached at Ohio State for that one season, the first for Woody Hayes' replacement, Earle Bruce.

Carroll
McDonald, now part of the USC radio team, said Wednesday that the first time he brought up the play with Carroll, the coach got annoyed.
"He said, 'Yeah, yeah, yeah. How'd you like to play now?'" McDonald said. "I said, 'Coach, we're on the same team!'"
On the field before the 2004 Rose Bowl, the game in which USC beat Michigan and won the Associated Press national championship, McDonald approached Carroll to chat about the Wolverines.
McDonald said, "And Pete said, 'So Kevin Williams was right about here, right? He caught it around the 10-yard line? … I never should have called the blitz. I never should have called the blitz.'"
When the free safety blitzed, McDonald called an audible to send Williams deep and put his offensive line in maximum protection. Only thing was, Williams never heard the audible.
On the sideline, McDonald said, Williams told him, "I started jogging off the line of scrimmage because it was a running play. Then I said, 'Wait a minute. I think it's a pass to me,' and I just took off."
In the NFL, McDonald ran into Mike Guess, the Ohio State corner beaten by Williams.
"We're talking about the play," McDonald said, "and Mike said, 'I would have had Kevin Williams. He faked me. He started jogging off the line of scrimmage.'"
McDonald said he never had the heart to tell Carroll that USC beat him on a broken play. Might be safer that way.
In His Defense
Jake Christensen of Iowa joins Nate Longshore of Cal and Drew Weatherford of Florida State on the list of starting quarterbacks who lost their jobs this year. Hawkeyes head coach Kirk Ferentz listed sophomore Ricky Stanzi as the first-teamer on the depth chart Monday. But Ferentz, at his news conference Tuesday, took pains to stress that Stanzi won the job more than Christensen lost it.

Ferentz
And then Ferentz went a step further. He chastised fans who booed the junior during Iowa's 42-0 victory over FIU on Saturday.
"I'd just hate to see any individuals singled out unless it's an adult and they boo the coaches," Ferentz said. "That's fine. We're getting paid. But this isn't pro football."
It's impossible to say whether fans are booing college players more these days. But it seems as if coaches are being more vocal about defending their players. You have to wonder whether the grizzled coaches of an earlier time defended their players this way.
In this age of helicopter parenting -- you know, they hover -- moms and dads are there to soothe disappointments. Did Ferentz go overboard? Have we reached the age of helicopter coaching? I don't think so. I think Ferentz realizes, as does every head coach, that his backup quarterback is one play away from starting. He needs Christensen's head up and game face on.
Podcast: Ivan and Beano
Beano Cook joins Ivan in the ESPNU College Football Podcast to talk about the Jake Locker celebration penalty, the Heisman, OSU-USC and more. Listen

Holy Toledo
Tulane coach Bob Toledo has never met a stranger. He likes to talk. He's worth listening to because, like a box of Cracker Jack, there's usually a prize in there somewhere.

Toledo
According to the transcript of his news conference Tuesday, Toledo assessed the Green Wave's 20-6 loss at Alabama as follows: "I don't believe in moral victories. I don't think they're worth a darn. I think someone once said it's like kissing your sister and it's probably true. Even though my sister's a little older than me, I've never kissed her. Anyway …"
Actually, it is a tie that is like kissing your sister. That saying came from former Navy coach Tom Hamilton, who, in 1946, trailing No. 1 Army 21-18, refused to attempt a game-tying field goal from the Army 8 and went for the victory on the final play of the game. Halfback Pete Williams went down at the 4.
Come to think of it, though, overtime has made ties obsolete. There's a simile in need of a substitute. Toledo may be on to something.
In Good Company
Alabama coach Nick Saban won the 100th game of his college career last Saturday at Tulane. But when Oklahoma coach Bob Stoops reaches No. 100, which should come Saturday at Washington, he will make history.

Stoops
Not because Stoops is in only his 10th season. Even at 100-22, Stoops would tie for eighth on the list of fastest to reach 100 victories. He would be in good company: Also at 122 games are Joe Paterno, Barry Switzer and Henry Williams, a turn-of-the-last-century coach at Army and Minnesota.
The history (and thanks to Berry Tramel of The Daily Oklahoman for pointing it out) is that Stoops will make Oklahoma the first school to have four coaches win 100 games. Stoops will join Bennie Owen, Bud Wilkinson and Switzer as 100-game winners at Oklahoma.
Among the schools with three 100-game winners: USC (Howard Jones, John McKay, John Robinson), Michigan (Fielding Yost, Bo Schembechler and Lloyd Carr), Georgia Tech (John Heisman, Bill Alexander, Bobby Dodd) and Tennessee (Gen. Robert Neyland, Johnny Majors, Phillip Fulmer).

Carroll
Next up: Trojans coach Pete Carroll needs 23 victories to reach 100. But given the short leashes on which coaches work these days, it's easy to see the possibility that USC and Oklahoma, with their quartets of 100-win coaches, would stand alone for some time to come.