Worth The Wait
For the second straight year, Bryan Harsin has a big decision to make.
And once again, the Boise State offensive coordinator is in no hurry to make it.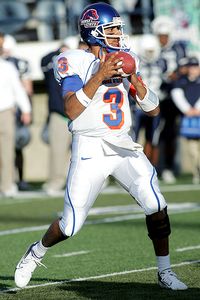 Brian Losness-US PRESSWIRE
Bush Hamdan's focused on winning the Broncos' QB job.
Harsin could end the quarterback competition and satisfy an eager-to-know fan base by naming a starter before the end of spring practice. But as recent history has shown, the best quarterback in the spring might not be the best man to lead the potent Broncos offense when the season kicks off.
"Taylor didn't have the best spring," Harsin said, referring to last year's starting quarterback, Taylor Tharp. "He took advantage of the summertime and took advantage of his opportunity in fall camp. The rest is history."
Tharp won the job weeks before the season and showed he was worth the wait. He ranked seventh nationally in pass efficiency (152.9) and threw 30 touchdown passes, leading Boise State to a 10-3 season.
His successor will come from a pool of four candidates: senior Bush Hamdan, junior Nick Lomax, sophomore Mike Coughlin and redshirt freshman Kellen Moore. All four have received equal repetitions this spring, but Hamdan and Moore have emerged as the early favorites.
"We don't need to have our starter right now," Harsin said. "There's not a ton of pressure on that, but there's a short window in fall camp of, after the first week, we've got to pick a guy and go."
Moore sparkled in the first spring scrimmage, completing 10 of 14 passes for 114 yards and a touchdown (he added a rushing touchdown). A left-hander who played high school football for his father, Moore's beyond-his-years savvy has helped him overcome a smallish frame (6-foot-1, 180 pounds).
"He's a coach's son, he's a football junkie," Harsin said. "He knows as much football, if not more, than all the coaches on staff."
Moore credits his quick learning to his experience last season, when he ran with the scout team, learning new schemes every week, picking up Boise State's system and working against the starting defense.
"There's a lot of variety in our offense, but at the same time it's not overwhelming," he said. "It all makes sense, and it's a lot of fun to play."
Hamdan has been here before. He came out of last spring as the front-runner to win the starting job but was slowed by a hand injury before the season.
A reserve for the past three seasons, Hamdan hopes to mirror the path of his older brother, Gibran, a former quarterback at Indiana who waited his turn before putting together a strong senior season.
"He's a very bright, mature kid," Harsin said. "Going through it, with the hype, that's not fazing him just because he's been through it X amount of times. He's handled himself well."
All four candidates are helped by having not just a coach but a confidant in Harsin, a former Broncos reserve quarterback who competed for the starting job in 1999 before losing out to Bart Hendricks.
"When we were going through it, it wasn't probably as hyped as it is now, but you don't know what to expect," Harsin said. "If there's any issue, any questions, anything that's gray, they need to talk to me.
"These guys know they're competing, and they're still going to be able to compete through summer and fall. Then we'll be able to make our decision."
More Of The Same
Larry Blakeney can't bring back his dynamic quarterback or his innovative play-caller, so the Troy coach has done the next best thing.
He's kept things as stable as possible.
Blakeney started by promoting Neal Brown to replace offensive coordinator Tony Franklin, who left for the same post at Auburn. The 27-year-old Brown played for Franklin at Kentucky and worked under him for two seasons at Troy, learning an offense that ranked 16th nationally in yards (452.8 ypg) and 25th in points (34 ppg) last fall.
"That's the reason he is the coordinator," Blakeney said. "We don't want to change. We want to be a system team, we want to be no-huddle, up-tempo, able to run the football and throw the pass to set up the run."
Quarterback Omar Haugabook ran the system to near perfection the past two seasons, winning back-to-back Sun Belt offensive player of the year awards. With top-shelf speed and decent passing skills, Haugabook provided Blakeney a prototype for the future.
Jamie Hampton might fit the same mold. None of the three candidates to replace Haugabook separated himself in spring practice, which ended Saturday, but Hampton's athleticism gives him an edge.
"He has to be one of the top two," Blakeney said. "Speed-wise, Omar was probably a little faster, but Jamie's big and can take those big, long steps and can cut, turn and change directions really well."
Both Hampton and fellow competitor Tanner Jones appeared in eight games last season behind Haugabook. Jones and the third candidate, Richmond transfer Levi Brown, both are traditional drop-back passers.
"They've been good, they've been bad, they've been in the middle," Blakeney said. "We need to get to a point where we can name one and have a backup, and everybody else is getting the crumbs."
Adam Rittenberg covers college football for ESPN.com. He can be reached at espnritt@gmail.com.
Schedule Shuffle

Fresno State has long prided itself on a scheduling philosophy of "anybody, anytime, anywhere," but coach Pat Hill might think twice before adding Big 12 teams to his stacked slate. Kansas State became the third Big 12 squad to dump a game with Fresno State when it paid a $250,000 buyout to drop a Sept. 6 contest. The Wildcats were the first team to pass up a home game with the Broncos after Texas Tech and Oklahoma State paid buyouts to avoid traveling to Bulldog Stadium.
"I really believe if you have a contract, you live out your contract," Hill told the Fresno Bee. "That's the third Big 12 team we had bow out of a game. It's not right. I think if you sign a contract, you play the game."
Fresno State found a formidable fill-in with Rutgers and will open the season on Labor Day (ESPN, 4:30 p.m. ET) in Piscataway, N.J. Rutgers will return to Fresno in 2012. The Bulldogs' original opener against UCLA was moved back to Sept. 27.
Overdoing It?

San Diego State is reviewing allegations that offseason workouts for the football team exceeded NCAA restrictions. Aztecs players have been interviewed as part of the university's investigation, but coach Chuck Long is denying any wrongdoing.
The NCAA placed San Diego State on two years' probation in 2003 for holding unauthorized offseason workouts.
"Summer is the summer and they [the players] are on their own," Long told The San Diego Union-Tribune. "I love that rule, and I hope they never -- and this is a big statement -- but I hope they never add any more practices than what we have."
Associate athletic director Jenny Bramer told the newspaper she would not discuss specifics until the case is concluded.
On The Move

Navy's offense is rooted in variety, and new coach Ken Niumatalolo wants to use every resource he can. That's why Niumatalolo hopes to audition reserve quarterback Jarod Bryant at slot back and punt returner this spring. Bryant rushed for 464 yards and five touchdowns last year as the backup to Kaipo-Noa Kaheaku-Enhada, who returns as the Mids' starting quarterback this fall.
"When we went back and looked at last year's tape, it just reaffirmed to me that the kid is special with the ball in his hands," Niumatalolo told reporters. "We don't want Jarod to sit on the bench. He is too valuable."
Bryant's move has been delayed a bit because Kaheaku-Enhada underwent offseason knee surgery, but Niumatalolo hopes to evaluate him at slot back in the next two weeks.
Extra Points

• Akron paid a buyout to drop Kentucky from its schedule this fall, keeping the slate at the NCAA limit of 12 games. Since the Zips must play eight Mid-American Conference games this season, up from seven in 2007, they had to yield one of their five nonconference contests. The buyout also included a 2009 game against Kentucky scheduled for Akron's new InfoCision Stadium.

• Brenton Byrd moved from backup running back to cornerback midway through spring drills as Air Force tried to add depth there. The Falcons are losing starters Carson Bird and Garrett Rybak and haven't had projected first-teamer Kevin Rivers available for drills. Byrd will remain at cornerback for the rest of the spring, at which point the coaches will decide whether he stays there or returns to offense.

• East Carolina quarterback Brett Clay has decided to end his football career because of recurring knee problems. Clay, who has undergone three surgeries to repair ligaments in his left knee, reinjured the knee in spring practice. He started the 2007 opener against Virginia Tech before being replaced by Patrick Pinkney.

• Running back Mario Cox has rejoined Hawaii after being dismissed last fall for violating team rules. New Warriors coach Greg McMackin reinstated Cox after meeting with the 5-11, 230-pound junior several weeks ago. Cox was suspended and reinstated two years ago after falling short of the team's academic requirements. He played in five games last season before the dismissal and could play a key role in a Hawaii offense that wants to emphasize the run game more. Cox is competing for time with front-runners Daniel Libre and Leon Wright-Jackson, as well as Dave Farmer.