Three weeks in, three teams stand out
The Big Three
By Pat Forde, ESPN.com
It's early. There are a dozen major plot twists still to come. A Stanford or a Pittsburgh or a Colorado may yet have something to say about the chase for the 2008 national championship.
But as we stand today, three weeks into the season, three teams stand above and apart from all the rest: USC, Oklahoma and Missouri.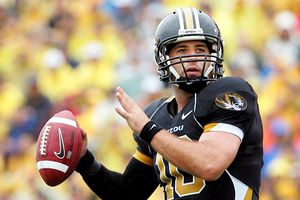 Julie Scheidegger/US Presswire
Heisman hopeful Chase Daniel leads a potent Missouri offense.
And of those three, USC stands on its own plane after making Ohio State look like Ohio State can look when it plays the big boys: slow, weak, soft and overmatched.
The big three have won their eight games by a combined score of 429-114. And they all have played at least one somebody.
USC has taken on two teams that won a combined 20 games in 2007, and squashed them both. This is a complete team, dominant right now in all phases. Gazing down the Trojans' schedule, it's hard to envision where the challenges will come from between now and January.
Oklahoma has cranked up its passing game to another level in routing Cincinnati and Washington. The Sooners are scoring points in gushes, pushing quarterback Sam Bradford up the Heisman Trophy lists.
But he isn't even the leading Heisman candidate in his own league. That would be Missouri QB Chase Daniel, who has more touchdowns (seven) than incompletions (six) the past two weeks. Which is just silly. The Tigers put 52 on Illinois in the opener, 52 more on Southeast Missouri State and then a whopping 69 on Nevada (a 2007 bowl team) on Saturday.
Missouri and Oklahoma don't meet in the regular season, which could make the Big 12 championship game slightly enormous (if both of them can beat Texas, among others, in a salty league).
None of this means the Southeastern Conference won't have a say in the proceedings. But so far, the SEC is specializing in UglyBall, taking a little of the luster off its top teams.
Georgia wheezed its way to 14 points against a South Carolina team coming off a loss to Vanderbilt. And the Bulldogs needed a Gamecocks fumble into the end zone to avoid a potential overtime. The Dogs haven't looked like anything special yet.
Florida was decidedly unspectacular against young Miami at home Sept. 6. The Gators looked susceptible up front on offense to pressure in that game and will have to prove they can beat a blitz consistently in a league that will bring a lot of heat.
Auburn scored three points Saturday. And won.
LSU might yet be up to a defense of its national title, but the Tigers haven't played any meaningful games to get a true gauge on their quarterback play.
So at this moment, a trio of teams have separated themselves from the pack. But at this stage last year, the big four were USC, LSU, Oklahoma and Florida. All went on to lose more than once.
Remember that. Nobody wins anything permanent in mid-September.
Balance Bar
By Ted Miller, ESPN.com
LOS ANGELES -- Everyone knew USC's defense was going to be dominant, but after two games, its offense isn't too shabby either.
USC vs Big Ten -- last 8 games
USC has now won eight straight games against the Big Ten -- all by double-digit margins and by an average of 24.9 points. And we're not talking about the bottom of the conference here. It was No. 5 Ohio State on Saturday and the four victims before that were all in BCS bowl games.
| | | |
| --- | --- | --- |
| Season | Opponent | Result |
| 2008 | Ohio State | W by 32 |
| 2007 | Illinois | W by 32 |
| 2006 | Michigan | W by 14 |
| 2003 | Michigan | W by 14 |
| 2002 | Iowa | W by 21 |
| 2000 | Penn State | W by 24 |
| 1998 | Purdue | W by 10 |
| 1996 | Illinois | W by 52 |
In fact, it's shaping up to be one of the most balanced units in the country.
In their 35-3 steamrolling of Ohio State, the Trojans rushed for 164 yards and passed for 184 yards against one of the nation's premier defenses.
Two weeks before, they rolled up 208 yards on the ground and 350 through the air in their 52-7 assault on Virginia.
It's hard to figure out which type of attack -- air or ground -- the Trojans are more proficient in.
"Teams need to prepare for both because we have too many good running backs and receivers who can catch the ball and an O-line that can run block or pass block," said quarterback Mark Sanchez, who tossed four touchdown passes, two of which went to Damian Williams.
To read the rest of Ted Miller's story, click here.
Dreams Dashed
By Graham Watson, ESPN.com
FRESNO, Calif. -- As fans filed out of Bulldogs Stadium on Saturday, Fresno State coach Pat Hill stole a few moments in the hallway outside the auditorium where media were waiting to hear him explain the 13-10 loss to No. 10 Wisconsin.
It was frustrating. So frustrating that Hill leaned against the wall of the empty hallway and let out a big sigh. Fresno State's dream of a BCS berth was gone and it was only the second game of the season.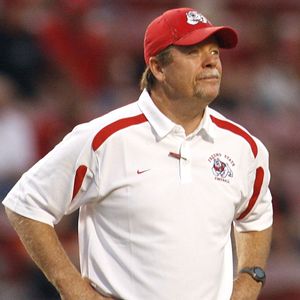 Cary Edmondson/US Presswire
There will be no BCS bowl game for Pat Hill's Fresno State squad.
"We're not playing for that anymore," Hill said about the prospect of a BCS bowl. "No matter what people want to say, everybody realizes if they're winning then they're in it as a mid-major. So, those are out the door, we go on to our next one. Winning the WAC is very, very important and this team can still be a very good football team. Still is a very good football team."
In college football these days, non-BCS teams need to remain undefeated for a chance at a BCS bowl berth. Fresno State was a favorite to do that. It was one of only two non-BCS teams ranked in the preseason and now it will be lucky to be ranked at all.
Saturday's game against Wisconsin was supposed to be Fresno State's comeback party. It was the biggest game held at Fresno State and the first meeting of ranked teams in Bulldog Stadium. A victory over the Badgers was supposed to announce that the team that shocked so many BCS schools during Hill's 12 seasons was back and ready to fight again.
It didn't happen.
To read the rest of Graham Watson's story, click here.
Survive And Advance
By Chris Low, ESPN.com
COLUMBIA, S.C. -- Georgia's players almost sounded resigned to a drop in the polls following their 14-7 win over South Carolina on Saturday.
"I don't know," Georgia senior receiver Mohamed Massaquoi said. "We don't control that. We're just going to keep moving on and doing our thing."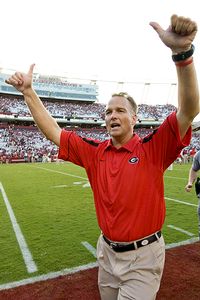 Paul Abell/US Presswire
In the SEC, Mark Richt is just happy to get victories.
The best thing the No. 2-ranked Bulldogs did Saturday was survive. They got just enough clutch stops on defense and some timely punts on special teams. As for the offense, well, therein lies the rub.
If Georgia is serious about being a part of this national championship race, the Bulldogs have some work to do on the offensive side of the football.
They were exposed in more ways than one by South Carolina's defense. The Gamecocks are plenty good on defense, but they won't be the last salty defense the Bulldogs face.
After all, this is the SEC.
"For where we want to go, we still have a lot of work to do, a lot of work," said Kris Durham, who dropped a touchdown pass and was one of several Georgia receivers dropping passes Saturday. "We just need to stay focused and continue to work hard. Sometimes, you need a tough game. No team has run through the season and not had a game like this.
"Hopefully, this will give us some confidence that we can win these kind of games."
To read the rest of Chris Low's story, click here.
Still Waiting
By Adam Rittenberg, ESPN.com
WEST LAFAYETTE, Ind. -- When Curtis Painter finishes his college career later this year, his name will be scattered throughout the Purdue and Big Ten record books.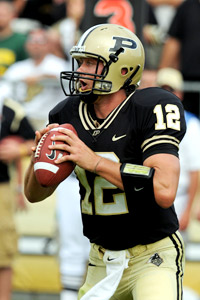 AP Photo/Tom Strickland
Curtis Painter threw for 207 yards in Purdue's defeat.
But the senior quarterback wanted to add a different sort of number to his résumé Saturday: 16. That was the national ranking Oregon had when it took the field at Ross-Ade Stadium. Purdue hadn't beaten a ranked opponent since upsetting No. 10 Iowa on Nov. 8, 2003. Painter arrived the next fall.
For much of Saturday's game, the Boilermakers' big-game drought looked to be nearing its end. Painter and the offense made some mistakes, but Oregon made just as many and the Boilers' defense kept coming up with big plays.
At times, the Ducks seemed to give the game away, but Purdue never took it and fell 32-26 in two overtimes.
"When we needed to, we made some big plays," Painter said, "and also, when we needed to, we didn't, if that makes any sense."
Making sense of Purdue's recurring big-game bugaboo won't be easy for Painter and his teammates after their latest might-have-been moment.
To read the rest of Adam Rittenberg's story, click here.
The Mighty Have Fallen
By Brett Edgerton, ESPN.com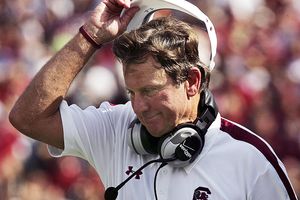 AP Photo/Mary Ann Chastain
Steve Spurrier has not found the same success at South Carolina that he had at Florida.
Is this a bizarro world for Steve Spurrier or what? The man who rocked the college football landscape with his Fun 'n' Gun offense at Florida is now just firing blanks. Since his South Carolina team rose to No. 6 in the BCS in October 2007, Spurrier is a stunning 1-7 (his worst eight-game stretch with Florida was 5-3). That includes a six-game losing streak in the SEC. In his 12 record-breaking years in Gainesville, Spurrier's longest SEC losing streak was two ... and that happened just once (1992).
Two of the losses during this streak are at the hands of Vanderbilt, a team he was 12-0 against at UF, including a 71-13 whipping in his final season. The ones that have to hurt the most, though, are against Georgia, which Spurrier seemed to take great pleasure in beating during his tenure in Gainesville. As Florida coach, the Darth Visor was 11-1 against the Bulldogs, averaging 36.3 points in the series. As South Carolina coach, Spurrier's teams are 1-3 against the Bulldogs and have totaled 38 points, including just seven Saturday. His four lowest career outputs against UGA are his four meetings as Gamecocks coach.
So after going 23-1 against Georgia and Vandy as the Head Ball Coach at Florida, Spurrier is just 3-5 against those foes at Carolina. Anyone feel like golfing?
Three Weekend Observations
By Ivan Maisel, ESPN.com

1.
If you're a cynic, a pessimist, shortsighted -- you know, a media type -- then you wonder about how high to rank teams such as Georgia, Auburn, Wisconsin and Oregon. All four of them won on the road by a combined total of 17 points. But those kinds of victories are the foundation on which championship seasons are built. Each team knew how to dig out a tough victory in uncomfortable surroundings.

2.
Deeper analysis of Ohio State's offense in the Los Angeles Memorial Coliseum reveals: Of the Buckeyes' six rushing first downs against USC, only two came from running backs. How much of that is because
Beanie Wells
didn't play? Not as much as you think. One, when you fall behind as steadily as Ohio State did, you're going to run less. Two, the offensive line didn't exactly open up a lot of holes.

3.
Teams that might be justifying my preseason skepticism: Arizona State, California, Illinois. Teams that might be mocking my preseason skepticism: Iowa, Kansas. Though they blew a 17-point lead, the Jayhawks showed toughness and, in quarterback
Todd Reesing
, a resourceful leader. But Reesing will think about that last interception, the one that set up the Bulls' game-winning field goal, for a long time. Reesing looked as if he threw a pass he wished to complete rather than a pass that came from a smart decision.
GameDay Crew Recap
GameDay Crew Final Thoughts
RECE DAVIS

Ringer
The only thing useful about comparing conferences is to try to ascertain strength of schedule. Teams play differently each week and so many seemingly contradictive things happen that everyone has evidence for their particular arguments.
Helmet Stickers Go To:
• RB
Javon Ringer
, Michigan State
282 rush yards, 2 TDs vs. FAU
• QB
Drew Willy
, Buffalo
29-42, career-high 348 yards, 3 TDs vs. Temple (including game-winning Hail Mary)
---
JESSE PALMER

A win is a win is a win, especially on the road in the SEC. You'll take a win any way you can get it. Georgia's game at South Carolina was a little bit ugly, but its leaders found a way to pull it out.
Matt Stafford
and
Knowshon Moreno
didn't have overwhelming numbers, but they got the job done. Period.
Helmet Stickers Go To:
• WR
Eron Riley
, Duke
8 rec, 137 yards, 3 TDs vs. Navy
• QB
Chase Daniel
/ WR
Jeremy Maclin
, Missouri
23-28, 405 yards, 4 TDs / 6 rec, 172 yards, 3 TDs
---
MARK MAY

What you saw on the field Saturday night at the Coliseum was a clear-cut No. 1 team in the country and a clear-cut favorite to reach the national title game. At this point -- with the way the schedule sets up -- it's hard to envision a team knocking off the Trojans in the regular season.
Helmet Stickers Go To:
• QB
Max Hall
, BYU
7 TD passes vs. UCLA (6 in 1st half)
• LB Rey Maualuga, USC
48-yard Int return for TD vs. Ohio State
Blog Network: Helmet Stickers
Every week our bloggers will hand out helmet stickers to the week's top players, coaches, teams or anything else worth this honor.
Highlights: Ohio State-USC
Blog Network: What We Learned

With three teams off this week, there weren't many questions answered and just one true surprise -- Maryland.
ACC

No running game caught up with Kansas, but the biggest loser of the weekend was Texas.
Big 12

South Florida showed it has plenty of offensive weapons, and UConn is more than vanilla.
Big East

The Big Ten title goes through Madison, and Ohio State showed it needs more offense than Beanie.
Big Ten

We learned a lot about the Pac-10. And it was mostly delivered by painful lessons, via blowout or upset.
Pac-10

Offense was MIA for the most part but LSU didn't miss a beat because of Ike.
SEC

Non-BCS:
BYU proved it is BCS-buster worthy and don't count out the Irish.
Around the nation
Highlights: Wisconsin-Fresno State
Protect The King
By Brett Edgerton, ESPN.com
Give credit where credit is due. The Notre Dame offensive line was perhaps the most maligned unit in all of college football last season -- and for good reason. The Fighting Irish gave up an FBS-record 58 sacks, which undoubtedly played a large part in Notre Dame's distinction as the 119th-best offense in all the land (242 yards per game). Out of 119 teams, of course.
So when that same record-breakingly bad O-line doesn't yield a sack in either of its first two games, it's worth some love. It's the first time in five years the Irish have gone back-to-back games without their QB getting flattened.
Highlights: Georgia-South Carolina
Century Mark
By Brett Edgerton, ESPN.com
Coaching in the third game of his 10th season at Oklahoma, Bob Stoops picked up his 100th career win in a 55-14 rout of Washington. It was a milestone victory not only for Stoops, but for OU as well. Oklahoma is now the first FBS program in the country with four 100-game winners. Stoops joins Bennie Owen (1905-26), Bud Wilkinson (1947-63) and Barry Switzer (1973-88).