By taking care of business, next week is set
Setting The Table
By Ivan Maisel, ESPN.com
Address your thank-you notes to the Oklahoma Sooners and Texas Longhorns, care of Big Tex at the State Fair in Dallas. By taking care of their business on the road, No. 1 Oklahoma and No. 5 Texas preserved their undefeated records and their rankings for the annual neutral-site showdown Saturday at the Cotton Bowl.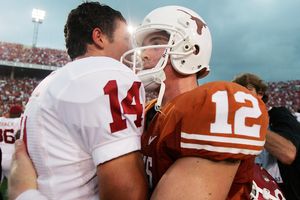 Ronald Martinez/Getty Images
Sam Bradford and Colt McCoy will meet again Saturday in Dallas.
The standards of what constitutes a championship team have not changed. Offenses explode and defenses contain. But those standards have become harder to reach in general in this era of upsets. And in the Big 12, where defense is never easy, those standards can seem like a relic, which brings us to the conference's other showdown between undefeated teams Saturday.
No. 17 Oklahoma State plays at No. 3 Missouri in a matchup of offenses that score a lot against defenses that back up a lot. Given that combination, kickoff is scheduled for 8 p.m. ET, with the last tick of the clock estimated sometime Monday afternoon.
OK, maybe that's a slight exaggeration. But the fact remains that Missouri has won a game by the score of 52-42 (against Illinois) and Oklahoma State has victories of 56-37 (Houston) and 56-28 (Texas A&M). That may be life in the Big 12, but it is not the life traditionally lived by the highly ranked.
Next weekend is a weekend of big games. The Big 12 has the biggest, thanks to its undefeated teams' abilities to remain that way. Eighteen teams began the previous week undefeated and only 15 finished it unblemished. The Big 12's schedule mandates that no more than 13 will survive the week to come. In other conferences, several other unbeatens have difficult games.
The top game in the Big Ten on Saturday will be No. 6 Penn State's nocturnal visit to Wisconsin, a team that followed its heartbreaking 27-25 loss at Michigan with an equally gut-wrenching 20-17 home loss to No. 12 Ohio State. Nevertheless, the Badgers should be the toughest test to date for the Nittany Lions, who reached 6-0 for the 13th time in Joe Paterno's 43 seasons.
And don't forget Northwestern (5-0), which returns from an off week to play No. 23 Michigan State (5-1).
In the Southeastern Conference, No. 4 LSU (4-0), which also had the benefit of not playing Saturday, travels to No. 11 Florida. While scientists continue to search through the wreckage for the black box that explains how the Gators lost at home to Ole Miss last week, Florida rebounded to crush Arkansas 38-7.
Ready To Red River Rumble
Ivan Maisel on Oklahoma
Pat Forde on Texas

WACO, Texas -- Boring is hot. Boring is the new sexy. No. 1 Oklahoma, a program that has lost its last two Big 12 openers, kicked off at Baylor at 11:40 a.m. and ended any suspense of the game's outcome before noon. Four first-quarter touchdowns catapulted the Sooners toward a 49-17 victory over the Bears that surprised no one but felt good nonetheless.

"Really solid, really focused," a really pleased head coach Bob Stoops described it.

Beating a less talented opponent by a large margin used to be business as usual. After last season, after last Saturday, there is no such thing as business as usual. Oklahoma has won five routs. Quarterback Sam Bradford is a top Heisman candidate. The Sooners should have routed Baylor. They did. Let Texas Week begin.

BOULDER, Colo. -- With the final seconds draining off the clock at Folsom Field, the burnt-orange corner of the stadium fired up the chant, with utmost urgency:

"Beat OU! Beat OU! Beat OU!"

The preliminaries have now been completed, and it's on to Big D for a very big installment in the Red River Rivalry. After walloping Colorado 38-14, undefeated Texas is primed and ready to take on top-ranked rival Oklahoma.

"It's what these two teams should have at midseason," Longhorns coach Mack Brown said. "We'll have everyone in America talking about the game next week, and this is what this game should be about."

Said receiver Quan Cosby: "This is why you go to Texas. This is why you go to OU."
Still The One?
By Adam Rittenberg, ESPN.com
MADISON, Wis. -- Penn State is part of the national title picture, Michigan State has backed up its preseason hype and Northwestern has shocked everyone with a 5-0 start.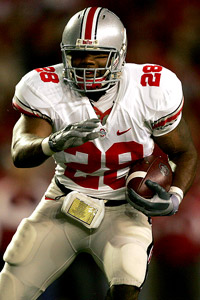 Matthew Stockman/Getty Images
Beanie Wells ran for 168 yards and a touchdown against Wisconsin.
But the favorite to win the Big Ten championship could be the team that claimed that honor in each of the past two seasons. Ohio State might struggle in national showcase games, but in its conference, it continues to pile up big wins.
Few Big Ten victories will be savored more than Saturday night's dramatic 20-17 triumph against No. 18 Wisconsin at Camp Randall Stadium. The 14th-ranked Buckeyes survived the first of several Big Ten road tests and won their third straight game since the Collapse at the Coliseum.
So, do the consensus Big Ten preseason favorites still hold that title?
"I guess you can say we are," Ohio State running back Chris "Beanie" Wells said. "We are the defending Big Ten champions. We know it's going to be a tough, tough battle each and every week. We're just preparing ourselves for that.
"I really don't know what it says to whoever or what team."
To read the rest of Adam Rittenberg's story, click here.
Smart Play
By Chris Low, ESPN.com
NASHVILLE, Tenn. -- The older gentleman operating the elevator Saturday night at the Vanderbilt Stadium press box offered a proud smile.
Frank Hood, who has been watching Vanderbilt play (mostly bad) football for the past 45 years, offered up what the entire Commodore Nation had to be thinking.
Vanderbilt had just beaten Auburn 14-13 once again, dominating the second half and making every key play, to improve to 5-0 for the first time since 1943.
"You remember all those games Vanderbilt would fold?" asked Hood, not really giving anybody a chance to answer. "Not this year and not this team."
This is not your father's Vanderbilt or even your grandfather's Vanderbilt.
This is a Vanderbilt that we haven't seen since, well, Dan McGugin was running the show. For the record, McGugin's last season as Vanderbilt's head coach was 1934.
To read the rest of Chris Low's story, click here.
Respect The Opportunity
By Ted Miller, ESPN.com
LOS ANGELES -- Oregon State didn't blindside USC nine days ago. Pete Carroll saw it coming.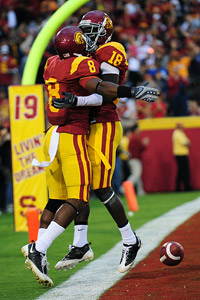 Robert Laberge/Getty Images
USC sure looked like one of the nation's top teams against Oregon.
He saw it six months ago.
He saw Ohio State on the schedule. He knew what that meant. The hype machine would roll into town, and to the victor would go considerable spoils, namely the No. 1 ranking.
And he saw a tricky visit to Oregon State 12 days later.
He knew what his players needed to do. He tried to get them to do it. But they didn't, and a sense of personal failure still weighed heavily on Carroll's shoulders, even as he talked about his ninth-ranked Trojans' 44-10 plundering of No. 23 Oregon.
"That huge game against those guys [Ohio State] -- it was going to be talked about and all that, and as much of our philosophy and approach addresses that, it still fricking happened to us," he said. "It was the fact I couldn't keep it from happening. I tried everything I could think of."
So when he gathered his players Friday night for the traditional pregame talk, he took things deeper.
He spoke, many of his assistant coaches spoke and some of the veteran players spoke.
"It's about sensing your responsibility and to respect what we've been about through the years here," he said. "You could tell from the depth of the night that it made sense and they got it. They respected this opportunity to play here today."
To read the rest of Ted Miller's story, click here.
What Trap Game?
By Tim Griffin, ESPN.com
MANHATTAN, Kan. -- A bunch of Kansas State fans weren't buying Texas Tech's legitimacy as a national power before Saturday's game.
"We walked out and everybody was chanting, 'Overrated, overrated,' at us before the game," Tech running back Baron Batch said. "Maybe we are, but I honestly don't care what they think. Because we're just keeping winning ballgames."
Tech answered many of those critics with an impressive 58-28 victory over the Wildcats. In the process, the No. 7 Red Raiders defended the program's highest national ranking in nearly 32 years with a strong outing that showed the team's strength on offense and defense.
The victory came in exactly the kind of trap game that had bedeviled Tech in recent seasons. At least once in the past four seasons, the Red Raiders lost on the road as a heavy favorite.
But that wasn't the case Saturday as Tech extended its seven-game winning streak, the longest in the Big 12.
To read the rest of Tim Griffin's story, click here.
Coast Is Clear
By Heather Dinich, ESPN.com
ATLANTA, Ga. -- They're not being cocky.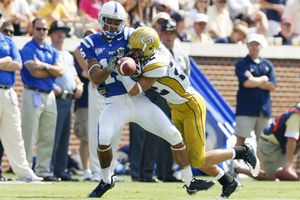 Dale Zanine/US Presswire
Thanks to a stout defense and a tricky offense, Georgia Tech is thinking big.
When Georgia Tech's players talk about their potential to win 11 games, they honestly believe it.
"That's the truth," defensive tackle Vance Walker said. "The only people who can stop us are ourselves."
While 11 wins might be pushing it for any team in the ACC, the Yellow Jackets have every reason to consider themselves in the mix for the Coastal Division crown.
After its upcoming game against Gardner-Webb, Georgia Tech should head into Clemson with a 5-1 record. It's arguably the most complete team in the Coastal Division -- and that includes division leader Virginia Tech, which is 5-1 after a 27-13 win over Western Kentucky.
Yes, the Yellow Jackets lost to Virginia Tech 20-17 on Sept. 13, but midway through the season Georgia Tech's offense is one of the toughest to stop, and nobody matches the NFL potential on its defensive line.
"I think we just believe in each other," true freshman quarterback Jaybo Shaw said. "The offense believes the defense is going to stop them and get us the ball back, and the defense believes we're going to put points on the board. When you have that, I think things can go your way a lot."
To read the rest of Heather Dinich's story, click here.
The Earlier, The Better
By Brett Edgerton, ESPN.com
Want the secret to the success of the nation's top two teams? Bury the opponent early. And we do mean bury.
In first quarters this season, No. 1 Oklahoma has outscored opponents by an impressive 103-3 margin, including a 28-0 lead at Baylor on Saturday. The No. 2 Crimson Tide have outscored the opposition 88-0 in the first stanza. So for those keeping count at home, that's 191 points in the first quarter for the Sooners and Tide and a whopping three for their 11 opponents combined.
The margin becomes even more impressive when you consider how those three points came about. On its first possession of the game, TCU ran the OU kickoff back 75 yards to the Sooners' 11-yard line. The Horned Frogs managed minus-4 yards against the Oklahoma defense and settled for a field goal. So yes, the only first-quarter scoring drive of the year against OU or Alabama netted negative yards.
Three Weekend Observations
By Ivan Maisel, ESPN.com

1.
Arkansas had the misfortune of playing three consecutive highly ranked teams, and the losses to Alabama, Texas and Florida by a combined score of 139-31 illustrate the degree of the mismatches. But one assistant coach who has seen the Razorbacks up close last year and this year said they are not playing nearly as hard for Bobby Petrino as they did for Houston Nutt.

Craft
2.
UCLA quarterback
Kevin Craft
is progressing slowly but surely toward his degree in the Norm Chow School of Quarterbacking. Craft has thrown 97 consecutive passes without an interception. In the Bruins' past two games, in which they have scored 59 points, Craft has completed 34 of 56 passes for 375 yards and three touchdowns. Great numbers? No. But the Bruins aren't the same team that lost 59-0 at BYU. They, and Craft, are improving.

3.
Not that any sportswriter ever makes a rash judgment, but the mocking of the ACC in which all of us took part during the first two weeks of the season looks foolish now. North Carolina gets markedly better every game, and Georgia Tech has taken to Paul Johnson's schemes much faster than predicted. Florida State might not be Florida State again, but the Seminoles are not dull. Throw in Virginia Tech, Wake Forest and BC, and you've got two interesting division races.
GameDay Recaps Vandy
GameDay Crew Final Thoughts
RECE DAVIS

As someone who grew up in the South, I can tell you that for years Vanderbilt was considered the Charlie Brown of the SEC. Not anymore. These guys might never put up gaudy numbers, but they continue to do just about everything right. If this keeps up, it could truly be one of the great Cinderella runs of all time.
Helmet Stickers Go To:
• QB
Juice Williams
, Illinois
431 total yards, 4 TDs vs. Michigan
• RB
Tyrell Fenroy
, ULL
School-record 297 yards, 3 TDs vs. ULM
---
LOU HOLTZ

Good defense, good chemistry, playing smart ... that's Vanderbilt. That Auburn win wasn't a fluke. For the final three quarters, the Commodores played better, hit better and coached better than Auburn. They aren't just a cute little story anymore.
Helmet Stickers Go To:
•FB
Collin Mooney
, Army
187 rush yards, 4 TDs vs. Tulane
• CB Myron Lewis, Vanderbilt
2 TFL, sack, clinching INT vs. Auburn
---
MARK MAY

Missouri is running the spread better than anyone in the country, but I still think Oklahoma has the best offense in the Big 12. OU runs the ball better, in my opinion. The Tigers have looked unstoppable, but they still haven't faced a good defense.
Helmet Stickers Go To:
• QB
Chris Crane
, BC
34-51, 428 yards, 5 total TDs vs. NC State
• LB Bruce Carter, UNC
3 blocked punts, 2 TFL vs. UConn
Blog Network: Helmet Stickers
Every week our bloggers will hand out helmet stickers to the week's top players, coaches, teams or anything else worth this honor.
Highlights: Auburn-Vanderbilt
Blog Network: What We Learned

The ACC might not be the best BCS conference, but it is certainly a highly competitive one.
ACC

Underdogs like Baylor and Nebraska probably should not make bold predictions they can't back up.
Big 12

The Big East is one big jumbled mess, and Pittsburgh might be back ... maybe.
Big East

Terrelle Pryor can get it done under pressure, but Juice Williams is the conference's best QB.
Big Ten

If the national title is about finding the nation's best team, then USC is still in the hunt.
Pac-10

The more we watch the SEC this season, the more it looks like nobody is going to get through this league unscathed.
SEC

Non-BCS:
Five unbeaten teams went into the weekend and five came out.
Around the nation
Highlights: Ohio State-Wisconsin
Distinctly Irish
By Brett Edgerton, ESPN.com
With its fourth victory, Notre Dame has already managed to surpass its win total from all of last season (3-9). At this point last year, the Irish were 0-5. And that brings up an interesting point about Notre Dame. Has anyone noticed how the past three seasons in South Bend have been divided up into three very distinct stretches? Check it out:
Since the start of 2006 season
W-L
PPG
Opp PPG
9/2/06 to 11/18/06
10-1
33.2
18.7
11/25/06 to 11/10/07
1-11
15.5
34.1
11/17/07 to 10/4/07
6-1
25.4
16.6
Are the Fighting Irish really back, though? Hard to tell. Of the six victims during the latest seven-game stretch, all of them finished with, or currently have, a losing record. Notre Dame pays a visit to 4-1 North Carolina this Saturday.
Highlights: Kentucky-Alabama
Fun With Standings
By Brett Edgerton, ESPN.com
Of the 10 remaining unbeatens in the BCS conferences, exactly half reside in the Big 12. Mizzou represents the North division, while four of the six South teams remain undefeated: Oklahoma, Oklahoma State, Texas and Texas Tech. ... With Army winning in resounding fashion at Tulane this weekend, the only winless teams left in the FBS are Washington and North Texas. That's right. The same Washington that won a national championship in 1991 and has played in 14 Rose Bowls is now associated with a program that lost 42-10 at home Saturday to Florida International. Good times in Seattle. ... There are 18 bowl teams from last year that currently have a losing record.