A couple of teams looked championship ready -- and one was Ohio State
Guess Who's Back?
By Ivan Maisel, ESPN.com
Alabama coach Nick Saban spoke after the No. 2 Crimson Tide's 24-20 victory over Ole Miss on Saturday about his team's lack of self-discipline.
"Discipline is doing what you're supposed to do the way you're supposed to do it when it's supposed to get done," Saban said. "But self-discipline means you can do it in any circumstance whether you feel like it or not. You make yourself do it."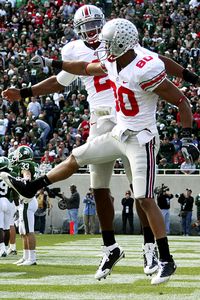 AP Photo/Al Goldis
Ohio State looked dominant against a good Michigan State squad.
Listen to the coach. Don't give in to the dread in the pit of your BCS stomach that the Big Ten champion and the Pacific-10 champion have reasserted themselves in the national championship race.
You know you want to scream, "Not Ohio State! Not again!" Don't do it.
You know you want to penalize USC, not reward it, for winning at Washington State 69-0. Don't do it. Had the game been in Los Angeles instead of Pullman, the score may not have gotten out of control. Trojans coach Pete Carroll could have emptied his bench. With only 64 players on the USC travel roster, per Pac-10 rules, Carroll didn't have a bench to empty.
But let's get back to Ohio State. The fear that the Buckeyes have rewritten their name on the short list of BCS Championship Game contenders is based not only on their back-to-back losses in the past two of these games, but also the 35-3 beatdown Ohio State suffered against USC last month. Your fears may be valid. But consider:
First of all, Ohio State beat a very good Michigan State team 45-7 in East Lansing. As much as it may hurt to say it, the Buckeyes on Saturday looked like one of the best teams in the country.
Second of all, Ohio State next plays Penn State. The winner of their game in Columbus on Saturday night will be one of the best teams in the country, even if it's leading the Big Ten.
And third, with Missouri and BYU eliminated from the national championship race, there is that much more room for an Ohio State to re-enter the discussion.
The Nittany Lions overcame a sluggish start, scoring the last 39 points of the game to defeat Michigan 46-17. Penn State performed the mirror image of Alabama by starting slow and finishing fast. That will always be more impressive than a team that starts fast and hangs on.
"We're not just focused on winning," Saban said after the game. "We're focused on how we win."
If it will make you feel better, concentrate on the way Texas toyed with Missouri in a 56-31 victory Saturday night. When the Longhorns ascended to No. 1 last week, they earned a combined 83 of 126 first-place votes between the AP and coaches polls. Between their performance and that of the Tide, the Longhorns received 123 of 126 first-place votes Sunday. One team looked championship-ready again this week. Ohio State did too, and if the Buckeyes find a way to upset Penn State, you may as well get ready to deal with them again.
A New Way Of Offense
By Tim Griffin, ESPN.com
NORMAN, Okla. -- It wasn't exactly how Barry Switzer would have called the offense.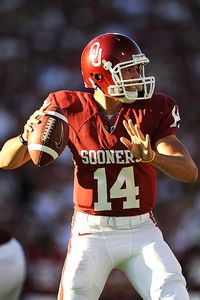 Ronald Martinez/Getty Images
Sam Bradford leads the Sooners' air assault.
There were no wishbone elements in Oklahoma's offensive attack. But other elements of the Sooners' offensive onslaught were eerily reminiscent of how "The King" would have done it -- mainly in its sheer domination.
Oklahoma erupted for 674 yards of total offense -- its best performance in more than 20 years -- as the Sooners cruised to a 45-31 win over Kansas.
But unlike some of Switzer's run-heavy efforts back in the day, this one was a bow to modern offensive philosophy. Sam Bradford threw for a school-record 468 yards and the much-maligned offensive line paved the way for 206 rushing yards as the Sooners cruised to a convincing victory.
"We always want more," Oklahoma coach Bob Stoops said of his team's 97-snap offensive binge. "I would have liked to have had three more snaps and just kept moving and gotten to 100. I would have liked to have had a couple of plays back. But I guess that's being a little greedy."
Bradford broke the previous school record of 429 yards set by his quarterbacks coach, Josh Heupel. But Bradford was happier about his team's ability to bounce back from its late struggles last week against Texas than any individual accomplishment.
"Obviously, getting the numbers are nice, but the most important thing is come out here and get a win," Bradford said. "Our offensive line did a great job, we got the running game going and I had all the time in the world back there to pass."
To read the rest of Tim Griffin's story, click here.
Putting Two Together
By Chris Low, ESPN.com
TUSCALOOSA, Ala. -- At some point, it's going to catch up with Alabama.
Then again, maybe not.
All of a sudden, the No. 2 Crimson Tide can't finish a football game, which sits about as well with Nick Saban as seeing one of his players get penalized for celebrating after scoring a touchdown.
Yes, Alabama might be 7-0 and 4-0 in the SEC. And the Crimson Tide might be ranked No. 2 in the polls and likely to be one of the two teams atop the first BCS standings when they're released Sunday.
But Saban wasn't exactly basking in Alabama's 24-20 win Saturday over Ole Miss. Maybe that's because he knows his team is playing with fire.
"We did not exactly get done what we wanted to get done today," said Saban, whose club led 24-3 at the half. "But when you win a game in this league, you have to be pleased and happy about it. The last three games, we haven't played as well in the second half as in the first, and we have to analyze that."
The numbers are pretty telling.
In its past three games, Alabama has outscored its opponents 69-3 in the first half.
But in the second half of the past three games, Alabama has been outscored 61-13.
To read the rest of Chris Low's story, click here.
No Revenge Served
By Ted Miller, ESPN.com
TUCSON, Ariz. -- Arizona sophomore tight end Rob Gronkowski didn't play in the 2006 game when the Wildcats upset then-eighth-ranked California and knocked the Bears out of the Rose Bowl.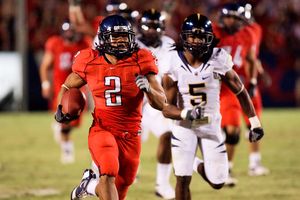 Chris Morrison/US Presswire
Arizona ran by Cal in the second half Saturday.
And he wasn't trying to be uncharitable toward the 25th-ranked Bears after Arizona again upset them Saturday, 42-27. It's just that he'd heard the talk of revenge coming from Berkeley this week and he couldn't help but let a smirk flicker across his face.
"That's what I heard," he said. "But we took it to them. Just because someone wants revenge on us doesn't mean we're going to let them have revenge."
Cal led 24-14 at halftime. In 2006, they led 17-3 in the third quarter. In 2006, the Bears lost because of untimely penalties, turnovers and a variety of odd plays. In 2008, they lost because they got whupped, a 28-3 Arizona advantage in the third quarter making the difference.
"When they hit on the touchdowns and we didn't answer, they gained all the momentum," Bears coach Jeff Tedford said.
To read the rest of Ted Miller's story, click here.
Harper's Return
By Heather Dinich, ESPN.com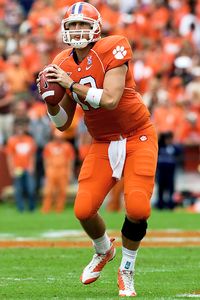 Rex Brown/Getty Images
After Willy Korn was injured, Cullen Harper stepped right back into his old job.
CLEMSON, S.C. -- Clemson quarterback Cullen Harper said he was told one thing by his new coach before he took the field against Georgia Tech on Saturday: "Go out there and lead."
Easier said than done.
In less than a week, the Tigers had lost just about all of the offensive leadership they had, and in less than a quarter on Saturday, they lost their starting quarterback. Again.
Harper, who was benched in one of the final decisions former coach Tommy Bowden made for the program, took over for an injured Willy Korn and made enough plays for his team to beat Georgia Tech. Unfortunately for the Tigers, they also made enough mistakes not to.
Despite the 21-17 home loss to the Yellow Jackets, interim head coach Dabo Swinney said Harper earned the starting job back for their Nov. 1 trip to Boston College.
To read the rest of Heather Dinich's story, click here.
McCoy's Cold Shoulder
By Brian Bennett, ESPN.com
ANNAPOLIS, Md. -- In a team meeting Thursday night, Pittsburgh coach Dave Wannstedt gave LeSean McCoy a little history lesson.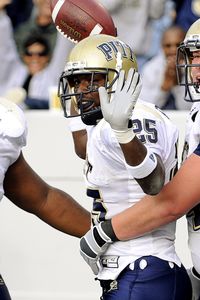 AP Photo/Nick Wass
LeSean McCoy overcame a chest cold for a stellar game at Navy.
He told McCoy that Navy-Marine Corps Memorial Stadium is where Tony Dorsett set the all-time NCAA career rushing record in 1976. Wannstedt wasn't just trying to further his sophomore running back's education; the implication that McCoy needed a big game on the same turf was pretty clear.
McCoy didn't set any records in Saturday's 42-21 win over the Midshipmen. But maybe he would have if he could have caught his breath. The man they call "Shady" overpowered the Midshipmen, rolling to a season-high 156 yards and three touchdowns on just 18 carries.
All but 28 of his yards came in the first half. Dealing with a chest cold, he touched the ball only four times in the second half and sat out the entire fourth quarter.
"I couldn't breathe tonight," he said. "I was gasping for air. It sucks because I really couldn't get in there too much."
To read the rest of Brian Bennett's story, click here.
The Up-And-Down Terps
By Brett Edgerton, ESPN.com
The Dr. Jekyll and Mr. Hyde act continued in College Park, as Maryland handed Wake Forest its first shutout in a decade with a 26-0 victory. Do you realize the Terrapins are now 3-0 against ranked teams and 2-2 against everyone else? They dominated Cal and Wake Forest and won at Clemson, yet lost to Middle Tennessee and were blitzed 31-0 by what at the time was a reeling Virginia team. In fact, if you take it back to last year, the Terps have a five-game winning streak over Top 25 teams. During that time, Maryland is 5-0 against ranked opponents and 4-8 against everyone else. Go figure.
At the heart of this Top 25 slaying machine is quarterback Chris Turner, affectionately known as "Napoleon Dynamite" for his striking resemblance to the movie character. Against the No. 1 pass efficiency defense in the country in Wake, he threw for a season-high 321 yards at a career-best clip of 68 percent (28-41). Nobody exemplifies this bizarre Maryland trend more than Turner. Counting last year's game in which he came in after halftime and rallied the Terps to a win at No. 10 Rutgers, the Californian kid is now 5-0 against ranked teams, passing for 1,135 yards with a 68.6 completion percentage, seven touchdowns and no interceptions. In the other 13 games he has played in his career, Turner has a completion percentage of 59.2, with seven touchdowns and 13 interceptions.
Three Weekend Observations
By Ivan Maisel, ESPN.com

Kiffin
1.
Lane Kiffin is going to Clemson, unless it's Syracuse, Tennessee, Washington or campuses yet unnamed. Listen, Kiffin performed well as an offensive assistant at USC. He's a personable guy. But just because he became the latest victim of the Al Davis Freak Show, he is the hottest head-coaching candidate? Kiffin took the Raiders job! That's a question about his judgment. Kiffin lost in Oakland. If I'm an athletic director, explain to me again why I'm chasing him.

2.
Wake Forest, Boston College, Florida State and Maryland are tied for the ACC Atlantic lead with 2-1 records. BC is the only one of the four that hasn't yet played any of the other three, and two of those three games will be on the road (at FSU, at Wake). The Seminoles and the Eagles have played the most consistent football of the four. Their game is in Tallahassee on Nov. 15.

Chow
3.
UCLA offensive coordinator Norm Chow has coached three Heisman winners, but his work with former third-stringer
Kevin Craft
may be the best of a distinguished career. The Bruins are 3-4 after beating Stanford 23-20, scoring 10 points on two-minute drives. They ran 13 plays in 2:30 before halftime to go 88 yards and pick up a field goal. They went 87 yards in 10 plays over 2:21 to score the winning touchdown, a 7-yard pass from Craft to
Cory Harkey
, with 10 seconds to play. That's good coaching.
GameDay Recaps Texas
GameDay Crew Final Thoughts
RECE DAVIS

McCoy
The numbers
Colt McCoy
has put up against Oklahoma and Missouri the past two weeks are just plain sick. I don't remember anybody operating at such an efficiency level as he is right now.
Helmet Stickers Go To:
• QB
Brian Brunner
, CMU
20-28, 346 yards, TD vs. WMU
• QB
Mike Hartline
, UK
239 yards, 2 TDs in final 4:15 vs. Arkansas
---
LOU HOLTZ

I just feel like there's something special about this Penn State team. They're as balanced as any team in the country. They play smart, have a precision passing game, can run the ball and play great defense.
Helmet Stickers Go To:
• WR
Brennan Marion
, Tulsa
233 rec yards, 3 TDs vs. UTEP
• QB
Chris Turner
, Maryland
28-41, 321 yards, TD vs. Wake Forest
---
MARK MAY

To me, Texas Tech still has major problems on defense. Of all the top 10 teams that have a good chance of falling off in the second half, I think the Red Raiders are the leading candidate
Helmet Stickers Go To:
• QB
Colt McCoy
, Texas
29-32, 337 yards, 4 total TDs vs. Missouri
• RB
Shonn Greene
, Iowa
217 rush yards, 4 TDs vs. Wisconsin
Blog Network: Helmet Stickers
Every week, our bloggers will hand out helmet stickers to the week's top players, coaches, teams or anything else worth this honor.
Highlights: Missouri-Texas
Blog Network: What We Learned

We already drew the conclusions that the ACC was a wide-open, defensive league, and this weekend further enforced that.
ACC

Impressive wins by Texas and Oklahoma show that the South is ahead of the North in relative strength.
Big 12

Pittsburgh is the team to beat in the league, and South Florida is devastating when it wants to be.
Big East

The Big Ten lacks an official championship game, but the league title likely will be on the line this week as Penn State visits Ohio State.
Big Ten

Mike Stoops will be Arizona's coach next year, and this is the year of the little guy.
Pac-10

Barring something crazy happening, the SEC race has been whittled to four teams: Florida and Georgia in the East and Alabama and LSU in the West.
SEC

Non-BCS:
BYU was proven to not be the best of the non-BCS, but we did see that Tulsa is pretty good.
Around the nation
Highlights: Ole Miss-Alabama
Go West For Offense
By Brett Edgerton, ESPN.com
USC wasn't the only one scoring in bunches in a conference game. New Mexico won 70-7 against the same San Diego State that very nearly beat Notre Dame in South Bend last month. And in a game that was tied at 28 after the first quarter, Tulsa beat Mike Price and UTEP 77-35. The Golden Hurricane, one of four unbeaten non-BCS teams remaining, is averaging 56.6 PPG in a 7-0 start. No other team in the country averages more than 48.
One thing USC, New Mexico and Tulsa have in common is that they're all located west of the Mississippi River. That should come as no surprise. Of the 15 highest-scoring teams in the nation, all but one (Penn State) is located west of the Mississippi. That half of the country also has the 16 highest point totals put up against FBS competition this season. Somewhat surprisingly, the two highest-scoring performances against the FBS by teams east of the Mississippi are by the defensive-minded SEC. Florida scored 56 against Hawaii and Georgia scored the same amount against Central Michigan.
Highlights: Oklahoma State-Missouri
20/20 Club
By Brett Edgerton, ESPN.com
In 2007, Florida's Tim Tebow became the first FBS quarterback to pass for 20-plus TDs and rush for 20-plus TDs in the same season. He soon might have company in the 20/20 club. Kansas State's Josh Freeman has only one passing TD in his past three games, but he has made up for it with seven rushing touchdowns during that span. With 13 rushing TDs on the season, which is tops among quarterbacks and just one shy of the national lead among all players, he is on pace for 22 -- and that doesn't even count a potential bowl game for the 4-3 Wildcats. Buoyed by his 11 passing TDs in the first four games, the junior is on pace for 21.